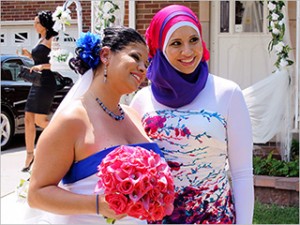 When I wrote my review of TLC's new program, "All-American Muslim," (airing Sunday nights at 10 p.m. on TLC) three weeks back, the one thing I noted that the majority of criticism and discussions about this program would come from the American Muslim community, who would argue that the five Arab-American families in Dearborne didn't represent the true variety of Muslims in the U.S., or that some of the people featured weren't "Muslim" enough. Indeed, immediately after the show premiered, Facebook and Twitter lit up with comments and criticisms and a lot of nitpicking.
Now that three episodes have aired and the negativity is dialing down, instead we're seeing essays like the ones from Zeba Iqbal in Religion Dispatches, or Debbie Almontaser in Huffington Post, or Wajahat Ali in The Guardian and on NPR – all basically saying the same thing – that it's a decent reality television show (not like "Jersey Shore" or any of the "Real Housewives" shows), and that it's a huge step in a positive direction for American Muslims – a show that focuses on the diversity amidst an American Muslim community, the different ways these Muslims practice their faith, and how the way they live their lives (from football games to having babies to pancake breakfasts to big family weddings to interfamily dynamics) is about as American as anyone else.
The show, as Almontaser writes, "focuses on five different families, each cast member representing varying levels of religiousity and integration: expecting parents Nader and Nawal Aoude; the flamboyantly dressed Bazzy, who wants to open a nightclub, Mike Jaffar, a deputy chief sheriff who finds himself having to protect anti-Islamic protesters; high school coach Fouad Zaban, who puts football above everything else; country music loving Shadia Amen and her Irish-American husband Jeff."
More than anything, two of the best things to come out of this show are the question of what it means to be American and Muslim, and why are Muslims in this country still viewed by some with suspicion and mistrust? "People need to learn our stories," says cast member Nawal. "People need to learn who we are. The only time people see Muslims in the media, they are cast in a negative light."
This is an unprecendent time for Muslims in America, the first time such a program has aired. In the coming days while the series airs, Patheos will be featuring posts from a variety of Muslim Americans addressing upcoming episodes as well as questions and issues that arise. We invite you to check back to this blog and join in the conversation.