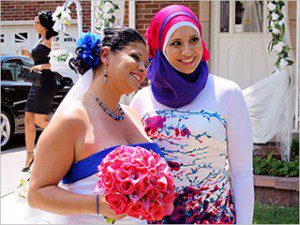 It's tough, and never a good idea for a single person, or a few families, or even a specific community to be considered the representation of an entire faith group. Growing up as one of the only Muslims families in a small university town in North Dakota, inevitably my brothers and I became the poster children for "This is what Muslims are like!"
 I think, for the most part, it was a good thing because we walked that delicate line of practicing our faith (Ramadans spent hanging out in the counselor's office library during lunch to avoid the cafeteria), abstaining from different aspects of Western culture (no school dances), and being very involved in small-town American living (marching in the Potato Bowl Parade!).
In fact, even now, in the Facebook-interconnected world we live in, I've heard from a few old elementary, junior, and high school friends that knowing our family helped them to not buy into certain Muslim stereotypes and anti-Muslim sentiments. But for me, I always felt uneasy being the poster child for American Muslims, because certainly my faith journey represented only me. But here's the rub – as much as I, and many other American Muslims, want to be clear that Muslims are not a monolith, that we are individuals in how we practice our faith, we also want America to know that we are American – we are all part of this country.
This dichotomy is well-explored on TLC's new reality show, All-American Muslim (debuting on Sunday, November 13), where five Muslim families in Dearborn, Michigan, invite the cameras into their lives for an eight-episode arc that explores what it is to be Muslim, American, individuals, part of a community, and, well, a kind of representation of American Muslims – even though cast members all emphatically say that they are not.
For those looking for American Muslims who fulfill some sort of stereotype they've seen plied by Islamophobes, or even FOX News, this isn't it. The families featured in All-American Muslim are about as down-to-earth as you're going to get, Midwestern accent and all. They are Middle America. They are couples, football coaches, business owners, parents and adult children – a group of American Muslims who practice their faith in their own ways and partake in all aspects of American life, from Friday night football games to weddings, to pancake breakfasts, to anticipating the arrival of a new baby, to tailgating (but not drinking).
The show comes at a time when Muslims are facing more scrutiny and suspicion than ever before. Numerous polls show that anti-Muslim sentiment is higher now than it was immediately following 9/11. In 2010, Pastor Terry Jones threatened to burn the Qur'an in Florida, protestors and anti-Islam bloggers and pundits fueled anti-Muslim fears when an Islamic center was being built near Ground Zero and the town of Murfreesboro, Tennessee became fiercely divided when local Muslims tried to build a mosque. And, 2011 brought about things like Republican presidential candidate Herman Cain's "loyalty test" for Muslims.
But is TLC, which zeros in on people outside of the box, so to speak — Kate Plus Eight and 19 Kids and Counting (families with multiples or large families), The Little Couple (a couple with dwarfism), Extreme Couponing (people who save hugely with coupons) and Sister Wives (a polygamist family in Las Vegas) – the right place to produce a show focusing on American Muslims? Won't they become a caricature of what many Americans think Muslims are?
Surprisingly, yes (as in yes, TLC is the right place). Though there have been some big debacles of programming on TLC, All-American Muslim is very watchable. In fact, it is almost too careful in how  it goes out of its way to feature non-typical reality-television people (you know, ones who
don't
flip tables, or pick fights, or backstab each other or who have huge family dramas). If there are critics of the show, it will come from Muslims themselves who take objection to the fact that the show zeroes in on a specific group of Arab-American-Muslim families – who happen to be Shi'a, or who find that the way some of the Muslims featured on the show live their lives in ways are not that Islamic, or . For example, Shadia Amen, a 31-year-old divorced mother and self-professed "hillbilly" who's wedding to Irish Catholic Jeff McDermott features largely in the first episode, definitely rattle some feathers, with her style of dress and cherry-picking approach towards Islam.
But, as Shadia said over and over again in a round-table press conference, "My religion and my ties with God are with God, and that's it. The way I look is not representative of the religion. I'm here to represent me and my place as a Muslim in America. I can say easily that a real Muslim and a good Muslim would not worry about judging me and how I look.
"None of us [are] up for Muslim of the year. We are just here to show our lives as we are," she said.
Shadia's younger sister, Samira, who gave up her hijab after 9/11, considers wearing it again as she and her husband of seven years face infertility issues. She consults with a local imam, who carefully and cautiously tells her that covering up will please God, which may lead God to answer her prayers. I, myself have a problem with that, as I didn't want Samira to think that covering up would bring her a baby. But that's the messiness of figuring out faith and life, why prayers are answered, why they are not, what brings us closer to God, and what, at the end of the day, is truly important to us. Those are problems Muslims, Christians, Jews, Hindus, all people face.
Nader and Nawal Aoude is also an interesting couple to watch in the show. In the first two episodes, the two are expecting their first child, and hijab-wearing Nawal points out things that many Muslims may think – such as why is there belly dancing from the bride's side at Shadia and Jeff's wedding? Nawal expresses how she dislikes that part of Arab – make note folks, its Arab culture, not Muslim culture – culture.
But that's what life is for American Muslims as well as other faith groups – a mash up of faith and culture, of people practicing their faith in different ways, of agreements and disagreements. In fact, some of the best moments in the show come in the segue segments, which place Shadia, Jeff, Nawal, Nader and others on a couch to talk not about themselves, but about different nuances of Islam. They don't offer scholarly answers as to why Muslim women should or shouldn't wear the hijab, or if Muslims and non-Muslims can marry each other without converting , or even if it's ok to eat at Red Lobster even though there's as bar there – they just humbly offer their opinions on what they think God wants them to do.
And it's fascinating to see them puzzle out these questions.
After many of the couch sessions, Nawal said she and Nader would go back home to research what they had talked about: "This has stepped up our game."
Nawal, Nader, Shadia, Jeff – they all emphasize that they are just human beings struggling with day to day lives, like all Americans. "What we do is between us and God. We are balancing faith and culture," said Nader – balancing fasting for Ramadan with football practices, melding together Arab and Irish Catholic cultures for a wedding, going to a salon to have a headscarf tied on in a fancy way rather than getting one's hair done. It's a Muslim life, an all-American Muslim life.
All-American Muslim airs Sundays at 10 p.m. on TLC.