This past week, I took a trip to Denver for work, and when I was done I drove up to Pike's Peak.  As is often the case when I travel to a different environment, I felt disoriented and out of place.  That was until I drove out of the city and headed up into the mountains.  Pikes Peak Highway is a long, winding road with steep drop-offs and beautiful vistas.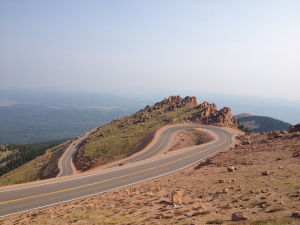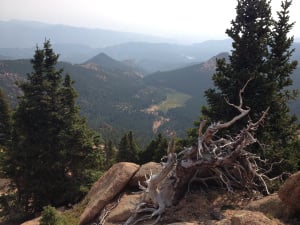 I stopped at one place which looked like a kind of natural Stonehenge, with ochre rocks jutting up suddenly from a green hill like the teeth of a giant.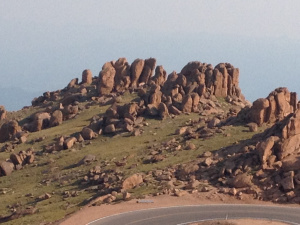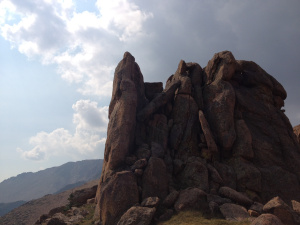 I was also blessed to see some of the wildlife, including bighorn sheep.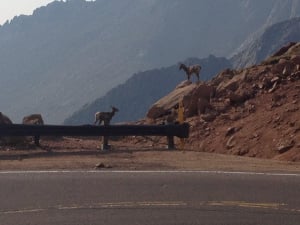 As I climbed over the rocks, the sun was shining and a cool mountain wind was blowing.  I found myself saying two things over and over: "My God!" and then "Thank you."  I wasn't thanking any god so much as just expressing the wonder and awe that were bubbling over the surface of my consciousness.  It's strange that the words "God" and "you" came to my mind, since I do not believe in any super-personality.  But the words came involuntarily.
I then drove over to Royal Gorge and walked across the bridge there.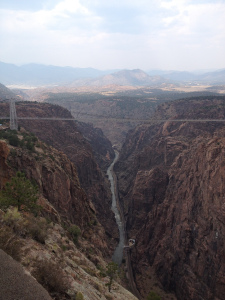 Jonathan Haidt writes in The Happiness Hypothesis, "Awe is the emotion of self-transcendence."  I definitely felt a kind of transcendence while on Pike's Peak.  While I was still aware of myself and my thoughts, I felt much less introverted.  I felt like a sponge absorbing everything around me: the magnificent views, the heat of the sun, the coolness of the wind, the thinness of the air in my lungs, the vertigo of the heights, the roughness of the rocks on my hands, and the smell of pine.  I felt more whole.  I felt strangely healed, although I had not known there was anything that needed healing.  I felt at home.  Not the kind of home-ness I feel in my living room, but a more essential sense of belonging.  It felt . . . right.  And I knew that I was in a place that was sacred.
I don't know exactly what a prayer is.


I do know how to pay attention, how to fall down
into the grass, how to kneel in the grass,
how to be idle and blessed, how to stroll through the fields,
which is what I have been doing all day.
— Mary Oliver