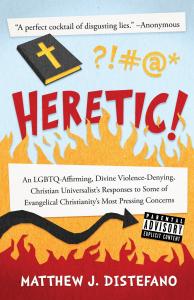 Heretic!: An LGBTQ-Affirming, Divine Violence-Denying, Christian Universalist's Responses to Some of Evangelical Christianity's Most Pressing Concerns
by Matthew J. Distefano (Author), Michelle Collins (Foreword)
Publisher: Quoir (March 12, 2018)
Contrary to what some may say, this book, rather than being the product of a demonic lie, is an open and honest set of answers to the questions wrestled with by countless Christians the world over. And while nothing in Heretic! is completely unique—that is, much of the theology contained herein goes as far back as Christianity itself—Distefano creatively puts his unique perspective and humor onto the pages with care. Refreshing and liberating, this is a must read for any who dare question their inherited doctrines.
Available now on Amazon
---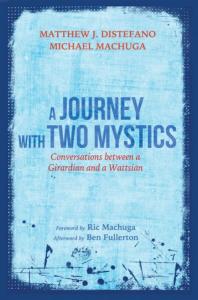 A Journey with Two Mystics: Conversations between a Girardian and a Wattsian
by Matthew J. Distefano (Author), Ben Fullerton (Afterword), Ric Machuga (Foreword), Michael Machuga (Contributor)
Publisher: Resource Publications (March 28, 2017)
Having a careful ear and an open heart is vital to understanding the big ideas of the Universe. Two friends, Distefano and Machuga, put this on display here, vulnerably exploring some of humanity's most robust topics: what it means to be human, what it means to be saved, what is means to be lost, and what the meaning of life is. And while the authors agree on many things, including the ultimate fate of humanity, they do not necessarily agree on all the details of how we get there. But instead of 'agreeing to disagree,' they model for their readers what conversations of this variety should look like — agreement with a little pushback, and even some poking fun at one another from time to time.
So, as Distefano advises, "Take your time and enjoy these discussions. They are transparent and hopeful, refreshingly liberating, and are imbued with complete awe toward the goodness of the Creator and her creation."
Available now on Amazon
---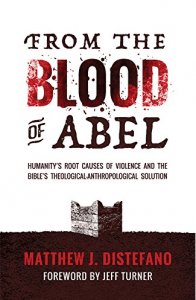 From the Blood of Abel: Humanity's Root Causes of Violence and the Bible's Theological-Anthropological Solution
by Matthew J. Distefano (Author), Jeff Turner (Foreword)
Publisher: Quoir (November 7, 2016)
While millions of believers around the world are finding their understanding of Christianity to be outdated and untenable, Matthew Distefano has managed to paint the Gospel in such a way that even an atheist could appreciate its beauty. Rather than a message of rapture, or rewards and reprisals, Distefano presents the good news of what God has done in history to stem the tide of our own violence and evil—inviting us into a whole new way of living and being in this world. By integrating René Girard's "mimetic theory" and Ernest Becker's "death anxiety," Distefano is able to diagnose the root causes of human violence and then offer the life-giving solution in the person of Jesus. Both the struggling evangelical and unbeliever alike can take refuge here, finding in this Gospel the thing their soul—and the disintegrating world around them—is thirsting for.
Available now on Amazon
---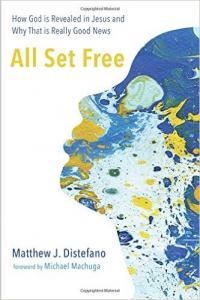 All Set Free: How God is Revealed in Jesus and Why That is Really Good News
by Matthew J. Distefano (Author), Michael Machuga (Foreword), Adam Erickson (Contributor)
Publisher: Resource Publications (September 30, 2015)
What is the ending to the human drama? Will all be reconciled to God in the end? Does God demand an altar, a corpse, and blood? Or, rather, is the Christian God set apart from all the other gods throughout history? All Set Free sets out to answer some of the more difficult questions Christians today are faced with. It will challenge the Augustinian understanding of hell and the Calvinist understanding of the atonement; replacing them with a more Christ-centered understanding of both doctrines. This book will also use the work of René Girard in order to reshape how many understand "what it means to be human." Then and only then should we ask: "Who is God?" Come explore what has become Matthew's theological pilgrimage to this point. Come discover the God of peace.
Available now on Amazon
---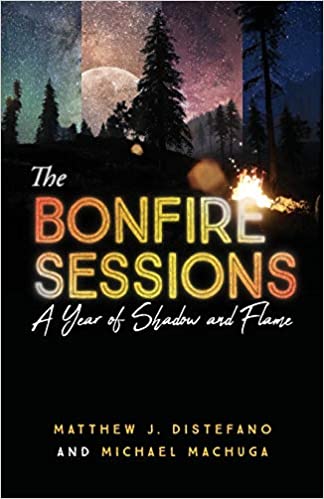 The Bonfire Sessions: A Year of Shadow and Flame
by Matthew J. Distefano (Author), Michael Machuga (Author), Derrick Day (Foreword)
Publisher: Quoir (April 20, 2021)
What happens when two philosophically-minded friends sit down around a firepit to chat about life's biggest topics? Within these pages, you'll find out. In The Bonfire Sessions: A Year of Shadow and Flame, authors and podcasters Matthew J. Distefano and Michael Machuga give their readers a glimpse into their very real lives, modeling for others what they believe conversation should look like.
With rawness and vulnerability, as well as a large dose of salty language, this set of conversations delivers quite a punch. Sometimes funny, sometimes profound, but always honest, the two hosts of The Bonfire Sessions podcast come together to deliver the entire Year One collection of booklets that will be sure to challenge your heart, soul, and mind. So, pour your favorite drink and fill your long-stemmed pipe, and get ready for some high-quality fellowship.
Available now on Amazon
---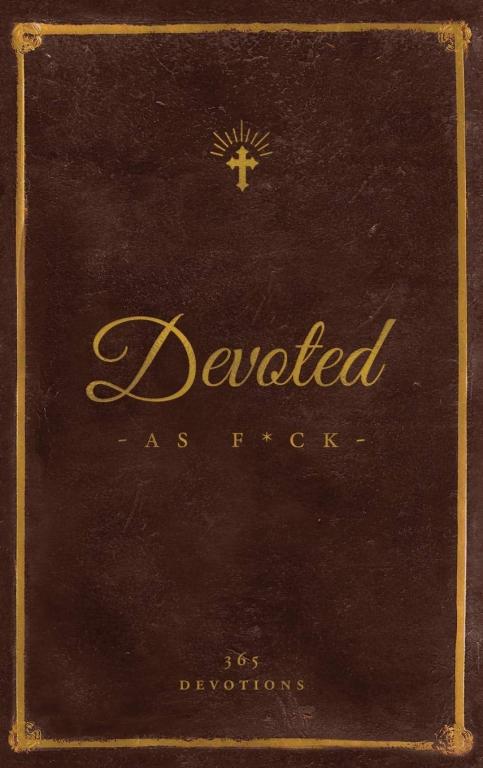 Devoted as F*ck: A Christocentric Devotional From the Mind of an Iconoclastic Asshole
by Matthew J. Distefano (Author)
Publisher: Quoir (September 6, 2019)
If you're looking for a cheery, always-uplifting devotional, then you've come to the wrong place. Not that Devoted As F*ck won't uplift and renew your spirit at times, it's merely that the goal of this book is not to make you feel good. Instead, it is an irreverent look at today's version of Christianity that is meant to shake you to your core. Sometimes cheeky, other times profound, but mostly in your face, Distefano has constructed the perfect devotional for the spiritual misfit who doesn't quite fit the cookie-cutter mold.
---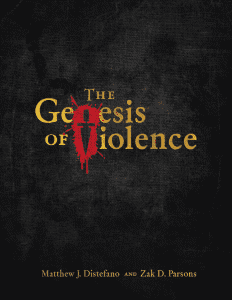 The Genesis of Violence
by Matthew J. Distefano and Zak D. Parsons
Publisher: Quoir (November 9, 2021)
The biblical book of Genesis is a violent masterpiece. Deception. Treachery. Murder. But it is also a book of redemption, forgiveness, and reconciliation. In The Genesis of Violence, author Matthew J. Distefano and artist Zak D. Parsons collaborate on a one-of-a-kind creative project that details and highlights the main themes of the book of Genesis. From the fall of humankind to the murder of one brother at the hands of another, this work of art explores it all.