Last night, I spoke with one of my older family members who lives in a very affluent, all-white, ultra-conservative, Republican community outside of Austin, TX.  Our nuclear family is nestled in the heart of San Antonio, one of the most racially and culturally-integrated cities in America, so our community is very different than the community of this older family member.  She said something she would have never stated a year ago, "We need to require all mothers who become pregnant to carry their babies to term, even a ten-year-old who is raped.  A mother shouldn't be able to choose even in the cases of rape, incest, or where the mother's life is at risk." This shook me to the core, enough to not respond while frozen in a state of disbelief.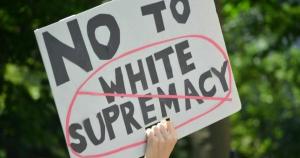 Then in a second instance later that afternoon, I tried to vote early for the Texas gubernatorial races. Before departing to the voting station, I noticed that a nuclear family member in my household tried to remove my driver's license from my wallet, therefore, preventing me from voting. I kindly asked him why.  He stated that he jokingly tried to remove it because he knew I would vote for the Democratic candidate for Texas governor named Beto O' Roarke. Thankfully, I know this nuclear family member well enough that he was truly joking, and he actually voted for a pro-life Democrat named Henry Cuellar for Congress, so he is not truly a hard-right MAGA Republican, just a conservative rational-thinking Republican who also doesn't like Trump. However, between the statements of the older family member and the nuclear family member's joke, a tsunami wave of reality drowned me like never before. This is not historically normal, not even in "pro-life" Republican white communities.
Undoubtedly, a spell has mesmerized the MAGA right-wing of the Republican party while infiltrating mostly white MAGA Republican communities. Sadly, some churches are part of these communities.  Historically, even in the most conservative of white areas, even in the Catholic Church, a mother's life always takes priority. And with the grounding of Catholic Social teaching, there are teachings of Life, Human Dignity, the Rights of Marginalized People, and Solidarity.
How have we moved from reason and common sense to discarding rational thinking and born marginalized lives where they don't have equal value to the unborn? I think one of my previous pieces summarizes this reality.
https://www.faithonview.com/catholic-republican-to-catholic-democrat-which-is-more-pro-life
In conclusion of my article above, other marginalized groups are now discarded and demoralized by MAGA at the cost of trying to save the unborn child, even in the earliest stages of pregnancy.  It doesn't matter if the mother's life is in danger.  It doesn't matter how young, fragile, and/or sick, or incapable the mother is of giving birth.  It doesn't matter if the unborn is weaponized to further oppress, marginalize, and even kill born people who are already oppressed and marginalized.  It doesn't matter how many born lives are endangered to save unborn children.
This has become reality of the right-wing, the MAGA Republicans as President Joe Biden calls them.  Thank God my nuclear family member is not a MAGA Republican as most Republicans are not. The ones who truly are however are influencing even those Republicans who are not of this level of cruelty and hatred.  As my article states, the abortion rate statistically increased under Trump.
I remember my political deconstruction 5 years ago which is described above in this article. I remember how difficult it was, not only to my own cultural beliefs but theological beliefs as a Catholic.  So, I have decided to show unconditional love and patience for my affected family members, both rational-thinking Republicans and MAGA Republicans, because I think Trumpism and White Nationalism are a deeply-rooted in our Country's Original Sin of bigotry and racism. I know how difficult it was for me to repent and break free of this myself.  I need to show the same grace God gave to me.