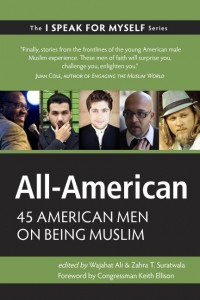 Salaams All
I was lucky enough to be one of the 45 Men to be featured in this new book: "All-American: 45 American Men on Being Muslim".
I talk about how I became interested in Media Activism work and my struggles (and accomplishments) as the youngest member of my masjid board. The title of my essay is called "The Trouble Maker." It will hopefully be an entertaining and educational read for everyone.
You can order the book now with a 40% discount on the cover price by purchasing from the White Cloud Press website here: http://tinyurl.com/765ym7q
You can also get it at Amazon for about $11.41.
We've received wonderful advance praise from folks such as Pulitzer winner Junot Diaz, Reza Aslan, Dave Eggers and many others.
Here are some of the other 45 featured contributors:
Mark Gonzales
– A Mexican-American HBO Def Jam poet and current artist-in-residence at Stanford University, CA.
Basim ElKarra – A Palestinian American leader and activist who is currently the Executive Director of the Sacramento Chapter of the Council on America-Islamic Relations
Ibrahim Abdul Matin – An African American, New York native and former advisor to Mayor Bloomberg, now raising a son named Ishmael with his lovely Indian American wife Fatima – living in N. Virginia & NY
Baraka Blue– An emcee and spoken word artist with Swedish/Irish/German/Portuguese roots currently finishing his Masters in Sufism & Psychology – living in Oakland, CA
Suhail Khan– A Republican strategist and consultant.
Daayiee Abdullah– A Gay Imam and Quranic scholar living in Washington DC
Jason Moy–  An Army officer/ Attorney with Judge Advocate General's office at the 95th Airborne in Ft. Bragg, NC
Mazen Asbahi – Attorney, community organizer, and Fmr. Volunteer National Coordinator for Muslim Affairs for Obama 2008 Campaign (Mazen resigned from this position over criticism about his involvement and former associations with an Islamic investment firm and Mosque board) – living in Chicago & Washington DC
Again go to this link to purchase the book with a 40% discount off the cover price: http://tinyurl.com/765ym7q