It's that time of the year again: The Super Bowl. And Super Bowl Parties. A day when most people prefer to watch the commercials than the game itself and when snack foods are better than the actual meal. Luckily, there are more and more Halal Snack Food options out there nowadays (usually frozen), but sometimes you need something new and fresh. So here is a unique and tasty take on the traditional football snack of chicken wings. How about some Jamaican Style Jerk Wings? – Halal of course 🙂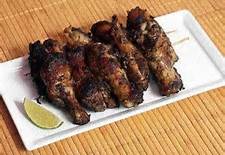 This recipe comes from Nyela G. from Mississauga, Canada. For questions or comments on the recipe, please email: maplemasala16@gmail.com
Jamaican Style Halal Jerk Wings
Ingredients
• 1 onion, chopped
• 5 chopped scallions
• 3 garlic cloves
• 1/2 teaspoon fresh thyme
• 1 1/2 teaspoons salt
• 1 1/2 teaspoons ground allspice
• 1/4 teaspoon freshly grated nutmeg
• 1/2 teaspoon cinnamon
• habanera pepper, to taste
• 1 teaspoon black pepper
• 6 drops of hot sauce or Tabasco
• 2 tablespoons soy sauce
• 1/4 cup vegetable oil
• 1/4 cup orange juice
• 1/4 cup lime juice
• 18 Halal chicken wings (about 3 1/4 pounds), the wing tips cut off
Directions
Blend all the ingredients in a blender until smooth paste. Marinate the wings in the sauce for 2-24 hours.
Preheat oven to 450 degrees. Keep some of the sauce to baste the chicken. In a baking sheet, lay out all the wings in a single layer. Bake for 20 minutes. Remove from oven, baste and then turn over and bake for 10 minutes. Repeat this process until wings are golden brown. Serve with Jerk style Ranch Sauce.
Jerk Style Ranch Sauce
• 1/4 cup bbq sauce
• 1/2 cup ranch dressing
• 1 tsp. fresh thyme
• 1 tsp. ground red pepper (cayenne)
• 1/2 tsp. ground cinnamon
• 1 tsp finely chopped coriander
Directions
In a bowl, mix all ingredients. Chill and garnish with coriander. Serve with wings.
For Questions, Comments or More Recipes, email: maplemasala16@gmail.com