Here is another great recipe for your SuperBowl party (or any other get together) by Nyela G. from Mississauga, Canada:
La Taquiza Poutine
This is a twist on the classic poutine blends together the Mexican culture with a French classic. By incorporating chicken, sour cream and guacamole to the poutine, it makes a hearty entrée that is scrumptious and flavourful. This recipe is suitable for any type of gathering or parties. It can be served on a platter or served individually.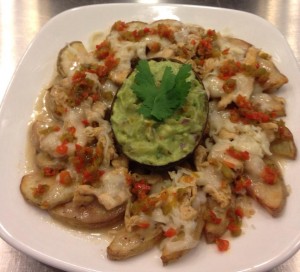 Ingredients
6 Potatoes (cut in wedges)
3 pieces Chicken (cut in strips)
Salt to taste
Cayenne pepper to taste
Pepper to taste
Sugar (Pinch)
2 tbsp Oil
2 Avocados (Mashed)
1 Red onion (Minced)
2 jalapeno peppers (Minced)
2 tblsp cilantro (Finely chopped)
1 tbsp fresh lime juice
½ tomato (Chopped)
½ cup Whole wheat flour
½ cup Butter
2 cups Chicken stock
1 Red pepper (minced & sautéed)
1 green peppers (minced & sautéed)
2 cups Cheese Curds
1 cup Sour cream
Directions
1. Wash Potatoes thoroughly and proceed to cut them into medium wedges.

2. In a Flat Pan covered with parchment paper, arrange the potatoes and base with salt an oil.
3. Cut chicken in to even strips .In a bowl season with salt, pepper, cayenne, pepper and a pinch of sugar. Place in sauté pan line with oil and sauté chicken until cooked and golden brown.
4. Cut avocados in half. Remove seed. Scoop out avocado from the peel, put in a mixing bowl. Using a fork, roughly mash the avocado.
5. Add the chopped onion, jalapeno, cilantro, lime, salt and pepper. Mix together.
6. Cover with plastic wrap directly on the surface of the guacamole to prevent oxidation from the air reaching it. Refrigerate until ready.
7. Just before serving, chop the tomato; add to the guacamole and mix.
8. Finely chop red and green peppers. Sauté in a pan with oil remove to cool after 5 min
9. Heat a medium pot. Add flour and butter to the pot, mix together. Allowing it to become a brown roux.
10. Slowly add chicken stock and let simmer. The gravy should be brown and not too thick.
11. When plating, layer the potato wedges with the chicken strips together.
12. When plating is complete add curds on top and drizzle the gravy on top of the curds to melt them.
13. Serve with guacamole and sour cream.
ENJOY!
For questions or comments on the recipe above or for other cooking questions please email: MapleMasala16@gmail.com