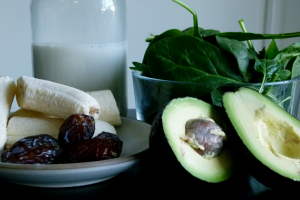 Suhoor (or Sehri in Urdu/Hindi) is the pre-dawn meal, which Muslims wake up (or try their best to wake up) for getting some food and drink in before the long day of fasting ahead. Nowadays with the small food processors like the "magic bullet" and others, you can make quick and easy smoothies that will give you a healthy, yet tasty super smoothie!
Here is a great recipe for a Super Suhoor Smoothie which can help you get through those long fasts during the summer!
The main ingredients include:
Avocados – considered a super food in itself, it has a rich fat content that makes it easier to absorb fat solubles such as vitamins A, K, D, and E, which means that adding this creamy fruit to any vegetable-dense meals will help you get all of the vitamins of your food. Avocado's also contain anti-oxidants, omega-3 fatty acids, monounsaturated fat (lowers bad cholesterol), Lutein and zeaxanthin (Carotenoids that boost Eye Health), Vitamin B6 and Folic acid (boosts Heart health), and 6 to 7 grams of fiber (makes your feel Full faster and longer)!
Dates – Probably one of the best types of food to eat in the whole world because it has almost everything your body needs including natural sugar, fiber. Essential minerals such as calcium, iron, phosphorus, sodium, potassium, magnesium and zinc. Dates also contain vitamins such as thiamin, riboflavin, niacin, folate, vitamin A and vitamin K. Muslims who break their fast regularly with Dates, may not know that besides being a Sunnah (practice) of the Prophet Muhammad (S) to do so, breaking fast by eating dates helps avoid overeating of food after the fast is finished. When the body begins to absorb the high nutritional value of the dates, feelings of hunger are pacified. Also, the nervous system can get a lot of help from consuming dates, since they have such significant amounts of potassium. There are just too many health benefits of Dates to list here, but check out this very detailed list on this link.
Bananas – Another super fruit which has many health benefits and when ripe is a great natural sweetner (along with dates) for any type of smoothie! Bananas have a lot of fiber which make you feel fuller and is easy to digest (it also helps with constipation). They area also linked to increased absorption of Calcium (good for bones), anti-inflammatory so they reduce swelling and help with arthritis and gout. Bananas are a natural antacid and helps upset stomachs and has benefits to the kidneys, eyes, increases red blood cells and also is good for your heart!
The full recipe by Nyela G from Mississauga, Canada is below. Enjoy your Super Suhoor Smoothie today (or tomorrow before dawn, if you are fasting right now:))
1 banana (use a ripe banana for more sweetness)
1 avocado (peeled)
1/2 organic spinach
3-4 dates soaked
1/2 cup milk or coconut milk
1 table spoon flax seeds
1 tablespoon chia seeds
Ice ( if preferred)
Blend all ingredients together and drink up!
For Questions/Comments about the recipe or for more great cooking tips, email Nyela at: maplemasala16@gmail.com