Christopher McCoy and I were invited to do another Mosque panel discussion at ISNA's 52nd Annual Convention held in Chicago, IL this past Labor Day weekend (Sept 4th to 7th, 2015). We doubled our panel size and added two more speakers to join us this year.
We made sure to have a Muslim woman Architect on our panel, as last time we had many questions about the involvement of women in the design of Mosques in the U.S. We were fortunate to find Saaema Alavi, a native of Chicago and an Architectural Project Manager.
Saaema, who also volunteers as an Islamic Art & Architecture instructor at her local Islamic Center in Vila Park, IL made a great presentation on the development of the mosque during the Prophet (S)'s time. She discussed how the Mosque was the center of Madinah. This eventually lead the city to develop in a ring shape around the Masjid. There was no wall or barrier separating men and women inside the Prophet's Mosque except for children. Children served or acted as a natural buffer between the two genders during prayers and other Mosque services.
Saaema emphasized that we as Muslims across the globe should go back to the Sunn'ah of the Prophet (S)'s and abide to these original ideals of inclusion for both men and women in the Mosque. This should be reflected not only in the architectural & aesthetic design, but also the governance of Mosques across the country. Women should amply have a designated space in the main prayer hall and be welcome to join the board of Mosques that they and their families regularly attend.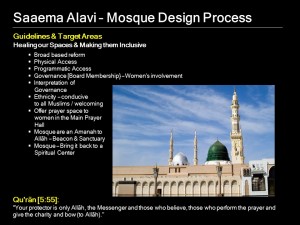 Saaema's presentation actually meshed very well with the convention this year, as the leadership of ISNA had a campaign aimed at advising Mosques across North America to start becoming more Women-Friendly and give them an opportunity to be involved in the Mosque decision making process.
Our other new panelist this year was Rahim Akbar. Although Rahim is a Naval Architect / Engineer by education & training, he is also a 3rd generation "Mosque Decorator" whose family came from the great Woodworking Artisans of the Mughal Empire.
Rahim has created some amazing custom design mihrabs, other decorative wood panels and furniture pieces for many Mosques across the United States. Some of his artwork has been displayed in the Royal Ontario Museum in Canada and he also has a permanent collection at the Bradford Museum in the UK.
Rahim showed examples of his custom designs and hand installed work at Mosques across the U.S. He suggested to the audience that all Mosque projects should set aside at least 1% of their construction budget for the decoration and artwork for Mosque interiors. He gave a good example of how many Mosque projects spend a lot of money on their bathrooms and wudu (ablution) areas, (where most people spend very little time in), but leave little or no money budgeted for the mihrab and Islamic artwork in the main prayer hall, (where most Mosque attendees and visiting guests will be sitting) The prayer spaces is where worshipers spend most of their time.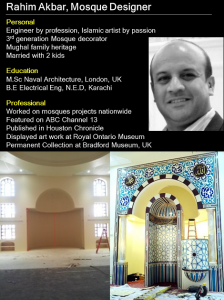 Rahim also suggested that the design of the mihrab should be done as early as possible and preferably at the same time as when the building Architect has been commissioned for the project. By doing so, the Architect can coordinate size, dimensions, and details about the artwork / mihrab as well as interior design of the Mosque. You can see more examples of Rahim's work on facebook here.
Christopher and I talked mainly about the importance of hiring a professional Architect (and Contractor) for your Mosque project. Some of the main points from Christopher's presentation included:
Use only experienced volunteers for your project committee, but not necessarily the major donors. Major donors tend, to influence the project to based on their own preferences rather than what is best for the community. The project committee should also be small to make quick decisions (5 people max.) and should be inclusive of women and youth from the community as well.
Don't underestimate the cost of the project or downplay all the costs for donors. Be upfront and honest and make sure to include contingencies in your budget (at least 10%). More often than not, construction projects go over budget and this should be expected and planned for ahead of time.
Before buying any property, make sure to check the zoning of the land to see if a religious assembly building can be built there. Make sure to get an Architect or Engineer to review the building or property to assess its readiness BEFORE you buy it!
My advice included:
Always hire professionals rather than relying on volunteers. You can fire a paid person, but you cannot fire a volunteer (even though you may want to).
Have good relations with your neighbors and city officials BEFORE you start any project. This will help you to get ahead of any potential problems, when the time comes for neighbors to give their input on the project at Planning Commission Meetings.
When you are in the Construction Phase of the project, make sure to inform your Architect BEFORE making any changes in the field. In other words, do not let the Contractor change the design by claiming that he/she can save you money, without first talking to the Architect. It is a common tactic for Contractors to give a low bid to get the job. Once they get the project, they start issuing Change Orders, in order to get more money! Allow the Architect to represent you, just like a lawyer would represent you in a court of law. You as the client (Mosque) should not make any decisions during any phase of the project without consultation of your professional Architect & Engineers.
Get multiple bids from Architects before the Design Process and also get multiple bids from Contractors before the Construction Phase. Do not just go with the first and/or lowest bid you receive. Compare all bids (hire a professional to assist you to review bids) and pick the best person/people for the job within your budget.
During the Q/A session, we had a lot of repeat questions from last year's panel discussion, so I won't repeat everything here again. You can read a quick summary of our Q/A (from last year) here.
For any additional questions/comments / suggestions or to get in touch with any of our panelists, please email me at irfan.rydhan@gmail.com
Thank You,
Irfan