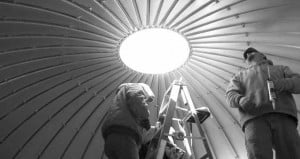 The aftermath of the election of Donald Trump for President of the United States has brought more attention to parts of the country, which for many have been largely ignored by mainstream media: Middle America. Some of the strongest support for Trump came from Ohio, Kentucky, West Virginia and Tennessee. Although they do not all fall under the category of Middle America, they do have very similar characteristics: Small towns, where many people are middle class, traditional family values, some type of Christian, and white.
Many people may not realize that there has been a growing Muslim community in Middle America over the past 20 years. One way this has been documented is from the number of Mosques which have been built or are in the process of being constructed in the Appalachia, Middle Tennessee and Midwest regions of the United States.
A recent study* of 6 mosque projects in the above mentioned states, from 1998 to 2016 shows an average construction cost of $1.5 Million dollars for a 8,949 SF size building which can accommodate 314 people. That equates to about $4,500 per each occupant of the building! The numbers may be slightly skewed due to the fact that 3 of those mosques were built 16 years ago or earlier, when construction costs were lower and the buildings were also smaller in size.
If one looks at only the 3 most recent mosque projects in the study from 2008 to 2016, the average construction cost is $2.5 million for a 13,240 SF size building which can accommodate 510 people. That comes to almost $5K per building occupant at maximum capacity!
The construction time, which was not available for the 3 older mosque projects, was 24 months (2 years) on average. The most current mosque project which was completed this year, took 46 months (almost 4 years) to complete. One of the main reasons for unusually long construction time for mosque projects, is due to the fact that the community does not have all the necessary funds for construction upfront and have to continually raise funds, which usually slows down the construction time which then cause delays in completing the project on schedule. Many times this "start and stop" process during construction also causes an increase in costs due to the contractor having to rearrange sub-contractor's schedules and making sure that there is enough manpower available once the project is up and running again. It's definitely an inefficient way to construct a building.
Why is this data and study important? The simple reason is that many Muslim Community leaders across the country heavily underestimate the amount of time and money it takes to build a mosque in the United States. There may be many understandable reasons for doing this such as to not scare off donors and/or to keep the project moving, but in this day and age of increased scrutiny, especially for the Muslim community in America, it is important for both leaders in the community as well as mosque congregations to be transparent and to know exactly what they will be getting themselves into in terms of both financial and time commitments in order to build a mosque from the ground up. And as mentioned earlier, it is best to have as much of the funds necessary to complete the project in hand, to avoid unnecessary and costly construction delays. Securing an Islamic loan or no-interest loans from community members is one way to do this.
The above data is for mosque projects in "Middle America" where both land and labor cost is usually cheaper than it is in the big cities and coast states of the United States. Thus, a mosque project in California or New York might cost 3x as more than it does in the Midwest and would probably take much longer to complete as well due to the higher level of restrictions by Planning and Building Departments in the "Big Cities."
Construction Costs, including in the Midwest states, will continue to increase year by year, due to higher materials and labor costs, but with a realistic budget and timeline in hand; your community will be able to get through the process without too much shock or surprises, if the project is handled properly from the beginning. I always recommend hiring professional Architects and Contractors for Mosque projects (and any other type of project) because they will have the experience to guide you through the process and if hired early enough on, can also provide a realistic budget and timeline for you. It's always better to know that your project will cost you approx. $2.5 million and take approx. 3 years to complete, rather than getting bad info (a verbal estimate, etc) and thinking you can do the same project for $1.5 million in only 1 year and then have to explain to your community what went wrong afterwards!
*The data from the study was provided by professionals experienced with mosque design and construction in the United States.
Irfan Rydhan is an Architectural Designer and Project Manager, who has both volunteered and been hired as a paid consultant for several mosque projects in the SF Bay Area over the past 12 years. He can be reached via email at: irfan.rydhan@gmail.com