Many people try to look for new & inventive ways on how to re-purpose the left-over turkey from Thanksgiving!  One great idea we found is from Chef Nyela in Toronto, Canada: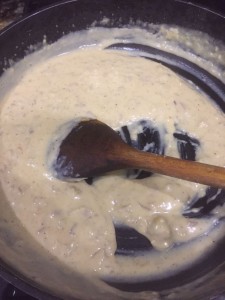 Step 1: Dough
2 cups flour
1 tablespoon yeast
½ cup warm water (100 F)
1 teaspoon sugar
1 teaspoon salt
¼ cup olive oil
2 eggs
Warm milk (about 1 cup or as needed)
Directions
To activate yeast, mix together the water, yeast and sugar. Let it sit until the mixture is frothy and bubbles at the top.
In a separate large bowl, sift in the flour with salt.
Add 1 egg and the oil to the flour. Mix together with the flour.
Add the yeast water. Add ½ cup milk and mix well.
Keep mixing and adding milk until the ingredients come together and you can form a ball.
Note: the dough should be soft.
Take the dough out of the bowl onto a clean and floured surface
Knead the dough until a soft and smooth ball can be formed or about 10 minutes.  Note: to knead you will need to push the dough on the surface, and rolling it back. Turning and repeating the process.
Put dough back in the bowl, rub with some oil and cover with damp cloth.
Let it rise for 3 hours in warm place such as the oven.
After the dough has risen, turn it out onto a floured surface.  Punch the air out of the dough and press with the palm of your hand to flatten.  Roll it out into a rectangular shape.

Flatten the dough

Step 2: Filling

5 pounds cooked left-over turkey (Shredded)
1 medium onion
2 cloves garlic
3 tablespoons all-purpose flour
2 tablespoons butter
1 tablespoon Olive oil
1 teaspoon paprika
¼ cup chopped coriander or parsley
2 cup water or stock
Salt and pepper to taste

This image shows ground beef stuffing, but you an put any kind of meat or vegetables.

Preparation:

In a large sauce pan, add butter and oil, melt butter on medium low heat. Once melted, add onions and sauté onions until soften.  Add garlic and sauté for a minute.
In another sauce pan, bring the stock/water to boil.
Add flour and cook until flour becomes a golden brown colour. Whisk in the stock/water slowly, 1/4 cup at a time to ensure no lumps are formed. Add salt, pepper and paprika.
Let the béchamel sauce come to a boil. Turn down heat to low and let it simmer until the sauce has thickened and coats the back of a spoon.
Add the shredded turkey and stir to evenly coat the turkey with the sauce. Let it simmer until the turkey has absorbed some of the liquid and mixture becomes pasty.
Remove from heat and let it cool down to room temperature before filling the bread dough.

It does not need to be perfect.  Preheat oven to 350 F.

Once it is about 10 by 13 inches long, layer the filling (see recipe below) in the centre of the dough length wise. The filling should spread evenly from top to bottom but leaving a 1 inch crust at the top and bottom. Place the dough onto a baking sheet.
Roll the sides of the dough onto the filling, so that the filling is completely covered by the dough. Note: You can also make cuts in the dough all around the filling to form a criss-cross pattern over the filling to form a braid at the top.
Once you have covered the filling, beat an egg with 1 tablespoon of water in a bowl and brush it all over the top of bread. Note: You can sprinkle sesame seeds all over if desired.
Bake for about 30 minutes or until the dough become golden brown on the top.
Remove from oven and let it cool before slicing. It will make about 9 to 10 (1 inch) pieces.

Turkey (or any other meat) stuffed dough!

The recipe was provided by Chef Nyela G. from Toronto, Canada. You can email any questions you may have about the recipe or cooking in general to (email: maplemasala16@gmail.com)