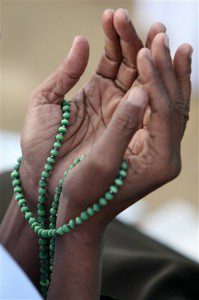 By Stephanie Luna Wallace
"Noni, Mami has a prayer shirt, and I have a prayer hat. Don't you have one?" That's how my mother discovered I had converted to Islam. I had been praying the five daily prayers for three months, and my four-year-old finally found a way to communicate my new habit. Certainly not my planned reveal, but it was fitting that he, an innocent child, had shared the news, perhaps softening the blow.
At the same time, I couldn't help but wonder if my son would tell his father–a discussion I have been envisaging in my mind since my conversion. As a Muslim woman divorced from a Christian man and preparing to marry an Arab Muslim, I have opened quite the "can of worms."It seems somewhat cowardly, but I shied away from flatly telling my family that I had embraced Islam. I delayed the inevitable conversation, determined to find just the right grouping of words to explain my conversion, and although I mentally wrote and rewrote the script endlessly, they never appeared. I spent so much time coming up with ways to justify my acceptance of Islam and to condense a one-year journey into a half-hour conversation that I forgot the most logical and likely of questions. My mother looked at me and simply asked, "Why do you not want to be a Christian anymore?" It's a fair question, and for all my preparation, I had no satisfactory answer in that moment.
What came out was incoherent babble that completely dodged the question, "Well, it's actually more of a prayer dress … " It didn't exactly clear up the issue, but I felt some comfort in knowing that I had explained something … a totally irrelevant something, but something.My reveal to my family is probably not too different from those of the 23 percent of American Muslims who are converts (Pew Research Center, 2007). It is a coming out of sorts to explain to our families the conversion experience. There is an awkward limbo for many people who leave Christianity (or any faith, for that matter) and enter into Islam; the period between leaving one's familiar, childhood religion and sitting down to make the official testimony of faith, the shahada, can be exhausting and riddled with anxiety. Each person faces her own idiosyncratic difficulties as each religion and sect deals with conversion differently.
I lost everyone around me. Upon conversion, I immediately became a loner in a world full of communities, a puzzle piece that didn't fit. I imagine most converts are stung by this same frightening loneliness; it is born, not out of a dissatisfaction with our new faith, but from a realization that our lifelong social and spiritual networks have thinned out, and we have yet to become fully integrated into the local Muslim community. Add to this the fact that some of us are single parents, and the anxiety doubles. After all, as a convert, I now carry the burden of raising an educated, observant young Muslim man without the same reassuring sense of community my parents enjoyed.
After so much deep reflection on whether or not to embrace Islam, I felt relieved that the most difficult part of the journey lay behind me. Little did I know that dealing with the reactions of family and friends to my conversion would be just as, if not more, draining and conflicting than coming to terms with my spiritual evolution myself! After a bitter, traumatic divorce, I, perhaps naively, felt I finally had good news to share. But I was alone in my excitement; no one else interpreted it this way. In their minds, my acceptance of Islam represented a misguided reaction against God for the dissolution of my marriage. I had rejected Christianity out of anger and rebelliousness, and now was on a path to hell.
I quickly realized that although I had embraced Islam after much soul searching, my work was not done. I would now find myself defending my decision at every turn, and potentially placing a barrier between myself and the people I needed most. How had all this boiled down to talking about a prayer shirt?I would like my family to accept my decision. I need my son's father to at least tolerate it. Neither of these might happen, but these are the unique set of challenges I have been dealt as a Muslim convert.
Yesterday, my son proudly brought his prayer hat to show my mother. She laughed as he modeled it for her. She may not understand why I chose Islam, but, in a serendipitous way, it is a four-year-old who can bypass the hurt and the fears and teach my parents that Islam is not about hate; it is about worship of one God. That is my solace.
I'm happy to have it, because there are plenty of reminders that I am now a foreigner in the community to which I once belonged. Just today I scrolled through Facebook photos of my former church; it's a curious experience to become an outsider.
After the less than grand reveal, I agonized, how will I politely and gently explain to my mother that I do not want her to tell my son Jesus lives in his heart? Will I allow him to continue to attend church with his grandparents? My decision came after reading a portion in the Quran: "[But those firm in knowledge say] 'Our Lord, let not our hearts deviate after You have guided us and grant us from Yourself mercy. Indeed, You are the Bestower'" (Quran 3:8). So, the church's Sunday school classes still play a part in educating my son, and his father will continue to teach him about his own customs and religious doctrine. At some point, my son will decide for himself.
Some people, perhaps even his mother, won't agree with his decision, but she will equip him to be a thinker, to allow Allah to guide his heart and always search for the clear signs He has left for our benefit. For now, I'll wear my prayer shirt, bow in worship and trust the rest will come as Allah has already written.
(Converts to Islam. (2007). Pew Research Center. Retrieved from http://www.pewresearch.org/daily-number/converts-to-islam/)
A professor of ESL and Spanish, Stephanie Luna Wallace focuses on language and how it affects cultural relationships. She converted to Islam in 2013 after one year of careful consideration and an amazing journey planned by Allah. This post originally appeared in Altmuslimah.