Troops from the Missouri National Guard are prepared to deploy around Ferguson, Missouri, as the city awaits a grand jury decision on whether to indict a white police officer who shot and killed an unarmed black teenager in August, which ignited the city in waves of protest.
The events following the tragic police killing of Michael Brown Jr. on August 9th in Ferguson have drawn both national and international media coverage. The role of Muslims in Ferguson has been a frequent topic of conversation. Conspiracy theories have arisen in the right-wing media and amongst opponents of the protest movement in the St. Louis area pointing the finger at a sinister Muslim conspiracy in Ferguson. Within the Muslim community there has been debate regarding the appropriate Muslim response to the surrounding issues. This is a piece I have decided to write to help clarify the role of Muslims in Ferguson.
By Umar Lee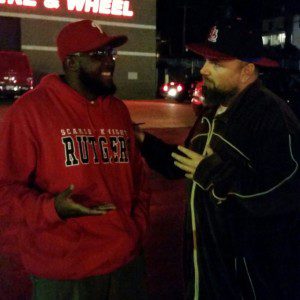 Let me start by giving readers a sense of place. Ferguson is a predominantly African-American, although racially-diverse, suburb of St. Louis located in North St. Louis County ( where I was raised). It is more accurate to think of events in Ferguson in the context of St. Louis rather than Ferguson alone. The majority of protesters you will see on the streets live in other parts of the St. Louis metro area and a number of the events associated with the protest movement have taken place outside the city limits of Ferguson.
North St. Louis County is home to a growing Muslim population. There is a historic African-American Muslim community in North City and County. Within a short distance of Ferguson is Masjid Umar (formerly the Institute of Learning), located in the rugged Mark Twain neighborhood of North City. Masjid Umar has a Nigerian-American imam and a predominantly African-American congregation. To the north of Ferguson in the city of Hazelwood, you have the Dar al-Jalal Mosque ( the largest mosque in the St. Louis metro area). Dar al-Jalal is a predominantly Arab (specifically Palestinian) congregation with a high percentage of store-owners in North City and County as congregants. Closest to Ferguson is the West Florissant Masjid in the city of Jennings. The West Florissant Masjid is a predominantly Nigerian congregation with a very diverse crowd at Friday prayers. Also, close to Ferguson in the Walnut Park neighborhood of North St. Louis you have Muhammad's Mosque #28 of the Nation of Islam.
From day one, Muslims have been on the ground in Ferguson. The Facebook group Muslims for Ferguson and other efforts were just later manifestations of what was already happening. Muslims were in Ferguson first and foremost because we live in the community like everyone else and are concerned about its well-being.
Muslims Protesting/Peacemaking in Ferguson
Along with Brothers Anthony Merrill and Naji Fakhrid-deen Adams, I was on the ground in Ferguson on the first night. I grew up in the area and have been talking about issues of violence and policing and surrounding economic issues for years. For me it was a no-brainer to stand in solidarity with those protesting in the streets. Brother Anthony also grew up in the area and has been vocal on local issues for years. Brother Naji is a reformed East St. Louis gang leader and substance-abuse counselor who works in the community every day.
Talal Ahmad was also on the ground from day one. A native of the O'Fallon Park Neighborhood in North St. Louis living in Jennings Brother Talal is a local independent-journalist who emerged as a protest leader with the group Tribe X. Brother Talal was instrumental in the successful occupation and subsequent negotiations with St. Louis University.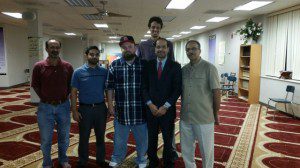 Brother Anthony Shahid of the Tawheed Youth Group and Masjid Tawheed is a long time St. Louis activist and veteran of the African-American struggle for justice. Brother Shahid was on the ground from day one and played a pivotal-role as a peacekeeper. Missouri State Senator Jamillah Nasheed and her aide Eric Vickers, both Muslim, have also been mainstays at the protests. Ministers Donald and Akbar Muhammad, members of the Fruit of Islam security, and the Final Call News and others components of the Nation of Islam have also been active on the ground as have members of the Moorish Science Temple.
Mustafa Abdullah of the American Civil Liberties Union of Missouri has not only been active on the ground he has taken local police to court over the "5 second rule" and other egregious abuses of civil-liberties. Faizan Syed, director of the St. Louis Chapter of the Council on American-Islamic Relations along with community-activist and Hafiz Abdul-Basit Syed, have also been of assistance to activists starting at an early date.
The above mentioned Muslims come from different racial, theological and socio-economic strains; but are all St. Louis area Muslims brought to Ferguson out of a sense of justice. This by no means suggests there is a complete uniformity and tactical agreement among Muslim activists. It is just a recognition of some Muslims who have been on the ground since the beginning. And, this by no means is a complete list.
The economy of North St. Louis and increasingly many parts of North County has been abandoned by chain stores and mainstream American staples. This has created an environment conducive to immigrant entrepreneurs, and in St. Louis the biggest group is Palestinians. Corner grocery stores, gas stations, beauty supply stores, cell phone stores, fried fish and chicken restaurants and furniture stores in the St. Louis Northland are all likely to be owned by Palestinian-Americans. While there are a number of these business owners who tend to have less than desirable relationships with the community, there are shining examples.
Zuhdi Masri is a Palestinian-American businessman who has owned Yeatman Market in North St. Louis near O'Fallon Park for more than 30 years. A longtime community and political activist, Brother Zuhdi has been involved in many efforts for peace over the years. With events in Ferguson, Brother Zuhdi has had to wear many hats; supporting peaceful protesters calling for justice, helping Palestinian store-owners who had their businesses looted and using his stature as an elder to reach out to the St. Louis establishment.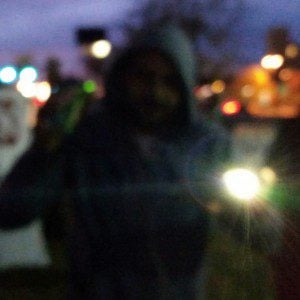 Bassem Masri, Zuhdi's son, has emerged as a popular livestreamer covering protests day and night. The father and son have different methodologies and ways of going about things; but at their core both are motivated by a love of justice. Zuhdi representing the immigrant store-owner. Bassem representing the second-generation immigrant kid who grew-up in the store navigating himself in this dunya.
No Extremism, No Unity
The events of Ferguson attracted many national leaders representing different religions and political philosophies. National Muslim leaders who came to Ferguson include Nihad Awad, the executive director of CAIR, and Linda Sarsour of Brooklyn.
The events of Ferguson have also highlighted some divisions within the Muslim community. This came into focus during the recent election for St. Louis County Executive. A number of affluent South Asian ( and other) Muslims from the western suburbs of St. Louis along with factions within the Bosnian Muslim community in the southern suburbs of St. Louis supported Democrat Steve Stenger. Stenger, the Democratic nominee (referred to as a Dixiecrat by this writer and many others), drew the ire of the protest movement due to his close relationship with St. Louis County Prosecutor Bob McCullough and his general poor relationship with the African-American community.
While the West County upper-crust Muslim establishment opted to back Stenger along with many Bosnians, a number of African-American Muslims and others either opted to cross the aisle and support the Republican candidate or write-in a protest vote.
For those who decry a Muslim conspiracy afoot in Ferguson, all I can say is that there is none — no extremism or even Muslim unity. What you're seeing is Muslim community involvement — "Enjoining the good and forbidding the evil." May Allah guide us all to the right path and spread His mercy and justice on the St. Louis area during this turbulent time.
Umar Lee is a St. Louis-based  activist and writer. His writings can be found at umarlee.wordpress.com, on his Amazon author page and in the St. Louis Evening-Whirl. This post was originally published on his wordpress blog, and all photos are taken by him.