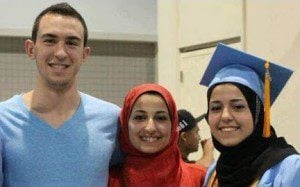 By Alan Howard
By now you have probably heard of the tragic shooting deaths of the three students in Chapel Hill, NC – Deah Barakat, his wife Yusor Abu-Salha and her sister Razan Abu-Salha. You have no doubt also heard of the arrest a short while later of the suspect Craig Stephen Hicks who has admitted that he entered their home and shot all three of them to death. The reason given by the local authorities is that this shooting was ostensibly due to a long-running parking dispute that Hicks had been having with several neighbors. The collective feeling among American Muslims is that parking disputes take place in parking places and do not involve home invasion and execution style killings. The authorities need to be given the time to investigate all the angles of these murders, but the American Muslim community must be responsible for holding them to that investigation and not allowing this crime fade into the background.
But this crime also awakened something that was unprecedented until this time, and that was the coming together of almost every major American Muslim organization in the wake of the tragedy. Early in the morning on the day after the shooting, utilizing social media and instant messaging American Muslims from media and PR firms joined a conversation that included MPAC, ISNA, CAIR, ISB, ING, SMILE, MuslimHeroes, National MSA, and a huge host of other organizations. These disparate organizations came to this one central conversation with the same aim which was to react to this tragic shooting and come up with ideas for honoring the slain and build bridges. This online conversation later morphed into a conference call and now-forming committees across organizational lines to come up with fresh ideas for dealing with not only this tragic circumstance, but also new ways that these disparate organizations can work together to combat Islamophobia or do more community action.
Also coming out of this unity of purpose was the organization locally of vigils to honor and remember the deceased. These have been organized across college/university campuses and in cities across the country. A list of all of these vigils is at the bottom of this article.
Still, this shooting has been very unsettling for Muslims across the country as a whole, but has impacted the greater Triangle region of NC (Chapel Hill, Durham, Raleigh) hardest. A member of that great community Sarwer Zafiruddin (Raleigh) said of the shootings, "We are numb and in shock. That three young people with so much to give back to the community and the country as a whole would be stolen from us in an instant is very hard to fathom." He went on to talk about how it affects his family: "I do not think I am any different from anyone else in the community here when I say I worry about my own wife and children being targeted."
Vigils scheduled:
| | | | | | |
| --- | --- | --- | --- | --- | --- |
| Fri, Feb 13 | 6:00 PM | Vigil | Edmonton | AB | Canada |
| | | | | | |
| Thurs, Feb 12 | 6:00 PM | Candlelight Vigil | Tempe | AZ | USA |
| | | | | |
| --- | --- | --- | --- | --- |
| Thu, Feb 12 | 6:30 PM | Candelight Vigil | Los Angeles | CA |
| | | | | |
| Fri Feb 13 | 4:00 PM | Candlelight Vigil | Merced | CA |
| | | | | |
| Thurs Feb 12 | 5:00 PM | Candlelight Vigil | Los Angeles (UCLA) | CA |
| | | | | |
| Thurs Feb 12th | 6:00 PM | Candlelight Vigil | Long Beach | CA |
| | | | | |
| Thurs Feb 12th | 5:30 PM | Candlelight Vigil | San Diego | CA |
| | | | | |
| Thurs, Feb 12 | 7:00 PM | Candlelight Vigil | San Jose | CA |
| | | | | |
| Thurs, Feb 12 | 7:00 PM | Candlelight Vigil | Davis | CA |
| | | | | |
| Thurs, Feb 12 | 7:15 PM | Candelight Vigil | Santa Clara | CA |
| | | | | |
| Thurs, Feb 12 | 6:30 PM | Candlelight Vigil | Los Angeles | CA |
| | | | | |
| --- | --- | --- | --- | --- |
| Thurs, Feb 12 | 7:30 PM | Candlelight Vigil and Prayer | Santa Barbara | CA |
| | | | | |
| Wed Feb 11 | 6:00 PM | Candelight Vigil | Davis | CA |
| | | | | |
| Wed Feb 11 | 7:30 PM | Prayer/Healing Halaqah | Rancho Cucamonga | CA |
| | | | | |
| Wed, Feb 11 | 6:00 PM | Candlelight Vigil | Fullerton | CA |
| | | | | |
| Wed, Feb 11 | 6:30 PM | Candlelight Vigil | Los Angeles | CA (USC) |
| | | | | |
| Wed, Feb 11 | 9:00 PM | Candlelight Vigil | Stanford | CA |
| | | | | |
| Fri, Feb 13 | 6:00 PM | Prayer Vigil | Bridegport | CT |
| | | | | |
| Thurs, Feb 12 | 6:30 PM | Candlelight Vigil | Washington | D.C. |
| | | | | |
| Thurs, Feb 12 | 6:30 PM | Candlelight Vigil | Washington | DC |
| | | | | |
| --- | --- | --- | --- | --- |
| Thurs, Feb 12 | 6:30 PM | Candlelight Vigil | Orlando | FL |
| | | | | |
| Thurs, Feb 12 | 6:30 PM | Candlelight Vigil | Miami | FL |
| | | | | |
| Thurs, Feb 12 | 4:00 PM | Candlelight Vigil | Tampa | FL |
| | | | | |
| Wed. Feb 11 | 7:00 PM | Candlelight Vigil | Athens | GA |
| | | | | |
| Thurs, Feb 12 | 6:30 PM | Candelight Vigil | Atlanta | GA |
| | | | | |
| Thurs, Feb 12 | 7:00 PM | Candlelight vigil | Augusta | GA |
| | | | | |
| Thurs, Feb 12 | 7:00 AM | Drive to Funeral (Janaza) | Atlanta | GA |
| | | | | |
| --- | --- | --- | --- | --- |
| Wed, Feb 11 | 7:00 PM | Candlelight Vigil | Chicago | IL |
| | | | | |
| Wed, Feb 11 | 6:15 PM | Candlelight Vigil | Evanston | IL |
| | | | | |
| Wed, Feb 11 & Thurs, Feb 12 | 6:00 PM & 7:00 PM | Candlelight Vigil & Salatul Gha'eb | Chicago | IL |
| | | | | |
| Thursday Feb 12 | 6:00 PM | Candelight Vigil | Chicago | IL |
| | | | | |
| Wed, Feb 11 | | Candlelight Vigil | Boston | MA |
| | | | | |
| --- | --- | --- | --- | --- |
| Thurs Feb 12th | 7:00 PM | Prayer and Candlelight Vigil | Baltimore | MD |
| | | | | |
| Wed Feb 11 | 6:00 PM | Candlelight & Prayer Vigil | Flint | MI |
| | | | | |
| Wed, Feb 11 | 7:00 PM | Candlelight Vigil | Ann Arbor | MI |
| | | | | |
| Wed, Feb 11 | 6:00 PM | Candelight Vigil | Minneapolis | MN |
| | | | | |
| Wed, Feb 11 | 5:30 PM | Prayer and Candlelight Vigil | Chapel Hill | NC |
| | | | | |
| Wed, Feb 11 | 5:00 PM | Prayer Vigil | New York | NY |
| | | | | |
| Wed Feb 11 | 9:00 PM | Candlelight & Prayer Vigil | New York | NY |
| | | | | |
| Wed, Feb 11 | 5:00 PM | Candelight Vigil | NYC | NY |
| | | | | |
| --- | --- | --- | --- | --- |
| Fri, Feb 13 | 6:30 PM | Candlelight Vigil | Buffalo | NY |
| | | | | |
| Fri Feb 13 | 4:30 PM | Vigil and Silent Protest | Cleveland | OH |
| | | | | |
| Fri Feb 13 | 2:30 PM | Candlelight Vigil | Cincinnati | OH |
| | | | | |
| Thurs, Feb 12 | 7:00 PM | Candelight Vigil | Columbus | OH |
| | | | | |
| Wed, Feb 11 | 7:00 PM | Candlelight Vigil | Columbus | OH |
| | | | | |
| Fri, Feb 13 | 6:00 PM | Candlelight Vigil | Toronto | ON |
| | | | | |
| Wed Feb 11 | 7:00 PM | Candlelight Vigil | Ottawa | ON |
| | | | | |
| Wed, Feb 11 | 8:00 PM | Candlelight Vigil | Bryn Mawr | PA |
| | | | | |
| --- | --- | --- | --- | --- |
| Thurs, Feb 12 | 6:00 AM | Candlelight Vigil | University Park | PA |
| | | | | |
| Friday Feb 13 | 6:00PM-8PM | Candlelight Vigil | Nashville | TN |
| | | | | |
| Fri, Feb 13 | 6:00 PM | Candlelight Vigil | Dallas | TX |
| | | | | |
| Sun, Feb 15 | 5:00 PM | Candlelight Vigil | Houston | TX |
| | | | | |
| Thus, Feb 12 | 7:00 PM | Candlelight Vigil | Richardson | TX |
| | | | | |
| Thursday Feb 12 | | Candlelight Vigil | Dallas | TX |
| | | | | |
| Thursday Feb 12 | 8:00 PM | Candlelight Vigil | College Station | TX |
| | | | | |
| Thursday Feb 12 | 6:00 PM | Candelight Vigil | Austin | TX |
| | | | | |
| Fri Feb 13 | 2:00 PM | Candlelight Vigil | Fairfax | VA |
| | | | | |
| --- | --- | --- | --- | --- |
| Fri, Feb 13 | 9:00 PM | Candlelight Vigil | Charlottesville | VA |
| | | | | |
| Wed, Feb 11 | 8:00 PM | Candlelight Vigil | Richmond | VA |
| | | | | |
| Wed, Feb 11 | 8:30 PM | Candlelight Vigil | Blacksburg | VA |
Thurs Feb 11
12:00 PM
Candlelight Vigil
Milwaukee
WI
Thurs, Feb 12
6:00 PM
Candlelight Vigil

Lewisburg
WV
Wed, Feb 11
7:30 PM
Candlelight Vigil
New Brunswick
Wed, Feb 11
6 30pm
Healing Circle
Boston
MA
Fri, Feb 13
1:00 PM
Moment of Silence, small talk
Fort Collins
CO