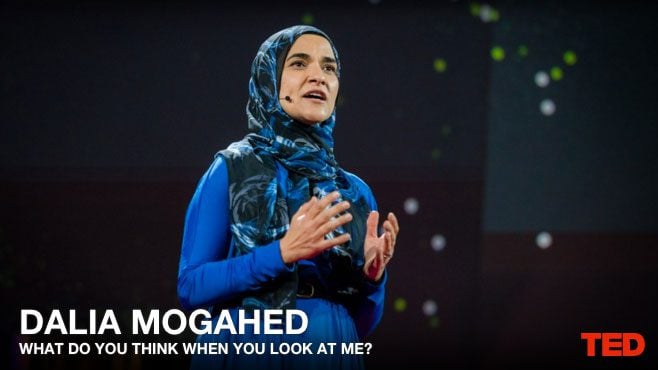 By Michael Wolfe
Standing ovations at TED Talks are not that common. The last one I recall was a magician with a sword who, literally, showed his audience how to swallow fear.
Imagine then the collective surprise when Dahlia Mogahed, social science research wonk, mother of two, and a practicing Muslim walks on stage, poised, cheerfully dimpled, in a striking blue Muslim dress and head scarf, and smiling into the footlights asks a full house, "What do you see when you look at me? A woman of faith? An expert? Maybe even a sister. Or oppressed, brainwashed, a terrorist."
Then try to imagine your amazement 15 minutes later when, against all odds, the whole crowd is on its feet and clapping.
Without fanfare, the personable Mogahed takes her audience on a solidly reasoned, thoughtful journey past the three not-so-subconscious stages of distrust, anger and fear that many Americans currently go through every time they see a woman in a headscarf. She explains how this happens, what it costs, and what it means—to the perceiver and the perceived, to our personal space and our public world, to democracy itself when fear takes over and labels win the day. She explains the stakes and she offers a choice and a challenge. No wonder the whole room jumped up to applaud.
Like a lot of people, I watched the talk on-line. I was at work, in MOST's Story Bank office, just doing my job, reviewing media pieces related to Muslims and Islam. The moment the TED talk ended, I began scrolling through all the Style & Fashion articles I could find in our searchable archive. Why Fashion? For two reasons:
Because the look of Muslim women is one of the most loaded social messages of our time.
Because just now, when so much extra meaning is being placed on their appearance, Muslim women's fashion has come into its own.
In reference to the first point, writer Shelina Zahra Janmohamed, who is based in the UK, had this to say (on Facebook) regarding the recent gaffe uttered by the Women's Rights minister in France as well as the ruckus over the sale of burkinis at Marks and Spencer:
So the Women's Rights minister in France has said that the burkini that Marks and Spencer has announced for sale in the UK is a form of 'social control', and that brands that sell such an item are 'irresponsible' and promoting women's bodies 'being locked up.' Yet the irony is lost on her that removing choice from Muslim women (or any other woman) so she cannot choose how she dresses is itself a form of control. And when such views are challenged about the fact that Muslim women choose for themselves to dress in this way, the response is really the most insulting of all, which runs, yes, but they can't really think for themselves, they are brainwashed. For a women's rights minister to claim that any woman can't think for herself and must be helped to know what's good for her, is infantilisation at its height, and is the very attitude that feminists have been attempting to dismantle for centuries. Do I sound angry? I am. Women, including Muslim women, have huge issues to tackle together: domestic violence, sexual assault, employment and pay discrimination, the disproportionate effects of war and poverty and illiteracy. And we are worried about a swimsuit? And this is the only subject that comes up again and again? And no, this is not the 'thin end of the wedge', it is an issue that should be put down to women's right to choose and the demands of the consumer market, and we should move on to actually delivering women's rights not talking about a swimsuit. Seriously, a headscarf or a swimsuit is not the sole definition of a Muslim woman. Start seeing Muslim women as people, not just reducing us to what we wear.
Indeed, what Muslim women wear (or don't wear) is a story or message that won't go away, even though, as Janmohamed said, there are much more important issues to tackle.
In reference to the second point:
Exhibit A: Nabila Noor's library-size archive of YouTube videos, Instagram, Snapchat, Twitter and Facebook pages have made her a household name in Muslim social media. Noor's YouTube channel overflows with advice on make up, room decors, foodie tips, party snacks, and gift ideas that flow from her bedroom and living room across the world. Move over, Martha Stewart. Recently, in addition to beauty tips, she has been offering election advice to a larger public, appearing in Iowa at the GOP debate and raising non-cosmetic questions.
Exhibit B: Amani Al-Khatahtbeh started a blog in high school called MuslimGirl.net, which today is a burgeoning social movement. First an online blog page from her New Jersey family's home, then a Rutgers University student organization, then a registered website in Washington DC, MuslimGirl has moved with Amani, picking up a global network of editors and writers, taking on the theme of being young and female that spans the world.