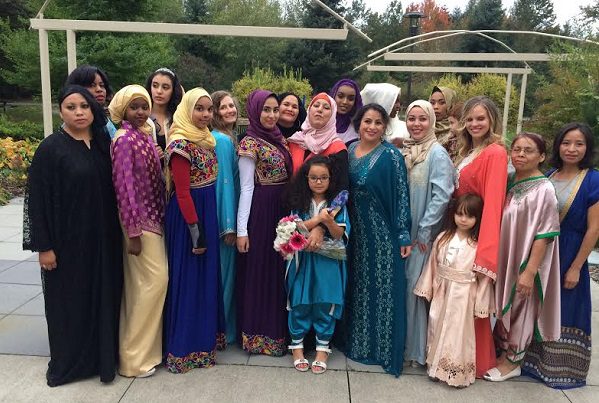 By Saideh Jamshidi
Lee Mozena, director of Zena Consulting, organized a mixed-gender modest couture fashion show to celebrate diversity, multiculturalism and different standards of modest fashion in the Pacific Northwest last week. Malikah Festival was the product of the effort, funded by Redmond Arts and Culture Commission, which took place at Redmond Senior Center.
"I think it is very hard to get accurate information about Muslims, and it is hard for people, especially newcomers, to get to know each other," said Mozena. "When we get to know each other at a very simple level, relationships changes and things happen."
More than five designers from Tunisia, Saudi Arabia and Indonesia presented their clothes on three sets of runways. The first runway depicted black abayas of soft and delicate fabric with lots of details in the design. The second runway included formal dresses worn by Muslim women in public places around the world, including Gulf countries and the Middle East. And the last runway displayed colorful dresses women wear in weddings and formal parties.
"It was too much to keep up with in such a short [timeframe]," said Chema Jamel Oh, an American-Tunisian designer. "Any dress you want, you go to Nordstrom, and you find it; you go to Macy's, and you find it. But they are all normal. I do not wear normal. I do not do normal. My design has to be eye-catching," she said.
Modest fashion shows within the Muslim world usually take place in all-women settings. But Malikah Festival decided to go mixed-gender in order to show the modest fashion to men. "From an aesthetic point of view, when you take away the sexiness of Western fashion, a whole other elements emerges," said Mozena. "It is something we do not see in American culture. So, I am very intrigued by taking away the cleavage and the skin; and yet, you pare down to the beauty of women."
But, beauty is only a part of the game. The global Muslim clothing market is forecasted to be worth $327 billion by 2020, according to the Global Islamic Economy report conducted by Thomson Reuters financial institute. International retailers such as Mango, Marks and Spencer, H & M, Uniqlo and Dolce and Gabbana have launched ranges of modest fashion aimed at Muslim and modest consumers.
Mozena believes that the modest couture fashion industry is a niched, affluent and growing market with few competitors. "We know that modest fashion is growing, and we know that fashion transcends religions and nations," said Mozena. "As a business person, I want to pay attention to any business that is growing. And I know that many business owners share that idea."
Gathering fashion, beauty, elegance, money and community together is a challenge that some Muslims and non-Muslims are willing to face.
"When I think about Muslim women, I think about hijab, about covering their bodies; I think they [Muslim women] are reserved and not very expressive" said Crystal Shin, a Chinese-American attendee to the festival. "But here, I saw elaborate designs and beautiful fabrics, and the strong presence of the beautiful women [who were] very confident," she said.
Show organizers used models with different backgrounds and body types. Among them was an American female firefighter from Redmond as well as a few male models.
"[Since] the first time I went to a hijab night at a mosque in November, I have been curious. Especially with all the news I wanted to understand the women's side. And I have been fascinated ever since," said Lori Murton, a retired computer programmer. "Any time I hear about a multicultural event, especially getting inside Muslim women's lives, I want to come and learn more," said Murton while tattooing the back of her hand with henna.
There were about nine vendors at the spacious corner of the building. Owners of different businesses or sellers of various products were very excited about Malikah Festival. "I want to put a lot of stuff together from different cultures," said Michaela Bint Michael, owner of Al-Andalus Apparel. Showing her prayer beads, Michael explained, "So, a design like this, these gold beads are African, this Hemza is Turkish, this couchi is Afghani silver. So, it is really a mixture of everything. It is kind of global." she said.
After a year of planning and communicating with different Muslim and non-Muslim organizations, Mozena was finally able to bring Malikah Festival to life this week. "What we created here is for mainstream people who are not Muslim … they are not new Americans… to get a chance to practice a new set of values and thinking," said Mozena.
Saideh Jamshidi is an Iranian-American journalist, and founder of Goltune, an online digital magazine focusing on Muslim women fashion and lifestyle.