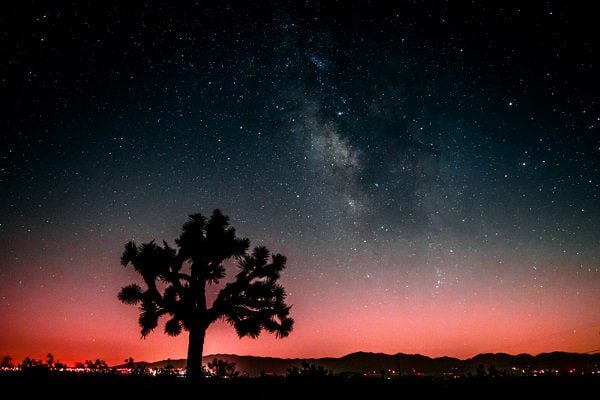 This is Day 28 of the 2017 #30Days30Writers Ramadan series – June 23, 2017
By Jihad Turk
2:06 a.m. … Two hours north of Los Angeles, majestic Joshua trees stretch their pointy fingers outwards and upwards to a starry night sky that illuminates more than just the desert plants blanketing the dusty ground beneath our feet. The glow of spiritual imagination shimmers in the eyes of my son, Ihsan.
Now at 16, my son Ihsan has a deepening appreciation of nature. After geeking out on the tech required to beautifully photograph the Milky Way, he convinced me to make the long drive far from the light pollution of the city. While not our first midnight run to this destination, this visit was different. It was Laylat al-Qadr – a "night of power" in Ramadan.
10:42 p.m. … Earlier that night. After the first four raka'at of Tarawih (special night prayers in Ramadan), the lights of the Pasadena convention center are dimmed. Everyone is turning inward, seeking to make the most of this powerful evening. My son is conflicted. His plan for the night had been clear: Spend Laylat al-Qadr with the community and then drive to the desert for a photographic adventure.
Now, his heart moved by the prayer and recitation of the Quran, is tugging at him to reconsider the photo shoot and dedicate the night instead to worship at the mosque. He begins making spiritual calculations and weighing the options. I assure him that I will support either decision, and that both are meaningful.
11 p.m. … Under pressure of time, knowing that the Milky Way will be at its peak at midnight and the destination is two hours away, my son decides just as we conclude the witr (ending part of Isha) prayer. "OK Baba, let's go." It was decided. And, after a mad dash past the thousand or so community members shaking hands and hugging, celebrating the arrival of this important holy moment, we set off for the desert.
This night, I was not a parent that was leading the way. Rather, I was listening, observing, reflecting. Trying to sense the inner needs of my child. When I was his age, I began my own spiritual journey that led me around the world, from the Islamic University of Medina to Berkeley to UCLA and eventually to the Islamic Center of Southern California, where I served as an imam and worked with the youth.
It was in my work with other people's children that I began to explore how best to pass on faith—not dogma, but faith. To pass on dogma, I realized, one needs little knowledge of the other, but to pass on faith, requires a deep sense of empathy.
Young people in our highly individualized times need faith to be meaningful, relevant and fulfilling. They need us to parent them according to where they are and who they are, not according to who we are and from where we have come.
Our parental power is bridled by our biography and many flaws and shortcomings. This creates a natural tension in the dynamic with our children. Knowing this, how can we create a family culture where spirituality and faith can be passed on, received and nurtured? I am still working on this question, but along the way, I have found a few useful ideas:
1) Nurture a culture of conversation and open communication. In a time where we are increasingly distracted from one another by smart media, find ways to increase opportunities for your family to connect through true conversation. Thanks to a no-media policy at meal-times, our family has real conversations at dinner. If consciously managed, breaking bread together as a family provides a powerful opportunity to connect, share, shape, and process. Establish other media-free moments in your family rhythm that support connection.
2) Create a culture of prayer. Here we must lead by example. Rather than forcing prayer, simply engage in it with beauty and make space for your children to join in until it becomes a part of their habit life. Particularly golden is the family time after prayer. I suggest either a family hug or group du'a.
3) Reclaim the Lost art of du'a. Unfortunately, many Muslims equate du'a (prayers from the Quran or private prayers we ask for) with memorized Arabic prophetic supplications. Those are beautiful, however, in the tradition of the prophet, we should supplicate often and from the heart and, I would add, in our own language. Not only is this an opportunity to personally connect with the Divine, but also to pass on your faith through example.
Be vulnerable. Let your children see what animates your spirit and what you are personally striving for and hoping to overcome. Rather than having one person lead the du'a, it is important that each member of your family take turns in making du'a after each prayer.
When my children were young, I suggested that in their du'a they express gratitude for something, request help from Allah in something for which they striving to improve, and feel freedom to ask anything additional of God Almighty. The du'a should be from the heart, not memorized, unique to that moment, and in their native language.
Faith becomes meaningful when it is relevant. When it gives us something … a perspective and insight in dealing with the challenges of life, a mechanism to process the external and internal struggles that we all go through.
1:02 am … We arrive at the absolutely serene and isolated dirt road. In consolation for missing the qiyam (prayer) program at the mosque, I share with my son the spiritual merits and value of reflecting on God's creation.
He looks at me a bit confounded, already have considered this in his earlier calculations, and says, "I know Baba, what did you think that I was doing out here?"
Jihad Turk is the founding president of Bayan Claremont Islamic Graduate School, husband and father of four. He was recognized as one of the 500 most influential people in Los Angeles by LA Business Journal in 2016. Follow him on Twitter @jihad_turk