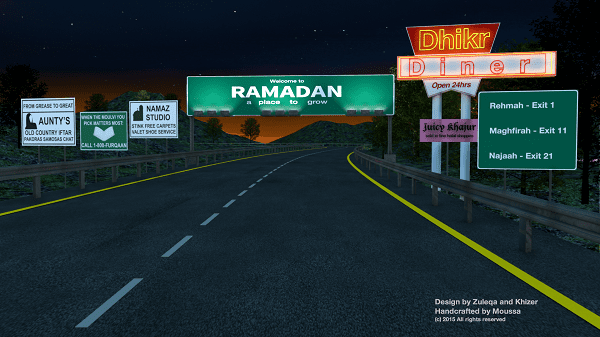 This is Day 14 of the 2017 #30Days30Writers Ramadan series – June 9, 2017
By Khizer Husain
Years ago, Ramadan for our family started with stockpiling provisions.
Our maroon station wagon bulged through Devon Ave with Igloos of meat, bags of atta flour and basmati rice and cans of mango pulp. Baba said, "Chalo" (let's go) and then off we ventured west seven hours from Chicago. With each mile, the ratio of humans to ears of corn plummeted asymptotically.
Who knew that rows of corn could be so hypnotizing?
As we passed over the Mississippi River, a friendly sign greeted us: "Iowa, a place to grow."
It was in this land that I experienced my first exhilarating Ramadan fasts in those long, hot, sticky summer months. In the wee morning hours, our kitchen was alive – Ammi by the cooktop churning out rotis, Baba at her side cracking eggs and cracking jokes, and us brothers bouncing off the walls.
I was giddy. It was an electrifying family experience, down to the two-minutes-left-now-gulp-down-as-much-water-as-possible moment. Even when I was too young to fast, I would cherish getting up to be part of that magic. In the few years that my khala's (aunt) family lived across the street, we would be on the lookout for lights in the kitchen.
If we saw none, we would place that emergency wake-up call: "Utijiyaaayyy!!" (GET UP!!!!) After stuffing ourselves, we would consume an episode of Three Stooges topped off with Lifestyles of the Rich and Famous (quality 4 a.m. programming) until our food settled.
During the day – after a routine of Quran, Islamic history, dua's, and Urdu – we played with the neighborhood kids. Whenever they offered up snacks, we gently reminded them that it was the month of Ramadan. And yes, fasting meant no food, no water. There would be the inevitable follow-up, "Wait, not even water?"
"Not even water," we would say longingly eyeing their icy cans of that sure-to-change-the-face-of-cola beverage, New Coke. Over the years, our friends developed a relationship with Ramadan, forging what may have been a pioneering Ramadan carol set to the tune of "O Tannenbaum": "O Ramadan."
I could almost picture a Christmas tree topped with a star and crescent and a garland of dates hanging from the branches.
Ammi made sure that we celebrated our Gregorian and Islamic calendar birthdays. It was marvelous to have occasions for gifts and treats twice a year. My baby brother was born on the 19th of Ramadan, the day that Hazrat Ali ibn Abi Talib, cousin of Prophet Muhammad (upon him be peace), was struck with a poisoned sword while leading the morning prayers.
Because I already had a brother named Ali, my parents decided that Haider, one of the many titles of Ali, would be a suitable name. Upon hearing of this decision, my other brother voiced his concern that "Haider" in a land full of "Heathers" would invite confusion and a lifetime of teasing.
My parents listened and opted for another title of Ali – Asad, which means lion. (It was also a nod to his zodiac sign, Leo.)
When we drove to big city, Des Moines, my parents would stop at pay phones and search for Muslim-sounding names in the phone book. They discovered a community whose locus was a house of Malaysian students near the campus of Drake University. This makeshift mosque was the first place that I experienced communal iftaars. Each weekend, we drove to Des Moines and stepped onto the set of Little Mosque on the Prairie.
When community members said, "Ramadan Kareem" it was indeed a feeling that yes, this month is generous. The scale of our community meant that ethnic separatism took a back seat and for that matter, denominational differences. Just like our rural neighbors who had no concept of a Muslim fast, our Sunni brothers had no idea that there were Muslims of different stripes.
As a Shi'a Muslim, I would brace myself for being corrected by an elder because I did not give my feet a bath in the sink, or that I did not fold my hands on my chest during prayer. It was uncomfortable to be a minority within a minority, but we did it to build a rural American Muslim community.
We are now halfway through the holy month of Ramadan. It always rushes by so quickly. We all have our routines: Fast, read, pray, repeat. I humbly invite you – if you don't already – to add intra-faith bond-building to this mix. A community that prays together, stays together. If you don't know much about Shi'as, look around and find us. (We are here!)
Ask what animates our Ramadan and how the martyrdom of Ali ibn Abi Talib shapes the experience. Explore this part of our collective history. Consider an intra-faith qiyam that focuses on dhikr and tasbeeh and reflection.
I am confident that we can agree that for us all, Ramadan is a place to grow.
Khizer Husain serves as Chief of Staff at Two Rivers Public Charter School in Washington, DC. He has published two Muslim stories for FarFaria, a storybook app, and authored a piece for the anthology, Salaam, Love. You can find him on Twitter: @khizerhusain.