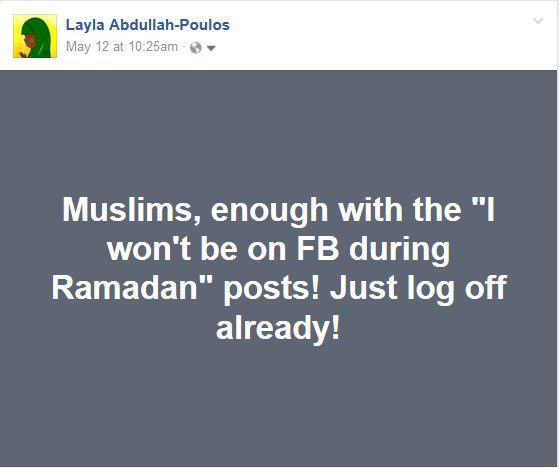 This is Day 15 of the 2017 #30Days30Writers Ramadan series – June 10, 2017
By Layla "FB Junkie" Abdullah Poulos
It never fails. Every year there is a flood of posts from Muslims vowing to save themselves from the scourge of social media during Ramadan. They attest that they want to focus more on spirituality for the month, and somehow Facebook (or Twitter, or Instagram, or … there is a long list here so let's move on) is a hindrance from their ability to do so, which I don't get.
Granted, everyone's social media experience is different, and the content that they share and see varies. However, it is important to explore this common notion among Muslims that social media is somehow anti-Islamic and should be eschewed for the sake of spiritual self-actualization.
To the contrary, the various forms of social media (see the list above) can be valuable tools in fostering some positive Ramadan vibes. So, here are three reasons why I stay logged onto my social media during the blessed month.