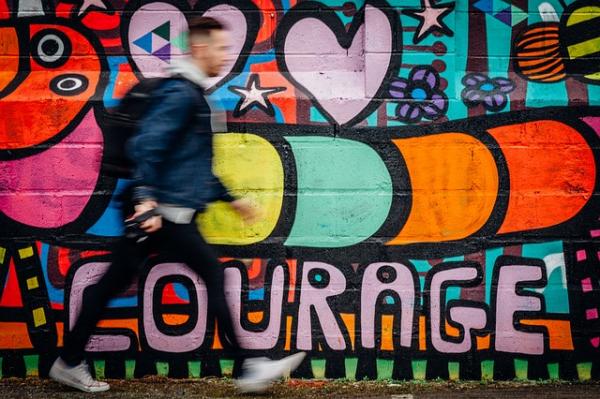 This is Day 30 – last day – of the 2018 #30Days30Writers Ramadan series.
I have been Muslim almost 20 years now. My study of Al Islam began in Compton, California, at Masjid Ar Rashid a storefront prayer place (masala) next to a doctor's office. There I would find Islamic books, religious (dawah) pamphlets and other reading materials. A random pamphlet mentioned a quote from Eleanor Roosevelt that stuck with me: "Great minds discuss ideas; average minds discuss events; small minds discuss people."  
Being a new Muslim, to read this quote literally helped re-centered my disposition, on how I desired to live out my second chance in life.
Allah says …
"… and when they pass near ill speech, they pass by with dignity… Those will be awarded the Chamber for what they patiently endured, and they will be received therein with greetings and [words of] peace." (25:72) "that's Beautiful!"
After exiting my days of ignorance (jahalliyah) I sought every tool that would transform my speech, which was known at the time to start a fight in an empty room! Along with this second chance, I also chose a new name: Servant of the Most Wise, Abdul Hakim, a name that would keep me mindful during my growth in Al Islam.
My studies mainly focused on the Four Rightly Guided Caliphs (Abu Bakr, Umar, Uthman and Ali — may Allah be please with them). While learning to assimilate their behavior in the best manner possible I kept Eleanor's quote close in my heart.
When I think of great minds, I think of people like Fredrick Douglas, an intentional speaker who once said, "I prayed for twenty years but received no answer, until I prayed with my legs."
I investigated the mind of Imam Saadiq Saafir when he said, "Let's put our faith into action." My Mom, when I was younger, would say "Don't play with me," so I didn't.
Now I feel the same way.
Great minds are producers of great ideas that are changing the world. Consider ideas like crypto-currency, social entrepreneurship and the best smartphone ever developed by Blackberry, the Passport. I believe great minds are in constant dialogues with other visionaries trying to design and create new possibilities. They would simply pass by (in a dignified manner) irrelevant discussions that truly did not matter.
In her quote, Eleanor says to discuss events is act of an average mentality. I find myself discussing the latest event and what was so inspiring about it or what I disliked about it, though I can see what she means. For example, when hearing about police brutality, how do these events move you? Did you try to change it with your hands, your speech, or do we simply leave in our hearts?
Horrible happen so often; it begins to erode and de-sensitize our senses for justice and injustice. We know apathy and self-helplessness is a dead mind-state. Having knowledge without action is not having knowledge at all. There are those just sitting waiting for someone else to change life's conditions for them. Is this what Eleanor could have meant by having meaningless conversations about events?
A great mind, an average mind and now the small mind. We all have heard awkwardness, and said, "What the frack was that?" I, too, discuss people, but I try my best not to back bite or disrespect a person's reputation – as if my own behind-closed-doors reputation is any better. I bear witness that small talk can diminish the character of good of people. "Indeed, Allah will not change the condition of a people until they change what is in themselves." (13:11)
In my days of ignorance, it was ordinary to simply discuss another person's business, especially when they were not around to defend themselves. But now I can see how jealousy may have influenced us to entertain malicious talks.
Since becoming Muslim, it has been a daily struggle to bring about good (jihad). Lately, I have been asking myself to imagine a world without encouragement, but I rather not. Instead, I assess and push what is right according to my circumstances and encourage great ideas for a progressive sustainability.
This Ramadan has instilled a deeper sense of clarity; and like Professor X, leader of the X-Men, I would like to live my life (a third chance) on a spiritual plane, aligned with wisdom for dynamic dialogues with other visionaries. #INKERIJ