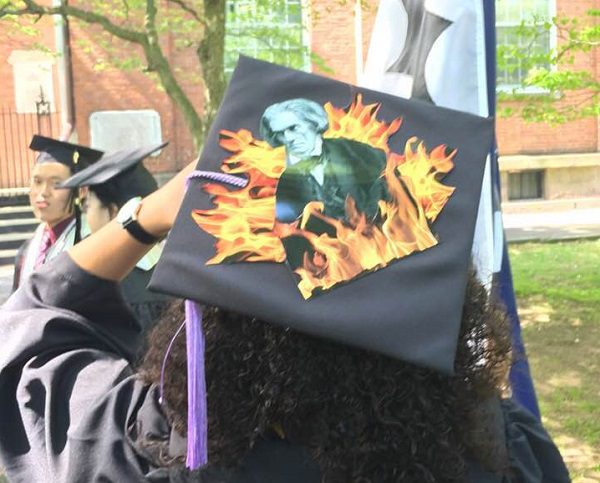 This is Day 19 of the 2018 #30Days30Writers Ramadan series.
There is probably no time of year which spurs Muslims to reflect on the passage of time the way Ramadan does. Muslims become keenly invested in the cycles of the moon more than any other lunar month, and those who are fasting can viscerally experience the loops of sunlight and moonlight down to the minute as cycles of hunger, thirst and satiation, fatigue and rest.
This year Ramadan happens to fall during graduation season — a time of year, as a teacher, that is always emotional for me and always spurs me to reflect on the passage of time and how I am spending my time.
Last week on a perfect May morning, Yale's class of 2018 graduated. I was so glad I got to congratulate many (but not all) of the students who I have really grown to love and even to meet some of their families. Teachers are not supposed to have favorites, but if I am honest I am most inspired and energized by my lefty student-activists whose curiosity extends beyond the classroom — they teach me so much.
I was so happy to be able to congratulate and say goodbye to some of my students who crossed my path that day. Eli, one of the leaders of anti-racist campus movement #NextYale was absolutely instrumental in having the building (her dorm) renamed after computer pioneer Grace Hopper. She is pictured above with the cap that took the day: The building's former namesake and white supremacist, John C. Calhoun on fire.
David Diaz is one of my students who was recently arrested in a brave act of civil disobedience for protesting Yale's student income contribution policy which burdens students with financial aid. I said goodbye to Mimi, one of my favorite badass Yale feminists who regaled me with many darkly funny stories over the years and really endeared me with her stories about the little kid she tutored with at New Haven Reads.
Another one of my students, Aaminah, a radical Muslim in all the dopest ways, started a non-profit for refugees in New Haven with some of her friends. Aaminah was one of the students in a class on the refugee crisis that I took to Greece last fall.  We visited refugee camps as well as sites of refugee resistance and organizing — truly a transformative and life changing experience for me.
The students and colleagues who were with me there are inextricably linked to my own growth and learning alongside them — plus they are just amazing, beautiful people who I know will always fight for what is right and look at the injustices so many try to hide and conceal. I am so glad I got to say goodbye to the seniors among them on graduation day: Aaminah, Eva, Phoebe, Nat, Patrick.
A true high point from graduation weekend was Patrick winning Yale's Haas Prize for his academic achievement and character outside the classroom, essentially being honored for his prison reform work, from agitating against policies such as solitary confinement to the criminalization of homelessness. He and his friends also started a non-profit, the Connecticut Bail Fund, which I hope to partner with to help raise funds for
the Believers Bailout
in Ramadan.
Some of my students and their families came over for tea after the ceremony, which was so nice.  Some of them admired a piece of Quranic artwork in my living that features a verse from the chapter "The Prophets" (Surat Al-Anbiya): "Man is made of haste." And, the parents looked at my own toddler boys running around and warn me, "It goes so fast, enjoy it while it lasts!" Of course, they were feeling wistful on such an important day, but after they left I couldn't help feeling a bit strange — after all, the time and energy that I had devoted to their adult children (which they were very grateful and gracious about) was time and energy away from my own kids.
I smiled and nodded but, honestly found it bit confusing to be hearing (implicitly), "You should be with your small children," and explicitly "Thank you for mentoring my child" in the same breath. As I was explaining this to my husband at iftar that evening, a car drove into the driveway. My daughter and her teacher, Forest, were back from a last-minute trip he had taken her on to Trader Joe's for her big presentation on food waste.
Forest joined us for dinner and I brought him into our discussion about how we spend our time and energy, and he shrugged and said, "As teachers, we pay it forward!" I realized my daughter's two teachers are everything I could ask for — inspiring, caring, warm, fun, smart, patient, generous with their time and moral guides.  This is everything I try to be for my students.
The next morning, I saw my daughter present an incredibly carefully researched project on food waste at her elementary school that I had almost nothing to do with because she has two extraordinary teachers. (In fact, one of my students, Phoebe, an environmental studies major, had mentored my daughter on this project. I had talked about food waste in terms of Ramadan at home.) In that moment, I felt satisfied about the way I have spent my time and energy in the past year, and l felt gratitude to be able to enter into that quieter mode of summer writing and research and bubble blowing with just my kids after nine months of investing in my kids and other people's kids.
And as I write this now, I can't help but think about how little of Ramadan is left and to promise myself, once again, to try to get the most out of this precious time.