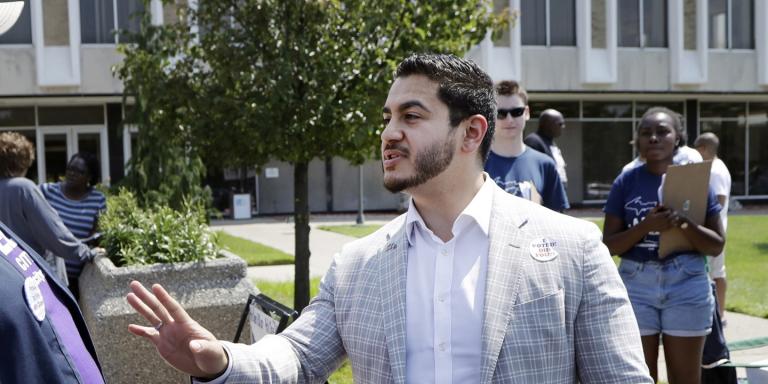 With hotly-contested elections coming up next week in Michigan and Minnesota and elsewhere in the U.S., there has been an upswing of about 90 American Muslim candidates running for statewide or national office in this current election cycle, with about 50 of those still in play after primaries.
The Associated Press reported that this is the most American Muslims who have run for office since at least September 11, 2001, with many riding the blue wave in response to the election of President Donald J. Trump in 2016.
Still, the path to victory can be tougher for a Muslim American. Some promising campaigns already have fizzled out while many more face strong anti-Muslim backlash.

In Michigan, Democrat candidate for governor Abdul El-Sayed continues to face unfounded claims from a GOP rival that he has ties to the controversial Muslim Brotherhood, even though Republican and Democratic politicians alike have denounced the accusations as "conspiracy theories."

In Rochester, Minnesota, mayoral candidate Regina Mustafa has notified authorities of at least two instances where anti-Muslim threats were posted on her social media accounts.

And in Arizona, U.S. Senate candidate Deedra Abboud received a torrent of Islamophobic attacks on Facebook last July that prompted outgoing U.S. Sen. Jeff Flake, the Republican lawmaker Abboud is hoping to replace, to come to her defense on Twitter.
According to Jetpac, a nonprofit group helping to train American-Muslim candidates, nine Muslim congressional candidates are still in the race while 18 others are up for seats in state legislatures and 10 for statewide offices. Still more are running for more local offices, like school board committees and local planning boards.
Some elections to keep an eye on as candidates make their final pushes this weekend into early next week:
There are a few Republicans also running for office, including
Omar Qudrat, Republican running for U.S. House of Representatives from California's 52nd district