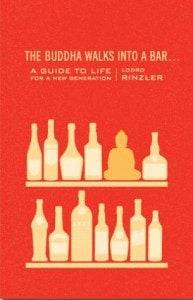 As an introduction to Buddhist practice "for a new generation," Lodro Rinzler's first venture into the world of writing is well done. The Buddha Walks into a Bar is broken into four parts, each progressing a little further, from "how to get your act together" to eventually "relaxing into magic." Rinzler does a good job of weaving ancient wisdom with the kinds of situations many young people will find themselves in today: from relationship break-ups to experimenting with alcohol. His use of pop culture: cartoons, comic books, rap music and the Rocky movie, help ground Buddhist practice in the real life experiences of his intended audience.
If you do get 'hooked' by the unique perspective put forth in The Buddha Walks into a Bar, then you'll find many gems of wisdom and practical advice. One that struck me early on was that "Samsara is fueled by hope and fear" (p.5). This very pithy statement takes us to the heart of Buddhist wisdom, and is followed by lively discussion of its meaning as well as a very solid introduction to meditation.
One of the small difficulties I had with the book was with its historical and linguistic anachronisms. Part of this is no doubt a factor of Rinzler's affiliation with the Shambhala tradition, which, at the hands of Chögyam Trungpa Rinpoche and his students, has adapted Buddhism a great deal to meet Western needs. A couple examples of this were:
on p.25 when he suggests that bodhisattva can be "translated from Sanskrit as "openhearted warrior or "openminded warrior."
p.34 where he states that "There's a Tibetan word for Incredible Hulk syndrome, which is klesha." (kleśa is Sanskrit, while the Tibetan equivalent is nyon mongs)
and p.117 where he discusses vipashyana as "entering into the absolute Mahayana perspective…" (typically I would teach that vipassana/vipaśyana is an aspect of the earliest Buddhist meditation teaching, and carried forward in some way by nearly all contemporary schools of Buddhism while being more closely associated with Theravadin schools; in Tibetan Buddhism I would say that Mahamudra or rDzog Chen would represent the absolute perspective, or simply 'highest teachings.')
So, as an educator, I would be cautious about using the book in classes. Ethan Nichtern's One City: A Declaration of Interdependence, which was in fact used for a class I TAed a few years ago, would still get my nod over Rinzler's book. And in a market filled with great great introductions to Buddhism and meditation, this one quite leap to the top of my recommendation list. That said, it is a good book, and if the publisher's description below grabs you, you won't be disappointed with it. In either case, I'm sure we'll see more great work by Mr. Rinzler and his fellow Shambhala students.
The Buddha Walks into a Bar is a book for those who are spiritual but not religious, who are disillusioned by the state of the world, who are sick of their jobs (and just started last Tuesday), who like drinking beer and having sex and hate being preached at, who are striving to deepen their social interactions beyond the digital realms of Twitter and Facebook. This is Buddhism presented to a generation leaving the safe growth spurts of college and entering a turbulent and uncertain work force.
The book is available at Shambhala publications or Amazon.com.