After a long, arduous period of discernment, and with the help of many dear friends, I've decided to return to my Catholic roots.
As many of you know, I've long held the identity of a 'baptised Catholic' and practicing Buddhist. But the calling toward a more devout spiritual life has grown much stronger in recent months. At first I thought it might just be the stress of graduate student life and that I should take a vacation to see how I felt after some time off.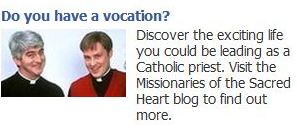 When I saw this ad on facebook (thank you Lord for facebook), at first I read it as "Do you need a vacation?" and thought, "yes!" Then I saw the two smiling, happy priests and realized that I'd slightly misread the text.
But none the less, this was the sign I had been awaiting; perhaps it is what Buddhists call upaya, or skillful means.
I clicked, I learned; soon I'll be confirmed. Surely this will not end my fascination with the east, but next time I go there, I will be a priest.