For Sunday, the 3rd of June, 2012.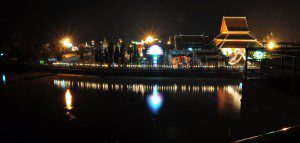 I am writing to you today from Ayutthaya, Thailand, a past capital and one of the country's richest cultural cities (wiki, travel guide).  It has been an exhausting yet wonderful several days here in the land of smiles. Our main conference  discussed several aspects of Buddhism in the modern world, touching on philosophy, psychology, and meditation. I had the honor of sharing the stage discussing unifying philosophical views with some new friends, notable sangha members, top-notch academics, and an American hip-hop star (more on that soon).
In any case, I'm running on fumes, as they say, and I have some very busy work and sight-seeing days ahead of me. But first, to some of the week's news:
First, a quite local story. Aung San Suu Kyi was in Bangkok as well this week. There was a rumour that she might visit our conference (we did have the President of Sri Lanka and the Prime Minister of Thailand drop by on our day at the UN building here), but she was more focused on cautioning business people and visiting refugees. The sad thing is that, similar to the case of China and H.H. the Dalai Lama, business and governmental matters had the ability to trump over (to a very limited degree) the moral cause of this great leader. Like Gandhi, Mandela, and others, may her plight come to victory soon. One of the best things you can do is, as always, educate yourself. Part of that might involve learning more about Aung San Suu Kyi and Burma. My friend and fellow patheos blogger, Danny Fisher, is combining fund raising (for a pro-Burma cause) and education this month here. Check it out, consider helping out if you can, and definitely keep tabs on Mr. Fisher for the sermon and more as they come out.
Second, and last this week (keeping it short), is the story about the maybe-drugged-on-bath-salts man who, while naked, attacked and nearly ate the face off of a homeless man in Florida. 
Subhash Kateel
at the Huffington Post suggests rightly that '
It's Bigger Than "Bath Salts" and "Zombie Apocalypses"
'.
As Kateel writes, '… once you finish with the jokes, look into the lives of both men and dig deeper into the city they call(ed) home, some stuff just stops being funny and starts being sad.'
(hint: a big part of it comes down to public funding of mental health care, and/or lack thereof).
Well that's all for this week. Two pretty heavy stories, I know. But they're important on many levels and the more you know about each, and the deeper you might become involved in each, the better. As a parting word, one of the presenters in my panel on uniting philosophical views in Buddhism was Christopher Queen (find his paper here, at the bottom), by all means wonderful guy and brilliant scholar. His talk was on engaged Buddhism and it stirred something in me – some urge (latent, conflicted, and often ignored as it may be) to be of more consistent service to humanity. I hope I can do this, and in part I also hope that I might encourage you to do likewise. Just a little thing to help others – perhaps once a month, once a week, once a day, or whenever it might be possible for you.