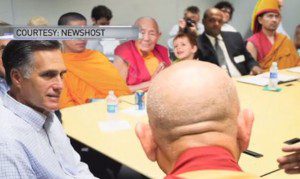 Mitt Romney has "invested in a high-paid soul-searching team to help him weigh his possibilities" according to the satirical news site, the Onion.
Mysteriously, however, the report never mentions the monks, pictured here, which include one Theravadin monk along with what appear to be three Tibetan monks (one wearing the characteristically Geluk yellow hat of the "pandit" or learned person). The report continues:
"The talented group of life-purpose consultants, which Romney is expected to pay more than 6 million dollars over the course of however long it takes is comprised of management analysts, poets, and a handful of children who know little, but none the less possess a kind of wisdom."
Among the 'tasks' Romney is set to take up over the coming months are "take a job in the bain mailroom; work way up to CEO" (a reference to which NBC hit TV series?), a bunch of other stuff, and "Transcendental Meditation" which, as it were, is 
not Buddhist
. See the full video below.
In an update last week, the Onion reports that Romney Locks Self In Oval Office During White House Visit.