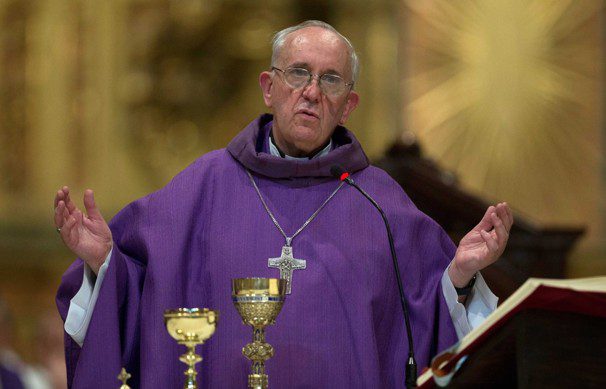 [Note, this story will be updated as possible in the coming days]
Today it was decided, Cardinal Jorge Bergoglio, a Jesuit, has been elected as the 266th Pope and will take the name Francis I. According to the Guardian:
The archbishop of Buenos Aires is a Jesuit intellectual who travels by bus and has a practical approach to poverty: when he was appointed a cardinal, Bergoglio persuaded hundreds of Argentinians not to fly to Rome to celebrate with him but instead to give the money they would have spent on plane tickets to the poor. He was a fierce opponent of Argentinas decision to legalise gay marriage in 2010, arguing children need to have the right to be raised and educated by a father and a mother. He was created a cardinal by John Paul II on 21 February 2001.

believes in contraception to prevent the spread of disease [*NOTE: this is likey a mistake by the Guardian, see NPR]
is open to dialogue with other faiths
is not facing questions over any abuse scandals
is not facing questions over the handling of the Vatileaks scandal
would make reforming the curia a priority
When I 'played' the Guardian pick a pope game, I got him and
Louis Antonio Tagle
from the Philippines as two "as close as possible" candidates to what I would like to see in a Pope, so I suppose I should be grateful. As I noted on facebook, playing 'pick a pope' might be "a bit of fun, until you see that only 1 out of [115] cardinals is listed as 'progressive' (13 are moderate, 84 are conservative, and 17 are ultra-conservative). Sigh…"
Bergoglio, now Francis I, is one of those 13 Moderates, and, as noted above, is open to dialogue with other faiths.
But searching for statements by Bergoglio on Buddhism turns up nothing. Granted, in Latin America there is very little Buddhism with which to hold a dialogue. But there ARE Buddhists there who, we should hope, have been part of Bergoglio's mission in dialogue. Now, of course, as Pope Francis I to the global Catholic community, he will face Buddhists – and Buddhists must face him (hopefully in mutual respect).
Regarding Pope Benedict XVI Emeritus, I wrote years ago:
As with many things I'm quite skeptical; though I am trying to be less cynical about Catholicism and Christianity in general (the cynic denies claims and refuses to investigate, the skeptic holds judgement until after investigating).

From the Pakistan Daily Times:

In 1997, Ratzinger called Buddhism an "autoerotic spirituality" that offers "transcendence without imposing concrete religious obligations." Hinduism, he said, offers "false hope," in that it guarantees "purification" based on a "morally cruel" concept of reincarnation resembling "a continuous circle of hell." At the time, Cardinal Ratzinger predicted that Buddhism would replace Marxism as the Catholic church's main enemy. Lerner says, "Ratzinger is being falsely described as a conservative, when in fact he, despite his publicly genteel manner, is a raging reactionary. Unlike many American conservatives who oppose gay sexual practices but not their legal rights, Ratzinger in 1992 argued against human rights for gays, stressing that their civil liberties could be 'legitimately limited.'"

See also: http://www.iht.com/articles/2005/04/20/news/issues.html

Yet, my own polemics aside, it may suffice to say that his own words are simply mistaken, and it should be hoped for by all people of good character that he move to understand the good of Buddhism, Hinduism, Marxism, and other 'ism's' which he may otherwise see no value in. Of course, if his concern is more for numbers (of adherents) than for the overall spiritual/moral character of the world, than perhaps seeing the good in other ways of life is problematic. However, it is my own belief, one held by the Dalai Lama … that there is good in religious pluralism. In fact, trying to make everyone into a Buddhist, a Catholic, or a Marxist would be disastrous on both mundane and spiritual levels.

It should be understood by any and all 'reactionary' Catholics that an oppressive, or even merely 'unilateralist', Catholic church will be its own 'main enemy.'

Where are the Thomas Mertons of the Catholic faith when you need them?
Let us hope that Pope Francis I brings a Merton-like openness to the deepest questions of human flourishing in an effort to bring humanity together in the many great challenges that face us today.
Via Al Jazeera, an important (progressive) update:
Powerful speech

Catholics are still buzzing over his speech last year accusing fellow church officials of hypocrisy for forgetting that Jesus Christ bathed lepers and ate with prostitutes.

"In our ecclesiastical region there are priests who don't baptise the children of single mothers because they weren't conceived in the sanctity of marriage," Bergoglio told his priests.

"These are today's hypocrites. … And this poor girl who, rather than returning the child to sender, had the courage to carry it into the world, must wander from parish to parish so that it's baptised," he has said.

Bergoglio compared this concept of Catholicism, "this Church of 'come inside so we make decisions and announcements between ourselves and those who don't come in, don't belong'", to the Pharisees of Christ's time: people who congratulate themselves while condemning others.

As Argentina's top church official, he has never lived in the ornate church mansion, preferring a simple bed in a downtown room heated by a small stove on frigid weekends.

For years, he took public transportation around the city, and cooked his own meals.
For further background on recent Argentinian Catholic activity, see here.
*my thanks to Richard (of My Buddha is Pink) for helping clarify the new Pope's statements on contraception.
All insights, opinions, views, and links are welcome. Just click the 'comment' button.