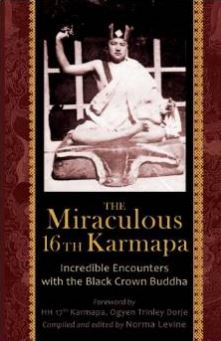 Shang Shung Publications, an Italian publisher founded around the teachings of Chögyal Namkhai Norbu and of other greats from the Tibetan Buddhist tradition, has a new book out called The Miraculous 16th Karmapa: Incredible Encounters with the Black Crown Buddha (Amazon/Shang Shung).
I was kindly offered not only an advance copy of the book to read, but also an opportunity to send a couple questions to some of the contributors to this memorable volume. I picked four contributors, all rather remarkable teachers, practitioners, and so on in their own right, and sent each just a question or two, along with a question to all four: "Where do you see Buddhism in N. America going? Do you have any predictions for the coming ten years?"
With great thanks to PR guru Erica Taylor, I have responses from two of them now to share with you.
The first to respond was Norma Levine, the book's compiler and editor and author of "Blessing Power of the Buddhas" (http://earthmudra.com). Along with the question on Buddhism in N. America, I asked her:
You write in the book:

The miracle of the 17th Karmapa is that he has shouldered the immense responsibilities of his office with humour, and majestic dignity; that he gives love to all, that he can still show humanity within the cramped quarters of what he now calls "a permanent hotel" 6 in which he does not possess even his own shrine room. He is a humble human being, a perfect bodhisattva, and already a great Karmapa.

What do think is in store for H.H. the 17th Karmapa?
Norma Levine:
"He will triumph over all the obstacles created by politicians and tame those who are blocking buddha activity, just like Guru Rinpoche did in 8th century Tibet. He overpowered the demons and enabled the construction of Samye, the first monastery in Tibet, and from then onwards, Buddhism could develop and flourish. The 17th Karmapa is said to be not only an emanation of Guru Rinpoche but Guru Rinpoche himself."

About Buddhism in the west (not necessarily America):

"As a general trend I can see that people want to have a more peaceful and calm mind and so they will continue to try to achieve that with mindfulness meditation and yoga. However, calming the mind is only an important but practical first step. What is important is to understand and contemplate deeply what it means to be stuck within cyclic existence. It is the wish to attain buddhahood in order to liberate all beings from suffering, that creates the conditions to achieve the ultimate state of enlightenment. All we want, it seems, is to have a happier and more comfortable samsara, and that's not really Buddhism at all."
Our second respondent was Don Morreale, who many of you will know as the author of The Complete Guide to Buddhist America (1998). I recall some happy moments flipping through this book during a retreat some time in the early '00s and hearing Morreale's name come up a couple times early on in Charles Prebish's 2010 retrospective on studies of North American Buddhism (video below).
I likewise began with a quote from the book. Here Morreale describes his encounter with H.H. the 16th Karmapa:
I had no idea who this Karmapa guy was, and only the vaguest notion of what a puja was. Nor, to be honest, did I much care. In the thirteen years since last I'd practiced Zen, I'd fallen into an emotional and spiritual tar pit. Several promising love affairs had gone south, and to say that I'd become something of a grouch would be an understatement. I was pissed off at everything and everybody pretty much all the time. Anger had become my default position.

[you met the Karmapa and, as you wrote, everything changed]

That evening I sat down to practice, and I've been doing so every day since. It was Eido who'd sent me out into the world to grasp the meaning of suffering. It was the Karmapa who invited me back to learn how to overcome it.

It sounds like you still feel connected to, and appreciate, your early Zen training. Is that the case, and if so, how have the two 'systems' of practice expressed themselves in your everyday life?
And Morreale wrote back:
"I've had training in Zen, Tibetan Buddhism, and Theravada Vipassana. While I value all traditions, the one that has resonated the most with me is Vipassana, which I've been practicing since 1986, and teaching since 1991. I spent a lot of time in Thai Monasteries in the 80s, and here in the US attended some 13 three month and six week retreats at IMS. I will say, though, that without the influence of Eido Roshi and the Karmapa, I might not have pursued the Buddhist path at all. So I owe them both a mountain of gratitude for their compassion and interest. I really think there's something to be said for "Spiritual Shopping." I tried a lot of different approaches before finally encountering a tradition, and teachers, that worked for me.

What I learned from my Zen training was to sit with absolute determination, through everything the mind throws at you. What I've learned from Vipassana was to sit with an open heart, without any expectation or attachment to outcome. I also learned to do Metta practice from my Theravada teachers, which seems to come up spontaneously in all kinds of situations. I'll be driving in my car, or walking down the street, and the Metta prayer just arises spontaneously. It's made me a much happier person. It's also a great way to establish concentration and to clear the mind of random distracting thoughts."

On Buddhism in the West:

"I would say that the trend is toward greater and greater secularization. Everywhere you look, in every sphere of endeavor, you see mindfulness practice being taught and applied in ways that are not specifically or particularly Buddhist; mindful parenting, mindfulness as a cure for PTSD, mindful politics, mindfulness in the schools, the slow-food movement, even the "slow sex" movement (I'm not kidding). I myself teach a non-sectarian meditation course on Royal Caribbean Cruise Lines. I see fewer and fewer people heading east to take the robe. There will always be a handful of us who embrace the tradition and call ourselves Buddhist, of course, but we'll be in the minority. This is, after all, a secular age."
Fantastic; and that definitely branches off some of the discussions we've had here recently re: Buddhism and Modern Psychology and Buddhism without Superstition – your thoughts?
I'll give you the links again to the book, The Miraculous 16th Karmapa: Incredible Encounters with the Black Crown Buddha (Amazon/Shang Shung). Again my great thanks to Norma Levine and Don Morreale!
Top Contributors from the book include:
· Kabir Bedi
o Kabir Bedi is an Indian television and film actor. His career has spanned three continents including India, the United States and many European countries in three mediums: film, television and theatre.
· Tony Visconti
o is an American record producer, musician and singer. Since the late 1960s, he has worked with an array of performers; his lengthiest involvement with any artist is with David Bowie: intermittently from Bowie's 1969 album Space Oddity to 2013's The Next Day, Visconti has produced and occasionally performed on many of Bowie's albums.
· Vicki MacKenzie
o An author and journalist, was born in England and spent much of her early life in Australia. The daughter of a naval officer, she graduated from Queensland University and became a reporter at the Sun newspaper in Sydney. Since taking a month-long meditation course in Nepal in 1976, her primary interest has been to make the profundity of Buddhist philosophy accessible to the general public.
· Lama Surya Das
o Surya Das is an American-born lama in the Tibetan Buddhist tradition. He is a poet, chantmaster, spiritual activist and author of many popular works on Buddhism; a teacher and spokesperson for Buddhism in the West.
· Gyaltsab Rinpoche
o Goshir Gyaltsab Rinpoche is a leading incarnate lama in the Karma Kagyu lineage of Tibetan Buddhism. He is believed by his followers to embody the activity of Vajrapani.
I will leave you with that video of Charles Prebish mentioned above, delivering his keynote address, "The Swans Came to Canada Too: Looking backward-Looking forward" at the 2010 Buddhism in Canada conference.