Last night I attended a cozy screening of "Dalai Lama Awakening", an extended director's cut of the earlier film "Dalai Lama Renaissance." The film follows forty scholars and intellectuals who were invited to a 1999 meeting with the Dalai Lama to forge a strategy for solving the world's problems.
Enormous task? Yes. And the enormous egos of a few of these folks clearly didn't help. The arc of the movie focuses on a few key individuals as they struggle with India's notoriously difficult conditions, with the structure set out by organizers, and with their own personal issues. Through it all, "solving the world's problems" takes a back stage to personal quarrels wrapped in seemingly-faux "compassion." It isn't until the participants finally meet with the Dalai Lama that things take a noticeable shift in direction.
While the original film won twelve awards and gained high ratings from viewers at IMDB, critics generally found it wanting. Just one out of five critics gave it a good review on the site Rotten Tomatoes. With hundreds of new hours of footage cut down to around 40 minutes of extended running time, the new film should satisfy all those who were hoping for more context and story-line.
Speaking about the film, Director Khashyar Darvich said:
"Dalai Lama Awakening is the film that my heart and soul wanted to make. It is a film without compromise." It is something pure, fulfilling and complete– a heart-felt expression from the filmmaker's poetic soul. This is the film that inspired me and moved me at the most profound level, so I know that it will deeply impact audiences as well."
The film has been selling out picture houses throughout Great Britain and has upcoming showings in London, Aberdeen, Edinburgh, and Reading. Details on these showings, as well as discussions and comments can be found at the film's facebook page.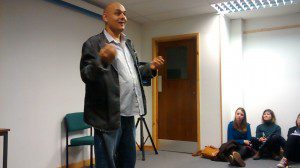 Here is the Q&A with Director Khashyar Darvich: