For readers in or near the New York City area, here is a great opportunity to learn about and participate in a ceremony with a growing global Buddhist community. I had the privilege of interviewing the head of Shinnyo-en, Her Holiness Shinso Ito, last May. And my friend Danny Fisher points us to the more recent Religion and Ethics Newsweekly coverage of last year's lantern floating. Below is taken from their press release announcing this year's event.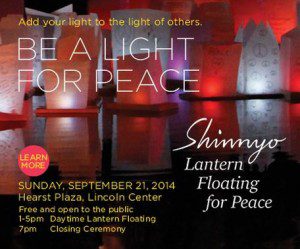 On Sunday, Sept. 21, Shinnyo-en, the international Buddhist community, will welcome local New York City families and residents, community groups, international NGOs, interfaith organizations, and visitors from around the world, to set thousands of lit paper lanterns afloat during the second annual "Shinnyo Lantern Floating for Peace." The event will take place at Hearst Plaza, Lincoln Center. Coinciding with the International Day of Peace and the opening of the U.N. General Assembly, this unique occasion will bring together prominent civic, interfaith and community leaders, along with New Yorkers of all ages, to inspire a collective quest for peace with lantern floating, live music and cultural performances at one of the most iconic settings in New York City.
During the free day-long, family-friendly event, that is open to the public, participants willhave the opportunity to construct a paper lantern and inscribe it with a personal message of peace. Participants can then set the lanterns afloat in the Paul Milstein Reflecting Pool.
At sunset, Her Holiness Shinso Ito, the head priest of Shinnyo-en and one of the highest-ranking woman Buddhist leaders in the world, will preside over a special closing Lantern Floating ceremony, also open to the public. Hundreds of the LED candle-lighted paper lanterns will be floated on the water, illuminating Hearst Plaza in a uniquely captivating visual experience in New York City.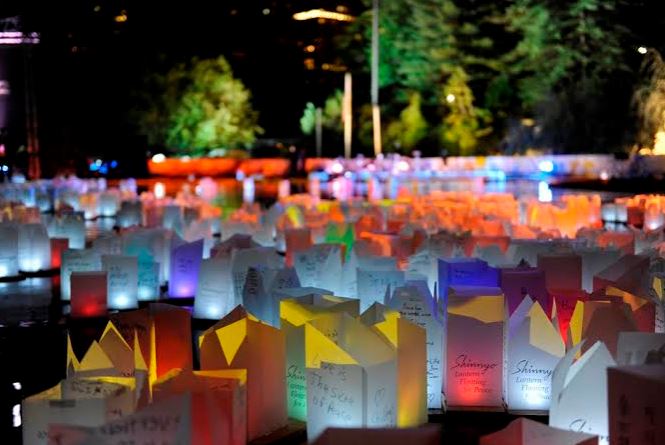 Sunday, September 21, 2014
Daytime Event: Shinnyo Lantern Floating for Peace at the Paul Milstein Reflecting Pool.
Daytime performances include (1-4:30 p.m.):
Shinnyo Taiko drummers
Decoda Chamber Ensemble
The LaGuardia High School for Music & Art and Performing Arts
Students of The Dalton School
The Brooklyn Youth Chorus
Dance performance choreographed by Abdur-Rahim Jackson
Evening performances include (7-9 p.m.):
Alphonso Horne, 26-year-old trumpet virtuoso, handpicked by Wynton Marsalis to be one of his Jazz at Lincoln Center All-Stars
New York City Ballet's principal dancer Wendy Whelan and fellow dancer Craig Hall, performing choreographer Christopher Wheeldon's "After the Rain"
Students of The Juilliard School, and more.
A special closing Lantern Floating ceremony will take place at dusk.
Hearst Plaza, Lincoln Center, on West 65th Street between Broadway and Amsterdam Ave.
The Shinnyo Lantern Floating for Peace is meant to inspire a spirit of harmony and compassion that transcends all boundaries of age, gender, nationality, ethnicity, and religious tradition – and empower people to create a stronger force for peace in our families, our communities, and globally. Lanterns will be provided throughout the day on a first-come, first-serve basis.
Shinnyo-en, an international Buddhist community, teaches laypeople to use each day as an opportunity to seek enlightenment through interaction with others, reflection, and taking positive action. Great value is placed on the contributions that each individual can make toward a better world. Founded in 1936 and rooted in a Buddhist lineage more than 1,100 years old, Shinnyo-en has a membership of more than one million, and more than 100 temples around the world, including White Plains and a meditation center in Manhattan. The Shinnyo Lantern Floating for Peace is one form of Shinnyo-en's contemporary fire and water ceremonies, which aim to awaken wisdom and compassion. Her Holiness Shinso Ito, Head Priest of Shinnyo-en, first adapted the ceremony for the public in 1992 and has since celebrated the ceremonies in various locations around the world.
See a full schedule and descriptions of the Shinnyo Lantern Floating for Peace at: www.bealightforpeace.com, on Twitter at @BeALight4Peace and @ShinnyoNews, and on Facebook at ShinnyoBuddhism.
For more information, please contact:
Sakura Amend, sakura.amend@finnpartners.com, (212) 715-1611
David Rosenthal, david.rosenthal@finnpartners.com, (212) 715-1651