In their most recent update, the Monks and Nuns of Plum Village have great news regarding Thich Nhat Hanh's continuing improvement:
We are happy to report that Thay's health has improved greatly since he returned to his Plum Village Hermitage in early April. Every day Thay has been out in nature, enjoying the blossoms, listening to the birds and resting at the foot of a tree. Thay enjoys lying in his hammock next to the running creek, in the fresh cool of the bamboo grove he planted more than thirty years ago.

Doctors and nurses continue to visit Thay, and he receives physiotherapy, massage and acupuncture daily. The team of attendants continue to care for Thay and support his needs around the clock.

Despite his advanced age, Thay has been making remarkable progress.

…

More recently, Thay has begun to develop his vocalisation, joining the attendants when they hum or sing. The first time this happened, one of the sisters was chanting in Vietnamese the name of Avalokita, the Bodhisattva of Great Compassion: Nam Mo Bo Tat Quan The Am. Thay suddenly pronounced the final sound "Âm" (pron. "um") clearly and on cue. Miraculously, the word "Âm" actually means "sound". Thay looked at those around him, his eyes gleaming, as if to say "everything is possible"…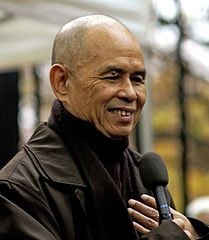 The update concludes with a look back as they think about the summer ahead:
Nine years ago Thay was asked,
"You will be 80 this year. Do you plan to retire as a spiritual teacher at any point?"

This is the answer he gave:

In Buddhism we see that teaching is done not only by talking, but also by living your own life. Your life is the teaching, is the message. And since I continue to sit, to walk, to eat, to interact with the Sangha and people, I continue to teach, even if I have already encouraged my senior students to begin to replace me in giving Dharma talks. In the last two years, I have asked Dharma teachers, not only in the monastic circle but also in the lay circle, to come up and give Dharma talks. Many of them have given wonderful Dharma talks. Some Dharma talks have been better than mine. I see myself in my continuation, and I will not retire. I'll continue to teach, if not by Dharma talks then in my way of sitting, eating, smiling, and interacting with the Sangha. I like to be with the Sangha. Even if I don't give a Dharma talk, I like to join walking meditation, sitting meditation, eating in mindfulness and so on. So don't worry. When people are exposed to the practice, they are inspired. You don't need to talk in order to teach. You need to live your life mindfully and deeply. Thank you.

These inspiring words are our compass as we prepare to lead retreats for thousands of people in the coming months: here in Plum Village this Summer, at the EIAB in Germany in August, and on the Miracle of Mindfulness Tour of the United States this fall. Please join us.
Read the full update from Plum Village here.