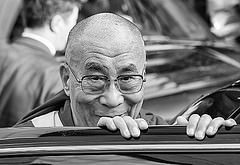 Even at the age of 80 (or 81 by Tibetan standards), the Dalai Lama continues to blaze a trail of wisdom and compassion across the globe. Last month the Dalai lama spoke from a hospital in Rochester, Minnesota where he was undergoing precautionary prostate treatment (he told audiences in Minnesota this week that he's in good health). There he reminded listeners to not simply say the words "happy new year" (tashi Losar delek) but to embody the spirit behind them in their actions.
In his recent talk he restated his concern for a down-to-earth approach to human welfare and global peace. Reiterating his statements in the wake of last November's Paris attacks, he noted that major problems faced by humanity today have been caused by humans and thus are in our hands to solve (as opposed to relying on God or prayer).
"In my experience, what we need is a calm mind and warm-heartedness provides a basis for that. That's how we make ourselves happy as individuals in families, local communities and nations. I believe that if we can train those who are young today in these qualities the world will be a more peaceful place later in this century. I try to promote human values because we tend to forget that we are all the same as human beings. If you think of me as your friend, try to do the same. This is not something we can hope the government or the UN can do, real change starts with individuals. We each have to make a contribution. I request you to do so too."
Speaking on love in particular, he said that "all religions carry a common message of love, forgiveness and tolerance" and that if we're to think of God, as many religions do, "thinking of God as a being of infinite love and seeking to emulate him is a very powerful practice."
This message of unity across religious boundaries has long been taught by the Dalai Lama, as we can find in his 2007 book Mind in Comfort and Ease (you can read an excerpt via Wisdom Publications here).
Love, he later said, is the antidote to the arising of anger. This allows one to develop compassion even when encountering "uncouth, unruly people," to be followed by patience.
Teachings like these are sure to keep the Tibetan spiritual leader at the top of lists of spiritually influential people for years to come.
Read more about the Dalai Lama's appearance in Minneapolis at dalailama.com.
Stay in touch with American Buddhist Perspectives on Facebook: