This month our numbers are up a bit, with 178 (self-selected, online, non-randomized) respondents answering questions about their political preferences in the upcoming US Presidential race. Once again, they roughly matched demographically with previous months' polls, so we'll again jump right to the question of which candidate each respondent most supported: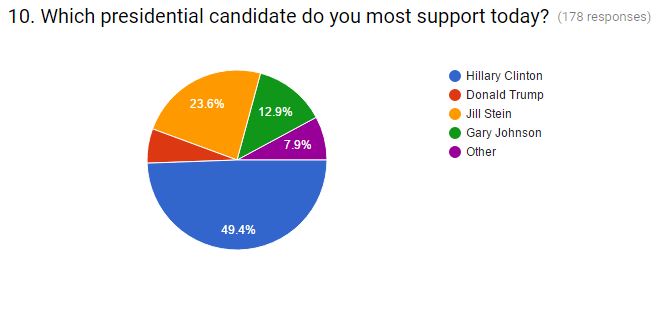 This marks a small down-turn for Clinton, who last month had nearly 55% support.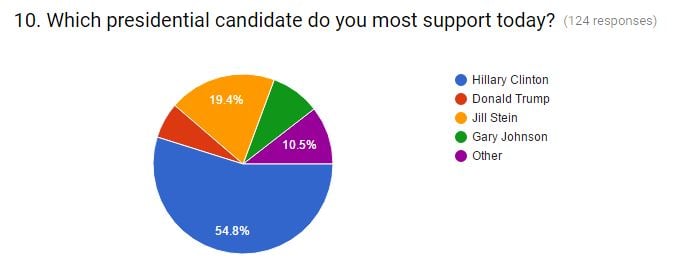 This dip matches a number of polls that showed Clinton around 8% ahead of Trump in early August compared with just 2% today (according to real clear politics). However, among readers surveyed here, the shift has not been to Trump but rather to both Jill Stein and Gary Johnson. Trump has held steady at around 6% support.
When asked about why they support Clinton, the word "experience" came out again and again. One simply put, "Experience, values." Another wrote, "A good fit overall, an experienced politician, and not a crazy racist demagogue." A third lauded her, "Experience, intelligence, [and] tenacity" while a fourth stated that she is the, "Most dependable and experienced." Lastly, one respondent wrote, "Of all the candidates since the start of the presidential campaign, Clinton is the one with the experience and ability to represent the United States best."
Other Clinton supporters were less enthusiastic about her, but felt that Trump poses too great a threat; one writing, "Hilary has her problems (who doesn't), but she is most qualified to become our next president. Trump scares the hell out of me!" Another simply put, "Not Trump!" In fact, Trump was mentioned by name in over a dozen of the Clinton supporter's comments:
I don't love Clinton but it Trump must not win.
To keep Trump from being elected
Trump's personality.
Fear of Donald Duck leading the world farther into hell, but I plan to chant all people make a wise voting decision, whatever will protect us & the world…
Trump poses a unique threat to American democracy, and his foreign-policy positions that would kill thousands of innocent civilians are quite obviously against the precept of non-harm.
better than trump
Only alternative to Trump that has chances to win
Not as bad as Trump
Because President Trump would be very bad
In opposition to Trump and recognizing that voting for Stein or Johnson is a wasted vote
Its either her or Trump. She did take on many progressive issues in her platform and she has some good plans.
Not trump. Allegedly cares about global warming
Her views somewhat align with mine. Terrified of Trump.
Trump is dangerous; Clinton is competent; both are flawed, but Trump much more so — a BS artist, con-man, and demagogue.
Other Clinton supporters stated, "It's a holding my nose vote" – "Least bad of the bad options" and "platform, not person." This also matches a recent Quinnipac University survey showing that "Among Clinton supporters, 47 percent are mainly anti-Trump while 32 percent are pro- Clinton." The poll results also stated, "In this very negative race, 64 percent of Trump supporters say they are voting mainly anti-Clinton, while 25 percent say they are voting pro-Trump."
Jill Stein's supporters offered some of the following statements, focusing on the environment, progressive ideals, and war:
I like her ideas about healthcare, jobs, the military, student debt… pretty much everything.
It is time for a woman president, one who puts human interests before business interests.
I'd be fine with Clinton, but would prefer someone actually left-wing
She has a focus on climate change
Jill Stein places primary importance on environmental care
Best policies, trustworthy
Environment positions
Because she's the only Progressive left in the race.
End foreign wars, save environment, racial justice, healthcare for all
This candidate and the party platform most represent my ideals.
I am a Sanders supporter… Stein is just as good, though.
Ethical positions, anti-war, holistic, egalitarian, green/ environment, economic & social justice. She is completely competent to be President.
Supporters of Gary Johnson, who has seen increasing support nearly every month, had some of the following reasons:
Gary seems the least terrible.
Smaller Government
I'm a libertarian
Johnson's socially liberal views have potential, while his more insane ideas about the size of government are unrealistic enough that they'll be stopped by bipartisan opposition
Only real option at this point.
I'm voting for Gary Johnson so that the GOP has to contend with the Libertarian party in 2020.
He is honest and humble
And lastly, Trump's supporters had little to add, but one wrote, "He puts American interests first, not the interests of globalists."
There were a number of write-ins (Other), including six for Bernie Sanders and one for (hitherto unknown to me) Socialist candidate Mimi Soltysik.
Have your say in the comments below.