King's College London
Buddhist Studies Research Seminars
(2016-17)
Room VWB 3.01 at 5.00pm
Theology and Religious Studies
Virginia Woolf Building
22 Kingsway, London WC2B 6NR
Friday 14 Oct 2016
Tristram Riley-Smith (University of Cambridge)
Buddhist God-Makers and their Gods: An Anthropology of Art
Abstract
Tristram Riley-Smith is Director of Research in Politics & International Studies, and Associate Fellow at the Centre for Science & Policy, at Cambridge. He studied Social Anthropology, undertaking doctoral and post-doctoral research in Nepal and Thailand, making the film Birth of a Buddha. He spent thirty years in Government Service, being posted to the British Embassy in Washington DC in 2002. His portrait of the USA – The Cracked Bell: America and the Afflictions of Liberty was published in 2010. Tristram was appointed RCUK's External Champion for the Partnership in Conflict, Crime and Security Research (PaCCS) in 2013.

In 1979-80, Tristram Riley-Smith conducted ethnographic research among Buddhist artists in the Kathmandu Valley, exploring the beliefs and practices associated with god-sculptures. In 1984, he travelled to Thailand – moving from a world of Tantric 'Vajrayana' Buddhism to that of Theravada Buddhism, making the film Birth of a Buddha. His focus was on the cultural life of the statues – the social and symbolic value applied to these objects. He encountered the impact of tourism on traditional art as well as the relationship between Buddhism and older belief systems. He has made more recent visits to the Himalayan kingdom of Mustang and to Japan (where, this year, he conducted the Okaidan Meguri rite, walking a dark tunnel beneath the shrine-room to reach the 'key of paradise' with its secret Buddha beyond.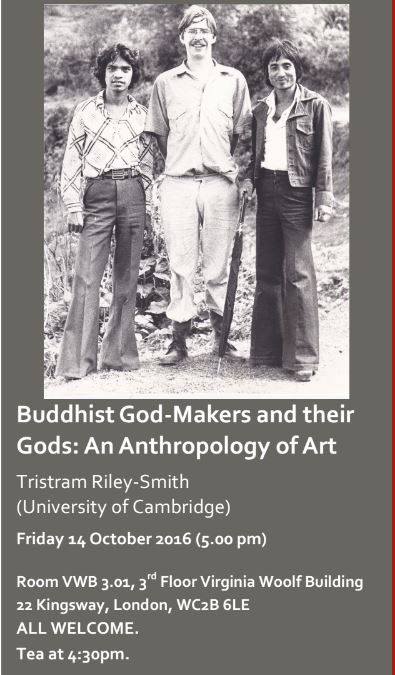 Friday 2 Dec 2016
Phibul Choompolpaisal (King's College London/Manuscripts Conservation Association)
Where are Thai/Tai Buddhist manuscripts? Preliminary research on Textual Archaelogy of Tai Buddhist manuscripts around the world
Friday 27 Jan 2017
Mark Owen (University of Winchester)
Buddhist forms of Conflict Transformation
Friday 17 Feb 2017
Joachim Gentz (University of Edinburgh)
Title to be confirmed
Friday 17 March 2017
Jane Caple (University of Manchester)
The ethics of monastic business in contemporary Tibet
All welcome.
Tea at 4.30 pm.
Please find the details of the first talk attached.
Convenors:
Pyi Phyo Kyaw, pyi.kyaw@kcl.ac.uk
Andrew Skilton, andrew.skilton@kcl.ac.uk
Kindly sponsored by
Ji Xuegen Research Funding for Buddhist Studies
For further updates and listings visit http://www.kcl.ac.uk/artshums/depts/trs/research/seminars/buddhist/index.aspx.