In the ongoing rounds of Buddhist #MeToo work, survivors and allies of abuse at the hands of Buddhist teachers have created a video and petition in hopes that the Dalai Lama will accept their invitation to meet during his visit to the Netherlands this week (September 14-17). The survivors of the abusive Tibetan teacher, Sogyal Lakar, and others hope that the Dalai Lama will continue his activities to promote secular ethics and women's rights. As they say, however, the Dalai Lama's "is still a lone voice."
The petition creators are 12 people who studied under five different abusive teachers from ten different nationalities, living in Australia, Austria, Belgium, France, America and the Netherlands).
They hope to hand-deliver a book with personal accounts of the abuse they themselves endured; accounts written for the Dalai Lama's eyes only. As noted in the video, this is not just about them, they hope that this action will empower survivors of abusive Buddhist teachers around the world.
The petition currently has over two hundred signatures. There is no set goal or number needed exactly to meet with the Dalai Lama, but the more signatures they receive, the clearer it will be to all that abusers, their supporters, and those who seek to silence survivors will not be tolerated any more in the Buddhist world.
See the full text of their petition below and click here to sign for yourself at change.org.
We, the authors of this petition, are all survivors of (sexual) abuse by Buddhist teachers. We took refuge in Buddhism with an open mind and an open heart, until we were violated in its name. Later, we found out that we are not alone. We found allies too, who feel unable to look away. We now look to you, dear reader, to become survivors' ally too by signing the petition we drafted yourself and thereby lend support to our cause.

In recent years, various large scandals emerged which were broadly shared and discussed in the media and on the internet. This how we got connected and recognized how similar our experiences are. We have now found the strength to act collectively. Members of our group would like to offer a compilation of survivors' testimonies to the Dalai Lama in person during his intended stay in the Netherlands (14-17 September 2018). On that occasion, we would also like him to respond to some of our ideas for follow-up actions.

News reports and emerging scandals around the globe prove that (sexual) abuse by both lay and ordained Buddhist teachers is rampant and persistent. The abuses have marred the spiritual welfare of countless children, women, and men. We applaud the Dalai Lama's sustained effort to promote secular ethics and Buddhist values. He has been a champion of women's rights, thanks to the involvement and support of the underprivileged Buddhist nuns and their advocates. Also, he has spoken out against abuses by lay and ordained Buddhist teachers. But his is still a lone voice.

Besides, raising voices is not enough: the direct involvement of survivors is of overriding importance in building a learning community that helps prevent and remedy abuse by Buddhist teachers. The public discourse on abuses by religious teachers needs to be broadened to include more Buddhist case histories. The Buddhist community, in turn, needs to engage more expert perspectives and best practices developed elsewhere. To uphold Buddhism's image everywhere, we all need to unequivocally dispute the false notion that abusive Buddhist teachers are somehow above the law.

Our group adopted the hashtag #MeTooGuru. We put together a book length compilation of abuse survivors' testimonies. These personal testimonies were penned for the Dalai Lama's eyes only, under the survivors' own true names. They describe what happened to them, and what this has done to their lives and the lives of their loved ones. The number of contributors is still growing, but these testimonies concern (sexual) abuses by at least five Tibetan Buddhist teachers, experienced by at least twelve survivors in ten Western countries.

With this petition we sincerely ask the Dalai Lama to endorse and implement the following requests:

• To accept our compilation of survivors' testimonies in person during your visit to the Netherlands and respond to some of our ideas for follow-up actions;

• To ask the Mind & Life Institute that holds your frequent dialogues with scientists and Buddhists to host a meeting on human sexuality, sexual abuse by lay and ordained religious teachers, and sexual trauma;

• To put abuse by lay and ordained Buddhist teachers on the agenda of the intended gathering of religious leaders and representatives of the major Tibetan schools in Dharamsala in November 2018;

• To reaffirm publicly that Buddhist teachers who commit crimes and misdemeanors, just like any other citizen, are liable to criminal prosecution and civil action.

We, the undersigned, call upon all allies, old and new, who welcome these modest requests to sign this petition.

Chris, Leslie Hays, Ricardo Mendes, Claudia, Dominique Cowell, Peter Cowell, Oane Bijlsma, Cecile, Catherine Guye, Damcho, Lena Raab-Tsering, Toria Selwyn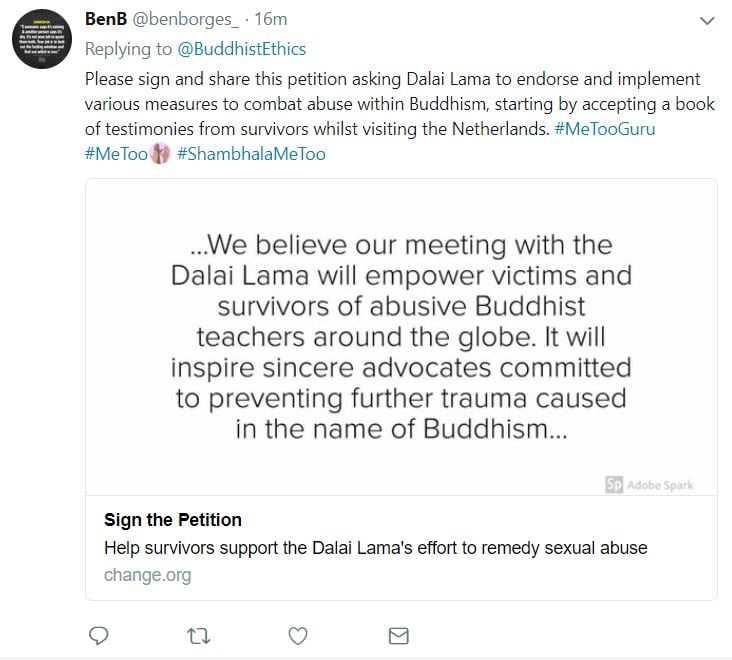 .
---
While you're here – Do you find benefit in this writing? Ad revenue accounts for less than $1/hour of work spent researching, writing, and reaching out to others via this blog. Contributing just one dollar a month will go a long way to ensuring that this kind of writing, which aims to support Buddhists and Buddhism world-wide, continues.

Please support independent coverage of Buddhism and join a community of patrons here.