Note: this is the first in a planned series on the topic of "Progressive Buddhism." That term is admittedly vague, despite a blog being devoted to the topic since 2007 and a facebook group since 2015 (both  administered by yours truly at present). I hope in the coming months to develop a set of principles and ideals to guide thinking around and discussion of Progressive Buddhism, and to point out "heroes," or people who embody some of those principles and ideals in their life and work. Sometimes these will be in depth, sometimes brief vignettes.
Sebene Selassie
The quotes below are from a 2013 interview with Tricycle Magazine. What comes out in particular is Selassie's commitment to Inclusion and Diversity outreach. As she says:
One of the things that's become really important to us at New York Insight is that we are New York Insight. Being in this diverse city but not having that diversity reflected would be incongruous with everything we're trying to do. And just to say that our doors are open and our hearts are open is not enough. We have to figure out ways to make those barriers lower, if not nonexistent. So in that sense the work that I've done in the past is connected to my work here.
…
We're lucky to have our guiding teacher, Gina Sharpe, and the People of Color Retreats that she leads. The People of Color group is our largest sitting group that meets continuously. Walking into a room of 60 people of color meditating together once a month is very powerful—it's like an energetic magnet.
This is an important feature of Progressive Buddhism, recognizing limitations in what can be provided to others and seeking to go beyond them. While not giving up on important aspects such as lineage, doctrinal authority, issues of translation, historical contexts and individual development, a Progressive Buddhism will be one that recognizes us and our context and seeks ever more cogent ways of being affective here and now and into the future. New York Insight thus won't be the same as Des Moines Insight in Iowa or Dallas Insight (though commonalities may well bridge geographical divides better than one would expect, especially in the internet age). Returning to the interview, when asked about challenges, Selassie responds:
Another challenge—and I really believe this is a diversity issue, too—is providing for families. We work with people until they have kids and then after their kids are gone. But in between it's sort of "You're on your own." Sometimes I think that in our tradition there's this idea that you're a dedicated student only if you spend all your free time practicing formally. Parents don't have that luxury—a lot of people don't have that luxury, especially people who are in partnership with people who aren't practitioners. So that's a challenge: as the dharma evolves here, what is it going to look like in day-to-day life for people?
Similarly, breaking out of the go-go-go! Dharma model of leadership of and by those with the most formal practice (often at the expense of the rest of life), Progressive Buddhism should recognize the dharma of everyday life, the wisdom of relationship and family and community beyond the sangha walls.
Lastly,
Part of the life-work connection for me is that I want the dharma here at New York Insight to be more relevant—sometimes we get solipsistic and inwardly focused as a community. I would love for us to make more connections to the art world, to philosophy, to science.

There's so much dharma in this city, and I'm nourished by it. Being in conversation with the rest of the world also sustains my practice. I think that there's this idea that the dharma is like a special little flower that needs to be very carefully planted. But I think it's much more rhizomatous. It's completely graftable, and it can spread and take root in new places. I like to believe that the dharma can take care of itself. It's so much more resilient and creative than we think.
Yes, yes, yes! While I'm sympathetic to the drumming of the message that "Buddhism is a religion," I also see how the category "religion" is treated as very limited and limiting in contemporary American life. Buddhism is art, it is philosophy, and it is science. It is not those things in exactly the way they're otherwise done in the West, but that is partly a limitation of that world, and Buddhists' involvement can be of benefit both to the greater social and intellectual world and for themselves.
The image of a rhizome is intriguing. Imagery like this, and of course engagement with the world, can only really arise with a deep appreciation and understanding of (thus some grafting of individual and institutional experience with) the world beyond "Buddhism" as it is institutionally understood.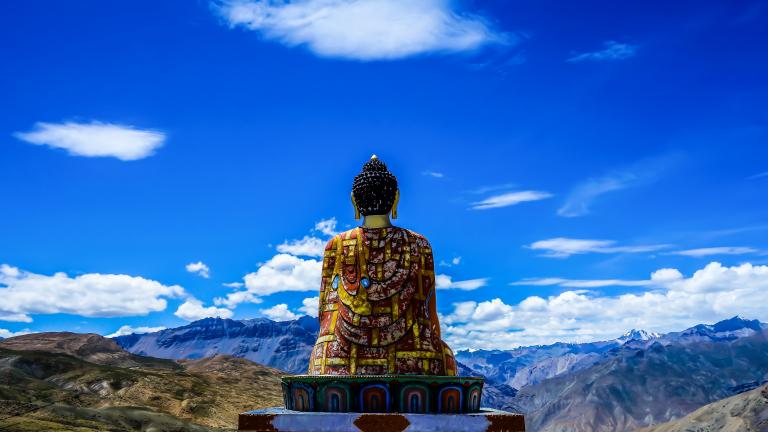 Photo by Varun Nambiar on Unsplash
Read the full Tricycle interview here.
Read more about Sebene Selassie.
---
Do you find benefit in this?
Please support independent coverage of Buddhism and join our community of patrons.