I don't remember the last time it hurt so much to read, to turn the pages, to start a new chapter. Coming from a Syrian family, this is a book I had to ask for. The Book Collectors: A Band of Syrian Rebels and the Stories That Carried Them Through a War, by Delphine Minoui, hurt me like never before, because I hold this country I have never visited, my country, close to my heart. Thank you so much to the publisher to send me a copy in exchange for an honest review.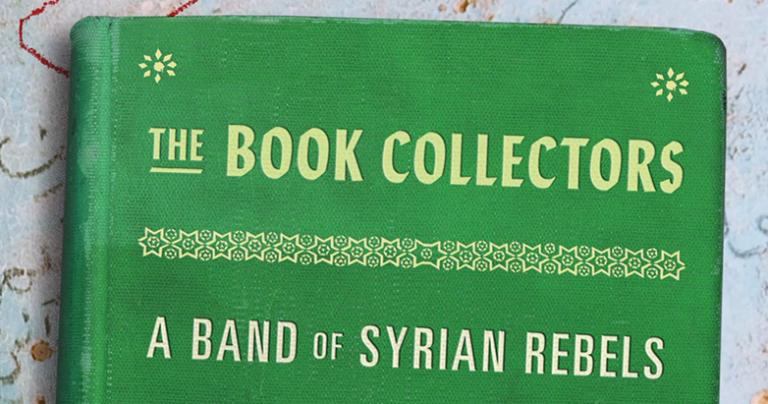 It was a couple of months ago when I decided to finally learn more about my parents' land, the country that has been talked about so much in the news, the TVs, and web and social media. It was a couple of months ago that I decided to honor my roots and discover what was happening. My family doesn't come from Darayya, but you don't need roots to understand the language of fear, hunger, pain and death. Being human is all it takes.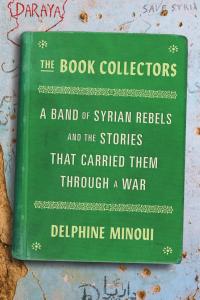 The Book Collectors narrates how the author established friendship with the rebels of Darayya, a south-western city in the Rif Dimashq Governorate. Delphine Minoui recounts the horrors this small group of rebels endured for four year defending the city they were born in and how the decided they rebellion would build instead of destroy.
Following the creation, the activities and users of a hidden library, I discovered what life was like for the Syrian youth, what it was like to be surrounded by explosions, dust in the wind and the smell of gunpowder on a daily basis. I knew reading and books could save a life, that they heal when we allow them to unleash their magic, but I never thought they could give such a shield.
In each unnumbered chapter, the readers discovers how the magic of books kept the rebels motivated, hopeful, sane and, most importantly, alive. From informal classes and impromptu dances to an epistolary relationship, we discover how a cathedral of paper became a sanctuary, a home for the future and a temple of hope.
It's hard not to shiver, to get immersed in the history The Book Collectors keep in its pages, just hard as it is to keep reading. I had to stop several times because it hurt on a level I didn't expect, it put me in an uncomfortable position, that of the witness, unable to act. This book is a hard dose of reality with a straight-forward language that won't leave the reader indifferent.
All in all, it offers an honest window into the physical, emotional, psychological and spiritual scars of Darayya's stolen next generation. Honest and brutal, it opens your eyes to the nightmares of war but also to the glory of books and reading.
The Book Collectors: A Band of Syrian Rebels and the Stories That Carried Them Through a War
Print Length: 208 pages
Publisher: Farrar, Straus and Giroux (October 20, 2020)
Expected Publication Date: October 20, 2020
ISBN-10: 0374115168
ISBN-13: 978-0374115166
About the Author
Delphine Minoui, a recipient of the Albert-Londres Prize for her reporting on Iraq and Iran, is a journalist and Middle East correspondent for Le Figaro. She is the author of several books in French. I'm Writing You from Tehran is her first book translated into English. Born in Paris in 1974 to a French mother and an Iranian father, she now lives in Istanbul.