Daniel Diaz, a 33 year-old youth pastor was killed a few days ago. Here is the story, he is one of 35 murder victims in the San Gabriel Valley city of Pomona this year. These suburbs are not the gated planned communities you may be familiar with or the sleepy burb I live in — Pomona is a troubled burb. It is also majority Latino/a and African American in its demographic. Since the beginning of the year, the city has been plagued by a constant stream of killings — most of them gun-related — most of them affecting Latinos and African American males, often against each other. Daniel Diaz's murder is not unique, it is not shocking — it is routine and soon, it will be forgotten.
I do not mean to be cold and disconnected from the grief that the family and those who knew Daniel must now face, but it is reality that American society does not care about the daily violence that Latinos/as and African Americans face, especially from a permanent underclass of fellow Latino and African American youth who have probably spent most of their lives under one form of state incarceration or another. Daniel's ministry, New Beginnings Community Ministries, is a ministry I am very familiar with, it is one of many Latino/a Pentecostal ministries that focus almost exclusively on reforming gang members, prostitutes and drug abusers. I wrote most of my first book on groups like this, and what I found most striking about them, was how similar they were, and how insular they were. Ironically, these ministries that cater to the dispossessed had little to say about the larger systemic evils that were at the root of many of the social pathologies they dealt with on a daily basis. If anything, these Pentecostal ministries hyperspiritualized their circumstances (we are in a fallen evil world ruled by Satan), and the solution (the only solution is belief in Jesus and the power of the Holy Spirit).
New Beginnings ministries was set up like most of these reform-oriented churches. There were rehabilitation homes for men and women, programs for at-risk youth, and generous helpings of Pentecostal spirituality used to heal those men and women of their life-controlling drug addictions, re-orient their often dependent and damaging personal relationships, and eventually lead them into a prefabricated cultural matrix of conservative Pentecostalism — complete with "proper" gender roles, "appropriate" sexual identities, amidst a theological curriculum that is heavy on piety and light on just about everything else. The goal is, and has been for over a century of Latino/a Pentecostalism — to turn men into Mighty Men of Valor and turn women into Genteel Women of Virtue. Meanwhile, in Pomona and many other cities across this country, gun violence continues unabated.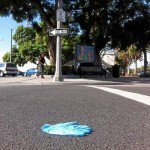 It is too bad that within this factory of manufactured piety, prayer rallies, (there was one the evening before Diaz was killed), and inexplicable grief — there are hardly any organizations, or self-proclaimed Latino/a Pentecostal/Evangelical leaders who will speak out. The easy and cheap access to firearms is a problem worthy of a ministry. The lack of accessible substance abuse programs cannot be ameliorated solely by spiritual solutions and especially churches that have experienced the level of pain and suffering that New Beginnings has, must somehow be willing to connect Daniel Diaz's death to the hundreds that will happen this year and for years to come. These deaths go without national outcry, they go without a spiritual movement lending its moral weight to a very simple if sobering reality –year after year hundreds of Latino/a youth and young people are killed by gun violence. Pentecostal churches who will not see past their constructed theological privilege for piety continue to attend to the blindness of a permanent expendable underclass — an underclass Daniel Diaz cared about, took to the movies, and died in front of as he drove them home early Monday morning.