Today Trump is visiting McAllen, Texas, in an attempt to make a case for a border wall. There are conflicting reports about whether he will visit the Catholic Charities of the Rio Grande Valley Humanitarian Respite Center today during his stop, but the invitation has been offered by its director, Sister Norma Pimentel.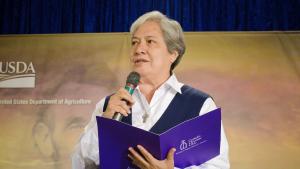 In an open letter in the Washington Post, she writes:
Mr. President, if you come early in the morning, here is what you will see: The families who have spent the night are tidying up their sleeping spaces. Some are sweeping, some are helping prepare breakfast, and some are getting ready for their bus departure to other places in the United States. You will see volunteers arriving to offer a hand either preparing hygiene packets, making sandwiches, cutting vegetables, preparing the soup for the day or sorting through donated clothing. Others may assist with the intake or help a mother or father contact family living in the United States. People come from all over the state and beyond to help.
Sister Norma is Catholic, not Anabaptist, but her approach to speaking truth to power exemplifies the Anabaptist emphasis on witness. Witness requires not just speaking truth but also backing it up with actions. Witness isn't partisan, but neither is it apolitical. As far as I know, Sister Norma hasn't held any political office, but her witness to the plight of Central American migrants is no less politically powerful.
Back in the summer of 2014, my family visited the Humanitarian Respite Center and met Sister Norma. My then five-year-old son had seen a picture of refugees in TIME and, with tears in his eyes, asked my wife how we could help them. After a bit of research, we learned about the influx of Central American migrants to McAllen—a mere seven hours from where we were living at the time—and about Sister Norma's work there with the Humanitarian Respite Center. So we packed up and took a family trip to volunteer for a day.
We joined a group of volunteers from around the state and country, working diligently to welcome migrant families, while Sister Norma gave a tour to a US Congressman and his team.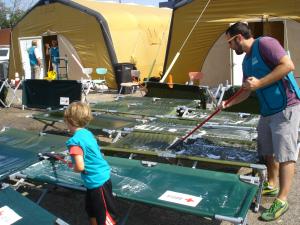 In an article in Sojourners, I wrote about Sister Pimentel and my experience at the center:
"I DON'T BLAME the Border Patrol. I blame our country," Sister Norma Pimentel told Rep. Jim McGovern on a hot afternoon in McAllen, Texas, last August.

"It's like a burning building," explained Pimentel, director of Catholic Charities of the Rio Grande Valley, "and we're sending them back into it."

Pimentel was describing the U.S. policy of deporting Central American refugees back to their home countries, while Rep. McGovern (D-Mass.) nodded in agreement. He had just visited the Border Patrol central processing facility, and Pimentel was leading him on a tour of the humanitarian respite center at Sacred Heart Catholic Church.
Read the rest in the May 2015 issue of Sojourners.