As I mentioned in a previous post about Mennonite historian Harold Bender's seminal essay, "The Anabaptist Vision," one of its limitations is that it reduces Anabaptism to an abstract vision. By so doing, it misses what historian John Roth calls "the joyful messiness of lived experience."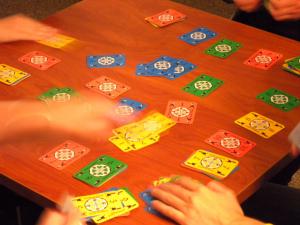 To provide revisions to the vision, then, I'd like to periodically draw attention to some of the goings-on in the Anabaptist ecosystem. Here are a few things that caught my attention last week:
1. New director of Mennonite denomination introduces the "little green dove"
In a three-part blog post, Mennonite Church USA executive director, Glen Guyton, answers the question, Who and what is Mennonite Church USA? The denomination's first African American executive director, Guyton writes,
MC USA is a collective of people, programs, area conferences and other structural components offered by and through this denomination that serve as a witness to our capacity to do more good together and ensure that the message of the gospel is effectively preached.
Read more at The Little Green Dove: Who is MC USA?
2. Before AirBNB, there was Mennonite Your Way
In a thread in the Anabaptist Collective group on Facebook last week, someone asked whether Mennonite Your Way was still a thing. It turns out, it is. Founded in 1976 by Leon and Nancy Stauffer, Mennonite Your Way (MYW) is a directory of "Mennonites, Brethren, and other Christians of 'like spirit'" who have organized "a hospitality network so travelers can share Christian courtesy and fellowship."
When my family lived in Waco, Texas, during my grad school years at Baylor, we traveled back and forth to our hometown area of South Bend, Indiana, about twice a year to spend time with family and friends. On one of our trips, we tried the MYW travel plan. No one in the directory was quite where we needed to stay, so we ended up cold-calling a small conservative Mennonite church plant near Memphis, Tennessee, to ask if we could stay with a family.
A traditional, plain-dress Mennonite family offered to let us stay with them for the night. Our differences were glaring over dinner conversation, but we were still able to enjoy their hospitality and share fellowship as fellow Anabaptists.
Read more about MYW at their appropriately plain website or order your directory today!
3. Into Account interview about sexual abuse in plain Anabaptist communities
Last week the sexual assault survivor advocacy organization Into Account posted an interview with Rosemarie Miller—a former Plain Mennonite and now a survivor advocate, speaker, and writer—about the scale of sexual abuse in Plain Mennonite churches. Miller states,
The level of abuses that go on in some of the homes and churches is so hard for me to even know how to express, because it grieves my heart so deeply for those who are experiencing it. I know first hand the amount of damage it can and does do. . . . I don't think that will stop until either they have a genuine revival of their hearts, or there are such consequences from legal authorities that they fear to continue hiding and covering for the abuse of children.
Read more at Sexual Abuse in Plain Anabaptist Churches: An Interview with Rosemarie Miller.
4. Mennonite humor meets Mennonite card game
On the lighter side, the Mennonite humor magazine Daily Bonnet (yes, that's a real thing) posted a spoof article about a woman who cheats at the Mennonite card game Dutch Blitz (also a real thing). Incidentally, I came across this article after returning from playing Dutch Blitz with my small group from church. Here's a taste:
"It ain't easy being the Dutch Blitz Queen, but someone's gotta do it," said Aganetha. "I mean, everyone else should be grateful for my cheating. I single-handedly prevented those losers from committing the sin of pride."
Read the rest at Cousin Aggie Caught Flipping Two Cards at a Time Instead of Three.
5. New Anabaptist pre-k through 12th grade Bible curriculum available
As a pastor, I'm always on the lookout for Bible curriculum that is both solid on content and written from a perspective that resonates with my approach to Scripture. It appears I may have found just that thing in Encounter: An Anabaptist Faith Formation Curriculum. As the press release writes,
"The Encounter curriculum invites students to find themselves in the story of scripture and follow Jesus," says Elaine Moyer, senior director at MEA [Mennonite Education Agency] and co-chair of the Encounter Steering Committee. "It's about ongoing ways of encountering God in Scripture through an alternative approach to Christian education that is uniquely Anabaptist."
I haven't yet looked through the curriculum, and at $110 per grade level, it might ultimately be cost prohibitive for my small church, but my interest is piqued.
Read more at New Anabaptist Bible curriculum for students available.
To my fellow Anabaptists, what have you observed in the Anabaptist ecosystem lately? Let me know in the comments.