Last weekend I had the good fortune of hearing Lisa Sharon Harper speak in South Bend on the theme of her book The Very Good Gospel: How Everything Wrong Can Be Made Right. Harper is the founder and president of Freedom Road, a consulting group that aims to "help communities shrink the narrative gap, by identifying core issues and building community capacity so they might work toward common solutions for a just world."
In her sermon based on her book, she retells the narrative of the first three chapters of Genesis, which she provocatively argues contain the whole of the gospel in miniature.
Harper describes how God names creation "good" and humans "very good" and how, in the beginning, there was shalom (peace, wholeness, well-being) between God and humans, man and woman, and humans and the earth. However, as a result of sin, that shalom was shattered. The gospel, then, is about God's mission to restore shalom to a shattered world.
This mission culminates in the incarnation, life, death, and resurrection of Jesus, the sending of the Spirit to empower the church to continue the work of bringing shalom into the world, and the establishment of the Kingdom of God on earth as it is in heaven.
Harper describes how she was trained through a Christian ministry to preach the gospel in terms of the four spiritual laws. However, as she was doing racial reconciliation work, she began to wonder what it had to do with the gospel or what the gospel had to say about racial inequality. She imagined herself going up to her great-great-great grandma, who was a "breeder" on a Southern plantation, and telling her the four spiritual laws. Harper couldn't imagine her great-great-great grandma responding Hallelujah! to that gospel—to receive it as good news. This realization led Harper to a period of depression followed by over a decade of careful study of Scripture, which drove her to Genesis 1–3 where she discovered the very good gospel.
For Harper, the very good gospel is big enough to encompass not only personal salvation but also the restoration of shalom in the world. If this is true, then it really is very good news for her great-great-great grandma: not only can she be saved, but she's also made in the image (icon) of God. As God's icon, she is created not to be enslaved but to practice dominion. Indeed, she and her slaveholder are both God's icons, created not to rule over each other but to live in harmony and freedom.
And so Harper concludes powerfully,
May it be so. May those who have had the image of God in them cursed—may they rise full, into their full dignity and call to exercise dominion in our world. And may those who have strived against God—warring for supremacy with God—lay down their arms and join the community of creation, and exhale: Ah. Amen.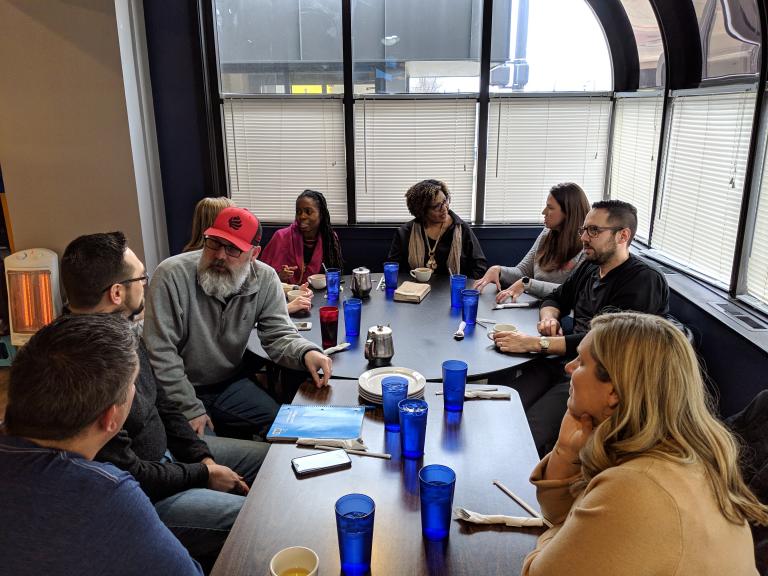 As I listened to Harper's sermon, I was struck by how, well, Anabaptist it is. In his influential book, Gospel Versus Gospel: Mission and the Mennonite Church, 1863-1944, Mennonite historian Theron F. Schlabach contrasts the gospel of American evangelicalism and fundamentalism with the traditional Anabaptist-Mennonite understanding of the gospel. As John Roth summarizes Schlabach's argument, the evangelical-fundamentalist gospel tends to "reduce the gospel to simple formulas of forensic salvation, marked by a conversion experience and characterized primarily by intellectual assent to a set of prescribed doctrines." In contrast, the Anabaptist-Mennonite gospel is "a holistic message of reconciliation—inseparable from a life of Christian discipleship, a commitment to love in all human relationships, and the collective witness of a disciplined church." Or, in Harper's words, the Anabaptist-Mennonite gospel is very good news!
Listen to Harper's message in its entirety on PodBean, go out and buy her book The Very Good Gospel, and then—whether you're an evangelical, an Anabaptist, or something else—go out and preach the very good gospel by "bringing Good News to the poor, proclaiming that captives will be released, that the blind will see, that the oppressed will be set free, and that the time of the Lord's favor has come" (Luke 4:18–19 NLT).
Top photo: Lisa Sharon Harper speaks at South Bend City Church, March 2, 2019.  (Photo by Spencer French.)
Bottom photo (left to right): Matt Graybill, Ryan White-Stevens, Cory Martin, Shannan Martin, Nicola Brown, Lisa Sharon Harper, Emily McClements, David Cramer, Beth Graybill. (Photo by Ryan Yazel.)