This weekend, after three years of regular bedtime readings, my 9-year-old and I finally finished the Lord of the Rings trilogy. For those who haven't spent three years reading the books or twelve hours watching the movies, I'll summarize briefly.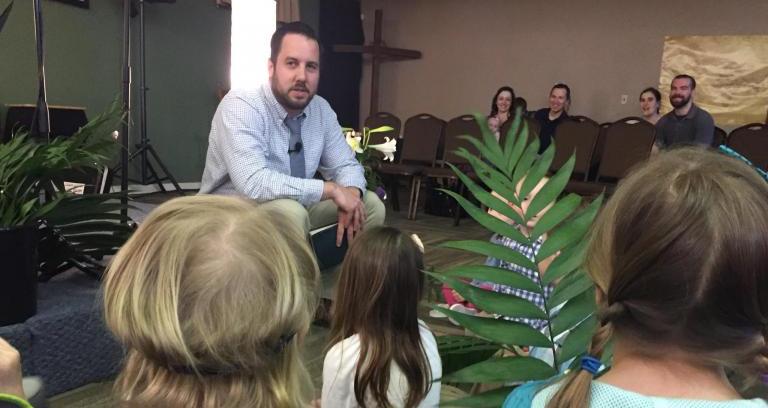 The evil Lord Sauron forges 20 rings of power, 3 for elf kinds, 7 dwarf kings, 9 for human kings, and 1 for himself to rule over them all.
After Sauron is killed in battle, his ring still gives his power to whoever wears it. But the catch is that whoever wears the ring is under the power of Sauron, who even in death asserts his power through a disembodied eye.
The only way to destroy Sauron's evil power once and for all is to destroy the ring. And the only way to destroy the ring is to throw it into the molten lava of Mount Doom from which the ring was forged.
A couple millennia later, through a series of unlikely events, the ring of power winds up in the hands of a hobbit, or Halfling, named Frodo. (Hobbits are called Halflings because of their stature—they're about half the height of grown humans.)
Frodo is tasked by the leaders of the "good side" with destroying the ring, which is the only way to rid the world of Sauron's power. So Frodo embarks on a treacherous journey to Mount Doom to destroy the ring.
The Lord of the Rings was first published 65 years ago and has sold over 150 million copies. So, if you don't know how it ends by now, I'm not going to be the one to spoil it for you. You'll just have to avoid spoilers for the next three years while you read it for yourself.
But I will say this: At various points on his journey to destroy the ring, Frodo gets into a number of predicaments where he is tempted to instead use the ring's power. He knows that the ring holds great power, and he's drawn to use that power to save himself or his friends.
Not only that, but a number of those on the "good side" try to convince him not to destroy the ring but to use it for good. One human king, Boromir, even tries to steal the ring from Frodo so he can use it to save his people from the forces of evil that threaten them. Boromir has the same goal as Frodo—to defeat the powers of evil—but he has a different idea about how to achieve it. Instead of taking the long and treacherous journey to destroy the ring, Boromir wants to harness the ring's power for good.
But Frodo knows this is impossible. One can't ultimately bring about good ends by using evil means. There's no shortcut to defeating evil. He must be willing to sacrifice himself in Mount Doom in order to destroy the ring and defeat evil once and for all. The suspense of the story is over whether Frodo will have the strength to destroy the ring or whether he'll give in to the temptation to use it.
When we come to this morning's story from Luke, we're often tempted to read it as a general morality tale about dealing with temptation. The moral lesson seems to be that, even Jesus faced the devil's temptation, and he was God, so we too should expect to face temptations from the devil in life. But when we do, we should respond like Jesus does by quoting Scripture. If we hide God's Word in our heart, we, like Jesus, can overcome any temptations that come our way.
There are other Scriptures that make just these points. The book of Hebrews tells us that "we do not have a high priest who is unable to empathize with our weaknesses, but we have one who has been tempted in every way, just as we are—yet he did not sin" (4:15 NIV). Peter writes that the devil "prowls around like a roaring lion, looking for someone to devour" (1 Peter 5:8 NLT). And King David writes in Psalm 119, "I have hidden your word in my heart, that I might not sin against you" (v. 11).
So, yes, Jesus was tempted by the devil as we are. And, yes, reading and memorizing Scripture can help us resist temptation. But, no, that's not what Luke's story is about.
Luke's story is about Jesus embarking on a journey to destroy the power of evil. In Luke 3, as Jesus is being baptized, the Holy Spirit descends on him, and a voice from heaven says, "You are my dearly loved Son, and you bring me great joy" (v. 21). This is God the Spirit and God the Father commissioning God the Son on his messianic mission to destroy evil. This mission will be a long and treacherous journey that will ultimately cost him his life.
But before he embarks, he's led by the Spirit to the desert for a time of preparation and fasting. And it's here that he is tempted by the devil. These aren't just any old temptations that result from human weakness. The devil is specifically tempting Jesus to use power for his own benefit.
Jesus has just been declared the Son of God at his baptism, and now the devil in three different ways says, If you're the Son of God, start acting like it! Start using your power for good. Use that power to turn a stone into bread so you won't go hungry. Use that power to rule over the kingdoms of the world so you can establish world peace. Use that power to order angels to protect you, so you can avoid suffering.
There's nothing inherently wrong with bread or good government or safety. But behind these temptations is a catch. By using his power in these ways—even for good ends—Jesus would be shortcutting his mission to destroy the power of evil. He would be colluding with evil in order to bring about good.
The devil makes this explicit with the second temptation. "I will give you the glory of these kingdoms and authority over them because they are mine to give to anyone I please," the devil says. But then he adds the catch: "I will give it all to you if you will worship me" (v. 6).
Jesus could have taken the reins of political power in order to bring about good. But by doing so, he would have become ensnared by the power of the devil rather than destroying it. Jesus resists this temptation, as with the others.
You can't destroy the power of the devil by making a deal with the devil.
You can't defeat Sauron by using Sauron's ring.
So Jesus withstands these temptations and embarks on his journey.
But our passage ends on an ominous note: "When the devil had finished tempting Jesus, he left him until the next opportunity came" (v. 13).
This isn't the last time Jesus will be tempted by the devil. As he makes the journey to Jerusalem to destroy the power of evil—a journey that will ultimately cost him his life—he will repeatedly face the temptation to use power to shortcut his mission.
But each time he resists, even unto death.
As he hung on the cross, the religious leaders scoffed at him: "He saved others," they said, "let him save himself if he is really God's Messiah, the Chosen One" (23:35).
The soldiers likewise mocked him: "If you are the King of the Jews, save yourself!" (23:36).
Even one of the criminals hanging beside him scoffed: "So you're the Messiah, are you? Prove it by saving yourself—and us, too, while you're at it!" (23:39).
Through their words, the devil again tempts Jesus three times.
But what the religious leaders, Roman soldiers, and crucified criminal all fail to realize is that Jesus's messianic kingship is displayed precisely in his refusal to use his power to save himself.
Instead of saving himself, he cries out, "Father, I entrust my spirit into your hands!" (23:46).
And in so doing, he demonstrates what it means to overcome evil with good.
As Paul writes to the Philippians,
Though he was God,
he did not think of equality with God
as something to cling to.
Instead, he gave up his divine privileges;
he took the humble position of a slave
and was born as a human being.
When he appeared in human form,
he humbled himself in obedience to God
and died a criminal's death on a cross.

Therefore, God elevated him to the place of highest honor
and gave him the name above all other names,
that at the name of Jesus every knee should bow,
in heaven and on earth and under the earth,
and every tongue declare that Jesus Christ is Lord,
to the glory of God the Father. (2:6–11)
The morning is the first of six weeks of the season called Lent. Lent is as season of preparation. It's a time to prepare ourselves for the journey with Jesus to Jerusalem—a journey that leads Jesus to the cross.
And on the way, he tells the crowds, "If any of you wants to be my follower, you must give up your own way, take up your cross daily, and follow me" (9:23).
Will you follow Jesus on this journey?
Jesus doesn't promise that it will be easy.
But he does promise that the end of the journey is not death but resurrection.