Last year the church where I serve as teaching pastor, Keller Park Church (South Bend, Indiana), celebrated its 50th anniversary—or our very own year of Jubilee. To celebrate this occasion, I preached a series on the Jubilee theme as found in the Gospel of Luke (with allusions to Isaiah and Leviticus). Below is the seventh sermon of the series. (While you're here, check out the other sermons, Revolution, Release, Rest-oration, Remembrance, Recovery, and Repentance.)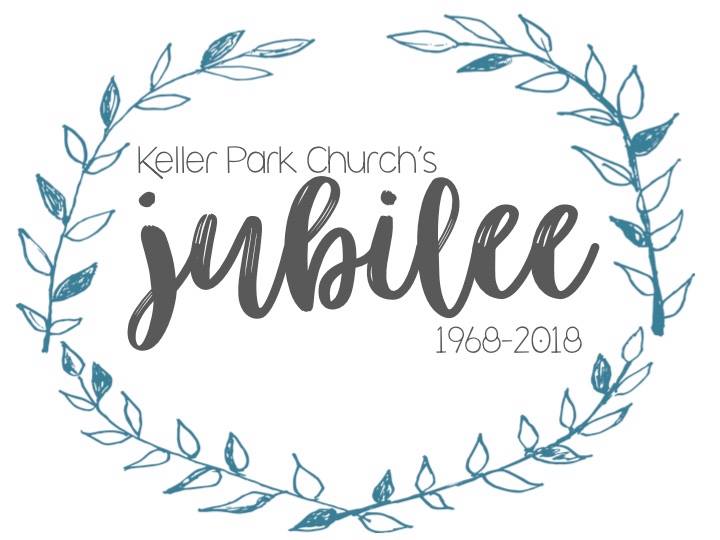 One sunny summer afternoon a few years ago I was driving with my family on I-35 through Kansas and Oklahoma. The weather was peaceful as we drove through Kansas, and we were making pretty good time on our cross-country drive from Indiana to Texas.
But as we entered Oklahoma, we saw a low lying cloud stretching across the entire horizon. Having grown up in Indiana, we'd never seen such a cloud before. It looked like it was no more than a few hundred feet off the ground. And so, not knowing anything about weather patterns in Oklahoma, we gazed at the cloud through our windshield as we drove right at it.
And then, just after we passed under it, we were hit by a sudden gust of wind. Semi-trucks around us swayed back and forth. It was all I could do to keep the van on the road. Everyone slowed as we were hit with sheets of rain.
We pulled off at the nearest exit and made our way to a hotel lobby to watch the local weather on the TV. There was a string of dangerous storms crossing Oklahoma that day, and they were all making their way for I-35. So for the rest of the day, we would drive a few miles, pull off at an exit, stop at a McDonald's to check the weather, and wait for the next storm to cross I-35 so we could drive a few more miles.
At one point, I got a little anxious waiting and decided that the next storm had basically crossed I-35. So we started driving into the rain as it got stronger and stronger until we could barely see the road in front of us. When we got passed by a storm tracker vehicle, it confirmed our suspicion that we needed to turn around at the next exit and head back to McDonald's to wait out the storm.
Finally, after a long day, we crossed into Texas, and immediately the storms subsided and all was as calm as it had been in Kansas 9 hours earlier. Normally it takes 3 hours to drive through Oklahoma on I-35.
We later learned that there had been a number of tornadoes in Oklahoma that day and the next. Apparently that huge low-lying cloud, known as a shelf cloud, was a sign that we were entering dangerous weather.
Oklahomans are used to this kind of weather. And so they would have known how to interpret the shelf cloud and act accordingly. They would have gotten off the highway and sought shelter immediately. But we Hoosiers were oblivious and tried to drive right through it.
In the passage from Luke 12, Jesus is speaking to Galileans. When it comes to weather patterns, Galileans are more like Oklahomans than Hoosiers. Jesus says that they know quite well how to interpret the clouds.
But then he calls them hypocrites for not knowing how to interpret the times.
This seems like a rather harsh judgment on the crowds. Why is it hypocritical to know how to interpret one thing but not another? I've learned how to interpret the Bible over the years, but that doesn't mean I know anything about how to interpret Oklahoma weather patterns. Does that make me a hypocrite?
It seems that I would be a hypocrite only if I was expected to know how to interpret one thing as well as another. If two signs are equally obvious, and I know how to interpret one but not the other, then I might be a hypocrite.
This seems to be the force of Jesus's charge in verse 56: "Hypocrites!" Jesus says. "You know how to interpret the appearance of the earth and the sky. How is it that you don't know how to interpret this present time?"
His question suggests that they should be able to interpret the present time as easily as they interpret the weather. But they don't know how.
So what, we might ask, would it mean for them to properly interpret the present time? In the following verses, Jesus suggests that it involves judging for themselves what is right and seeking reconciliation with their adversary rather than leaving conflicts to be resolved in court.
For Jesus, properly interpreting the present time means actively seeking reconciliation with adversaries.
But how is the crowd expected to know this?
What was their cloud in the sky?
I would suggest that their cloud—their sign of the times—is Jesus himself. Jesus kicked off his public ministry in Galilee by reading from the prophet Isaiah:
The Spirit of the Lord is on me,
because he has anointed me
to proclaim good news to the poor.
He has sent me to proclaim freedom for the prisoners
and recovery of sight for the blind,
to set the oppressed free,
to proclaim the year of the Lord's favor.
If the Galileans are wondering how to interpret the present times, Jesus has already told them. The messiah has arrived. It's the year of the Lord's favor—the year of Jubilee. This is a year when all debts are canceled, all property is returned to its original owners, and all slaves and prisoners are released. So if there is ever a time to be reconciled with adversaries, now is the time!
If the people keep operating according to business as usual, then they haven't properly interpreted the present time. Which means they don't understand the significance of Jesus's life and ministry.
The question for us is, do we? We claim with our mouths that Jesus is Lord, but do we act consistently with that claim?
Do we understand the significance of claiming Jesus as Lord?
Do we properly interpret the present time that he has inaugurated?
If we do, then, Jesus says, we will seek reconciliation with our adversaries.
Reconciliation is no small matter for Christians.
Paul writes to the church in Colossae that our reconciliation with God through Christ is "the gospel that . . . has been proclaimed to every creature under heaven" (Col. 1:23).
To the church in Ephesus, he writes that God's very purpose in sending his Son was to "put to death [the] hostility" between peoples by "reconcil[ing] . . . them to God through the cross" (Eph. 2:16).
And to the church in Corinth, Paul makes a remarkable statement about reconciliation:
So from now on we regard no one from a worldly point of view. Though we once regarded Christ in this way, we do so no longer. Therefore, if anyone is in Christ, the new creation has come: The old has gone, the new is here! All this is from God, who reconciled us to himself through Christ and gave us the ministry of reconciliation: that God was reconciling the world to himself in Christ, not counting people's sins against them. And he has committed to us the message of reconciliation. We are therefore Christ's ambassadors, as though God were making his appeal through us. We implore you on Christ's behalf: Be reconciled to God. God made him who had no sin to be sin for us, so that in him we might become the righteousness of God. (2 Cor. 5:16­–21)
Here Paul connects reconciliation with vision. If we are in Christ, we see not through a worldly point of view but through the lens of the new creation. And in this new creation, we are reconciled to God through Christ.
Not only that, but God has "committed to us the message of reconciliation." He has made us Christ's ambassadors of reconciliation, as though God were making his appeal through us!
In short, if those of us who call ourselves Christians aren't actively seeking reconciliation with our adversaries, then we truly don't know how to interpret the present time.
We're like Oklahomans who don't know that a shelf cloud means tornados are ahead.
But that means that, despite our claim to be Christians—or little Christs—we don't understand Jesus or the gospel that he proclaimed and enacted. We aren't living according to the year of the Lord's favor, the new creation, but are still living according to the old, worldly point of view.
I suspect that there are some who know they need to seek reconciliation—either on a personal or corporate level—but simply don't know where to start. So let me conclude with some practical steps.
First, reconciliation involves an objective change in a relationship.
It is more than simply forgiving someone in your heart. Often the church's message of forgiveness is heard by those who are abused as suggesting that it's their responsibility to forgive their abuser while continuing in the abusive relationship. This couldn't be farther from the meaning of reconciliation.
At the root of the Greek word translated as "reconciliation" is the idea of "change." Reconciliation involves not simply an inward forgiveness but also an outward change in the relationship. It involves both parties recognizing the causes of the enmity between them and then seeking to put to death those causes.
This means, second, that reconciliation requires seeking to discover the truth.
After the fall of Apartheid in 1994, the newly elected government in South Africa established the Truth and Reconciliation Commission. The purpose of this commission was to give victims of human rights violations under Apartheid the opportunity to give public testimony of the abuses they endured. Then the perpetrators of violence could give public testimony of the abuses they committed and seek amnesty.
While this commission wasn't perfect, it illustrates the need for reconciliation to be based on truth. Without public testimony of the violence of Apartheid, there would be no possibility for South Africa to move forward as a unified nation.
In the same way, reconciliation in the body of Christ requires acknowledgment of offenses by both the offended and offender. I would suggest that this is one of the reasons the church in America remains largely segregated along racial lines. Many white Christians refuse to acknowledge the past and present offenses of white Christians against their black and brown brothers and sisters in Christ. But without this acknowledgment, true reconciliation cannot take place.
We can't simply forgive and forget.
We must remember and reconcile.
This suggests, third, that reconciliation requires a community of accountability.
In Matthew 18, Jesus describes the process of reconciliation: First, the person wronged is to go directly to the person who has sinned against them to show them their fault. If they listen, then reconciliation can take place. If not, then one or two others are to be brought along so that they can be witnesses to the dispute. If even that fails to bring reconciliation, then the matter is to be brought before the whole church.
Imagine the kind of church community that is necessary to follow Jesus's instructions here. Only by God's grace is such community possible.
Which means that, fourth, reconciliation is a miraculous work of God.
Paul writes that "all this is from God, who reconciled us to himself through Christ and gave us the ministry of reconciliation." While we are entrusted with the ministry of reconciliation, it is ultimately from God, who put "hostility to death" through the cross.
This is good news for all those who have eyes to see and ears to hear.