I was recently asked to write a reflection for the 10-year anniversary of the release of the album The Changing of the Guard by one of my all-time favorite indie-rock bands, Starflyer 59 Below is my reflection on their track "Trucker's Son," drawing connections between the lyrics and my family narrative.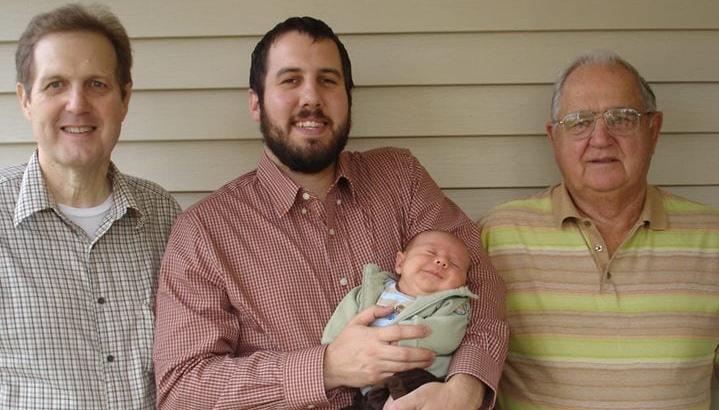 Has it already been 10 years?
Yes, it has: On August 11, 2010, my dad died of renal cell carcinoma (kidney cancer). I was 27; my dad was a month shy of 55.
My dad was an investment broker for church building programs. He would drive a lot to churches in Des Moines or Chicago or some other Midwest town to oversee churches' capital campaigns through the sale of "church bonds" to congregants. Our family wasn't rich, and we never felt poor; we were simply provided for. Not only did my dad help build the church; he also made sure we were in our own church at least three times a week. Such was life for the evangelical son of a church investment broker in the Midwest. And, generally, it was a pretty good life.
In 1997, as a freshman in high school, I bought a monochromatic red CD for $5 from a fellow Christian classmate in the school cafeteria. He bought it from the discount bin at our local Christian bookstore on the strength of the Tooth & Nail label, but it wasn't punk rock enough for his tastes, so he passed it on to me at cost. I was intrigued at first and soon became a die-hard fan of this shoegaze band from southern California that went by the name Starflyer 59 and was fronted by a guy with big sideburns named Jason Martin.
The following year, Starflyer released The Fashion Focus. Here was not only a different sound but also a change in lyrical focus. Whereas the earlier albums seemed to focus on relationships lost, now the focus was on the tension between the wistful desire to be somebody or go somewhere ("think of things I'd be / with time to kill and just had lots of money") and the realities of being "ordinary people."
For me, Starflyer was itself a form of escape. What's been affectionately dubbed their "sad reverb" sound took me to that far-off place removed from mundane ordinary life. Maybe it was the beaches of California or a long summer drive with the windows down and sunroof open or an ideal past evoking deep nostalgia or an alternate reality where life is easier or a distant eschatological future.
As Jason got married, had kids, and settled into the family business, this tension became more pronounced in his lyrics ("if I was free / free to leave / but it's my kids, they need to eat"). But perhaps nothing has impacted his songwriting more than the death of his dad in 2007. Virtually every album since then includes regrets about the loss of his dad, the inability to have more time with him, and the responsibility to take over the family business: "Mr. Martin," "IAMACEO," "Father John," "Wrongtime," and "Trucker's Son," which begins this way:
Thank your lucky stars
No matter where they are
Cause it's possible this is only a dream
And you might wake up
Someplace far away, a place where you're still young
Oh wait, this is a dream
Instead of simply daydreaming about being somewhere else, now the daydream is that ordinary life is just a dream, and in reality you're in that far-away place where you're still young. The escapism has gone Matrix-level. But then reality hits: this dream that reality is a dream and the dream is reality is itself only a dream. 
Then the chorus:
Hesitate, all is lost
Shouldn't I count the cost of being born not number one
I was born a trucker's son
I was born a
A truckers son
How can one count the cost of how or to whom one is born? One's birth circumstance is one of those things in life over which one has absolutely no say. Counting the cost is about claiming as your own that very thing over which you had no choice. With the death of his dad and the ensuing changing of the guard, Jason must count the cost of taking over the family business in order to provide for his family. This leads to a moment of hesitation and twinge of regret that all his dreams are lost.
And the second verse:
If it were possible
I would jump in a frame
Change the family name
Oh, if it were only true
I'd wake up somewhere
Someplace far away, where there's forever fun
Oh wait, it's the same dream
Now the counterfactual is allowed to be indulged for a verse. This is part of counting the cost: considering the alternative. What if, instead of being the responsible son, spouse, and parent, you disowned the family name and flew off to that far-away dream land? But for a trucker's son, this alternative isn't a possibility; it's just the same dream you have while driving a lot to ensure your kids can eat. 
This song seems like a downer. As his dad has died, so now have his dreams. "All is lost." But then the song ends with a twist: "Oh wait, this is a dream." Yes, this line is ambiguous. What's the "this"? And what does it mean that it's a dream? It seems we've now moved from Matrix-level complexity to Inception-level. But since I believe authorial intent can only get us so far, I'll tell you what I take it to mean.
We're tempted to believe the dream is found in getting as far away from the ordinariness of reality as possible. But, having counted the cost, we might realize that the dream is found in the ordinary itself: playing card games with old friends, playing guitar on the weekends, writing riffs with your son. Yes, you may want to be things and keep looking for something you think you've lost. But, when all is said and done, "these are the best days of our lives, crazy as it seems," and all we want is to take it "slow, so slow."
I didn't become a church investment broker after my dad died, but I did move back to my hometown to become a pastor. Our family isn't rich, and we never feel poor; we're simply provided for. I guess you could say I help build the church; and we're in our own church at least three times a week. Such is life for the evangelical son of a church investment broker in the Midwest. And, generally, it's a pretty good life.
In memory of Dennis L. Cramer (Sept. 13, 1955—Aug. 11, 2010).