Naomi, Orpah, and Ruth: Sustaining Hope
By Jess Lyons
When all hope is lost, where do we find that elusive little word? In days of pain, disappointment, or grief, we often hear others tell us to "hold onto hope." Hope is tricky, though. It slips through our fingers. It sneaks away with every loss, every bit of hurt. And yet, it is often the only thing that sustains us.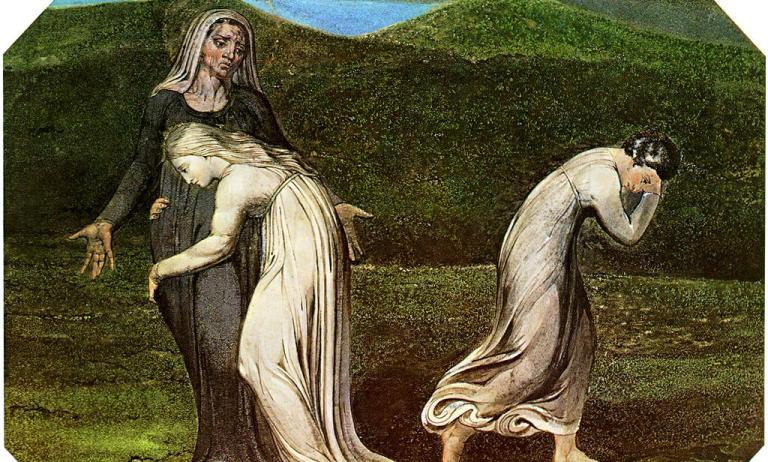 This story in the book of Ruth is one about hope. It's a story of God's faithfulness reflected powerfully in the faithfulness of these women.
When Naomi, Orpah, and Ruth find themselves without husbands and without much hope for their futures, they are forced to make tough decisions. In her simultaneous sorrow and deep care for her daughters-in-law, Naomi urges them to return home. They refuse and faithfully accompany her to the edge of Judah, a land where they will be fiercely unwelcomed. Again, Naomi urges them to return.
With great mourning, Orpah says goodbye and returns to her home. We have often looked at Orpah as a foil to Ruth—the less faithful of the two, the one who took the easy way out. But this decision was no small thing. Linda Gehman Peachey reminds us that "it is not always best to leave one's home behind to search for a new life in a new land. It is not always right to ask people to reject their own traditions and adopt foreign ways." We can honor Orpah's faithfulness to her people and what was best for her in this situation.
Though Orpah leaves the traveling party to return home to her people, Ruth steadfastly refuses to leave Naomi. In a scene fit for the movies, Ruth pledges herself to Naomi:
Do not urge me to leave you or to return from following you. For where you go I will go, and where you lodge I will lodge. Your people will be my people, and your God will be my God. Where you die I will die, and there will I be buried. May the Lord do so to me and more also if anything but death parts me from you. (Ruth 1:16–17)
This is covenantal language. We rarely see this kind of commitment anywhere beyond the marriage relationship. And ironically, this passage of Scripture is often quoted in wedding vows. This bond between mother-in-law and daughter-in-law, these fiercely faithful friends, is profoundly beautiful.
There is little social benefit for Ruth to follow Naomi. Instead, there is great risk and pain ahead for her in this foreign land. Walking into Judah, Ruth is the lowliest of race, class, and gender. Yet, as Rose Sallberg Kam observes, she stands as a "model of faith comparable only to Abraham . . . who also abandoned all at God's call."
Ruth continues in faithfulness as she works in the field of Boaz, a relative of Naomi. As the story goes, Boaz notices Ruth's loyalty and hard work. He creates a safe and caring work environment for her. Then, through some clever planning, Naomi arranges a situation for Boaz to take on the role of kinsman-redeemer: one who will marry Ruth and carry on the line of Naomi and her family.
Since we've often read this book as an iconic love story between Ruth and Boaz, we can miss the role of Naomi's faithfulness here. Without Naomi's clever strategy and trust in God's goodness, the connection between Boaz and Ruth would not have come together. When Naomi hears of Boaz's care for Ruth, she responds with words of hope: "May he be blessed by the Lord, whose kindness has not forsaken the living or the dead!" (2:20)
God's kindness, God's faithfulness, is still with them! Naomi, who before remarked on the emptiness and calamity that God had brought on her, is now moving forward in God's kindness.
Ruth and Boaz are married, and they have a son. And the book of Ruth concludes, we see God's fierce faithfulness on full display:
So Boaz took Ruth into his home, and she became his wife. When he slept with her, the Lord enabled her to become pregnant, and she gave birth to a son. Then the women of the town said to Naomi, "Praise the Lord, who has now provided a redeemer for your family! May this child be famous in Israel. May he restore your youth and care for you in your old age. For he is the son of your daughter-in-law who loves you and has been better to you than seven sons!" (4:13–15)
God has restored Naomi's life. God has restored her hope. Through Boaz, yes, and through the lineage of this little baby who will be the grandfather of King David, yes.
But the last verse here makes me want to cry and rejoice all at once: It is Naomi's daughter-in-law Ruth who shows her fiercely faithful, covenantal love that is better than if Naomi had had seven sons of her own!
The story began with a deeply painful story of death and hopelessness. Lost husbands and sons, heart-wrenching good-byes, and a difficult relocation.
Yet here we are, at the end of the story, witnessing two women, surrounded by a broader community of women, reveling in the goodness of God. They had mourned together, and now they rejoice together. God has seen them and given them more than they could ask or imagine.
This baby, Obed, bears the family name. But he is precious to Naomi because he is the son of Ruth. Ruth, this constant reminder of God's faithfulness, is more precious to her than seven sons.
Naomi, Ruth, and Orpah each teach us a valuable lesson about hope and faithfulness.
Orpah is faithful to Naomi by holding pain with her and then making the tough decision to return home to her people.
Ruth is faithful in her commitment to Naomi and to her God, to her work and to her new community.
And Naomi, she faithfully grieves her husband and sons. And eventually, she remembers the kindness and character of God. She remembers her God's faithfulness.
This is who we are called to be, friends. We are called to be faithful members of a community, the body of Christ, that sticks closely with the hurting.
The grieving.
The wandering.
And, in so doing, we as a community reflect the fierce faithfulness of God.
When life feels heavy enough to bury God's kindness and goodness, we need others to re-member for us.
Remember, reflect, and, soon, we will get to rejoice.
This post is part of a series Fiercely Faithful: Rad Women of Scripture.