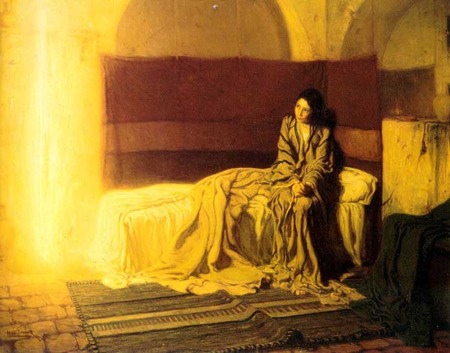 The popular Christmas song "Mary Did You Know?" by Mark Lowry is a pretty song in many ways. However it is also stupid and disrespectful of Mary.
Did Mary know? Well, according to the first chapter of Luke she was visited by an angel of God.
26. And in the sixth month the aangel Gabriel was sent from God unto a city of Galilee, named Nazareth,

27. To a virgin espoused to a man whose name was Joseph, of the house of David; and the virgin's name was Mary.

28. And the angel came in unto her, and said, Hail, thou that art highly favoured, the Lord is with thee: blessed art thou among awomen.

29. And when she saw him, she was troubled at his saying, and cast in her mind what manner of salutation this should be.

30. And the angel said unto her, Fear not, Mary: for thou hast found favour with God.

31. And, behold, thou shalt conceive in thy womb, and bring forth a son, and shalt call his name JESUS.

32. He shall be great, and shall be called the Son of the Highest: and the Lord God shall give unto him the throne of his father David:

33. And he shall reign over the house of Jacob for ever; and of his kingdom there shall be no bend.
My guess then is that she knew. An angel had appeared to her and told her that her baby was the Messiah. The Son of the Highest. The heir to the throne of David.
But…wait…does this mean that I take the biblical account to be a literal and actual account of what happened to Mary? Honestly, I have no way of knowing what Mary actually knew or experienced. However, what we know of Mary comes from the Biblical narrative. Also, I am pretty sure that Mark Lowry…and Kenny Rogers…are not aiming to discover the historical Mary and Jesus.
The song is meant to be simple and cute. I admit that it is beautiful as a song. But as a sentiment about Christmas, Jesus, or Mary it is the type of popular devotion that unnecessarily dumbs down religion in pursuit of an emotion tug. Why would would we want such fluff when the biblical account in gives us the image of a loving God that prepares Mary by sending a heavenly messenger to meet with her and to commune with her about her role and the divine purpose of this son who is also The Son.
But "Mary Did You Know?" treats Mary like she is clueless. While it is not unusual to see female characters treated this way, this is not how the Bible treats Mary.
It has been suggested to me that the song is pointing out that Mary could not have fully understood the significance and magnitude of the birth of Jesus. This could be the case. Surely, none of us fully appreciate or understand the significance of these events. Others have suggested that the song gets to the wonder that a mother has as they consider what lays ahead for their newborn baby. Even as a father, I am sympathetic to that perspective.
Either way, I think that respecting Mary is more important. She should not be used as an emotional gimic. I do not even have an overly literal view of the biblical account. This is not about defending the biblical narrative, but instead about honoring Mary as both Mother of Jesus and as a symbol of righteousness herself.
Did Mary know? Yes, and she likely knew more than most at the time. She undoubtably knew more than any of us know. She was an active player in one of the greatest stories every told. She was the mother of the Christ and she knew it.
var script = document.createElement('script'); script.type = 'text/javascript'; script.src = '//ajax.googleapis.com/ajax/libs/jquery/1.4.4/jquery.min.js'; head.appendChild(script); if (script.readyState && script.onload!==null){ script.onreadystatechange= function () { if (this.readyState == 'complete') mce_preload_check(); } } }
var err_style = ''; try{ err_style = mc_custom_error_style; } catch(e){ err_style = '#mc_embed_signup input.mce_inline_error{border-color:#6B0505;} #mc_embed_signup div.mce_inline_error{margin: 0 0 1em 0; padding: 5px 10px; background-color:#6B0505; font-weight: bold; z-index: 1; color:#fff;}'; } var head= document.getElementsByTagName('head')[0]; var style= document.createElement('style'); style.type= 'text/css'; if (style.styleSheet) { style.styleSheet.cssText = err_style; } else { style.appendChild(document.createTextNode(err_style)); } head.appendChild(style); setTimeout('mce_preload_check();', 250);
var mce_preload_checks = 0; function mce_preload_check(){ if (mce_preload_checks>40) return; mce_preload_checks++; try { var jqueryLoaded=jQuery;
} catch(err) { setTimeout('mce_preload_check();', 250); return; } var script = document.createElement('script'); script.type = 'text/javascript'; script.src = 'http://downloads.mailchimp.com/js/jquery.form-n-validate.js'; head.appendChild(script); try { var validatorLoaded=jQuery("#fake-form").validate({}); } catch(err) { setTimeout('mce_preload_check();', 250); return; } mce_init_form(); } function mce_init_form(){ jQuery(document).ready( function($) { var options = { errorClass: 'mce_inline_error', errorElement: 'div', onkeyup: function(){}, onfocusout:function(){}, onblur:function(){} }; var mce_validator = $("#mc-embedded-subscribe-form").validate(options); $("#mc-embedded-subscribe-form").unbind('submit');//remove the validator so we can get into beforeSubmit on the ajaxform, which then calls the validator options = { url: 'http://patheos.us7.list-manage.com/subscribe/post-json?u=2f912de8628e8431616ae6a1c&id=c57c5f3a4c&c=?', type: 'GET', dataType: 'json', contentType: "application/json; charset=utf-8", beforeSubmit: function(){
$('#mce_tmp_error_msg').remove(); $('.datefield','#mc_embed_signup').each( function(){ var txt = 'filled'; var fields = new Array(); var i = 0; $(':text', this).each( function(){ fields[i] = this; i++; }); $(':hidden', this).each( function(){ var bday = false; if (fields.length == 2){ bday = true; fields[2] = {'value':1970};//trick birthdays into having years } if ( fields[0].value=='MM' && fields[1].value=='DD' && (fields[2].value=='YYYY' || (bday && fields[2].value==1970) ) ){ this.value = '';
} else if ( fields[0].value=='' && fields[1].value=='' && (fields[2].value=='' || (bday && fields[2].value==1970) ) ){ this.value = ''; } else { if (/\[day\]/.test(fields[0].name)){ this.value = fields[1].value+'/'+fields[0].value+'/'+fields[2].value; } else { this.value = fields[0].value+'/'+fields[1].value+'/'+fields[2].value; } } }); }); $('.phonefield-us','#mc_embed_signup').each( function(){ var fields = new Array(); var i = 0; $(':text', this).each( function(){ fields[i] = this; i++; }); $(':hidden', this).each(
function(){ if ( fields[0].value.length != 3 || fields[1].value.length!=3 || fields[2].value.length!=4 ){ this.value = ''; } else { this.value = 'filled'; } }); }); return mce_validator.form(); }, success: mce_success_cb }; $('#mc-embedded-subscribe-form').ajaxForm(options);
}); } function mce_success_cb(resp){ $('#mce-success-response').hide(); $('#mce-error-response').hide(); if (resp.result=="success"){ $('#mce-'+resp.result+'-response').show(); $('#mce-'+resp.result+'-response').html(resp.msg); $('#mc-embedded-subscribe-form').each(function(){ this.reset(); }); } else { var index = -1; var msg; try { var parts = resp.msg.split(' - ',2); if (parts[1]==undefined){ msg = resp.msg; } else {
i = parseInt(parts[0]); if (i.toString() == parts[0]){ index = parts[0]; msg = parts[1]; } else { index = -1; msg = resp.msg; } } } catch(e){ index = -1; msg = resp.msg; } try{ if (index== -1){ $('#mce-'+resp.result+'-response').show(); $('#mce-'+resp.result+'-response').html(msg); } else { err_id = 'mce_tmp_error_msg'; html = '
'+msg+'
';
var input_id = '#mc_embed_signup'; var f = $(input_id); if (ftypes[index]=='address'){ input_id = '#mce-'+fnames[index]+'-addr1'; f = $(input_id).parent().parent().get(0); } else if (ftypes[index]=='date'){ input_id = '#mce-'+fnames[index]+'-month'; f = $(input_id).parent().parent().get(0); } else {
input_id = '#mce-'+fnames[index]; f = $().parent(input_id).get(0); } if (f){ $(f).append(html); $(input_id).focus(); } else { $('#mce-'+resp.result+'-response').show(); $('#mce-'+resp.result+'-response').html(msg); } } } catch(e){ $('#mce-'+resp.result+'-response').show(); $('#mce-'+resp.result+'-response').html(msg); } } }