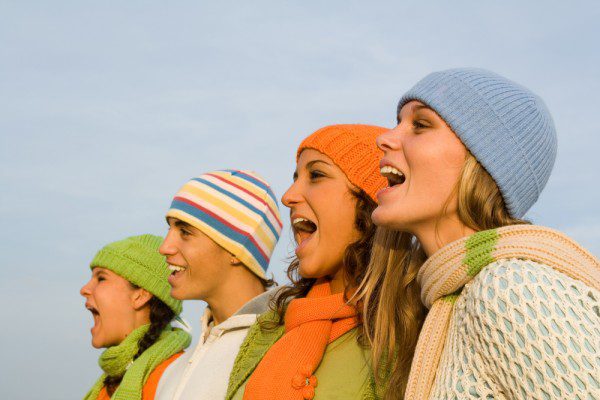 Christmas is upon us!  Before Santa hops down your chimney, and you and your kids open gifts on Christmas morning, here are 5 FUN AND FESTIVE activities you can do with your family that will help you to experience the REAL meaning of Christmas.
1.  Go Caroling in a Public Place.
This is one of my favorites.  Nothing says "Merry Christmas" like a group of people caroling together.  Whether you are good singers or not, take your whole family caroling around your neighborhood one night this week.  If you are feeling more adventurous, go caroling at a nursing home or hospital.  It will mean the world to these people who often feel lonely this time of year.  As you and your kids see the joy emanating from their faces, you will surely experience the joy of Christmas too.
2.  Pay it Forward.
I love reading Facebook posts about people experiencing a random act of kindness from perfect strangers…restaurant servers receiving hundred dollar tips, the car in front of someone at the drive-thru blessing them with a free meal, or people in line at the grocery store paying for another's groceries.  I love it!  These kind of acts aren't complicated; we just have to be willing to act.  It doesn't matter how much we spend.  What matters is the act itself.
So, this Christmas week, be on the lookout for how you and your family can pay it forward.  If you see a soldier at the restaurant where you are dining, tell their waiter that you'd like to pay for their meal (anonymously).  If someone at your supermarket seems to be struggling to find enough money to pay for their groceries, give the cashier some cash to help him/her out.
You don't necessarily have to spend money to pay it forward.  Help someone change their tire on the side of the road.  Ask a mom with her hands full if you can push her shopping cart to the car.  I understand that this may not work in certain situations, but the act of trying to help a stranger out while expecting nothing in return is at the heart of what Christmas really means. God delivered His Son to Earth so that we would have a Savior — not by any effort of our own, and He expects nothing but our love in return.
3.   Experience a Living Nativity/Bethlehem Village.
I love living nativity scenes because they bring the Christmas story to life.  For those that are unfamiliar with this, living nativity scenes usually consist of actors dressed up as common people, Roman soldiers, and vendors living during Biblical times.  The Bethlehem village brings the culture to life with different townspeople selling food and other goods.  Living nativities/Bethlehem villages are usually put on by local churches, and the entry fee is minimal or free.  You and your family can walk through the village and experience the bazaar and ultimately end up at a real-life nativity scene depicting the birth of Jesus with people dressed as the part and even the three kings bringing their gifts.   It's truly an amazing experience for all.
4.  Attend a Candlelight Christmas Eve Service.
There's something magical about candlelight.  It's simple and grand all at the same time.  Many churches, of varying denominations, offer Christmas Eve services in the glow of candlelight.  They often consist of beautiful music sung by a choir and an encouraging Christmas message.  Some churches have these services at midnight.  No matter what time you attend, you and your family will feel the warmth and love of Christmas.
5.  Read the Christmas story to your kids before they go to bed on Christmas Eve.
Start a new Christmas tradition at your house, and read Luke 2:1-20 to your kids before they go to bed on Christmas Eve.  You might have a standing tradition of reading "'Twas the Night Before Christmas" to them, so why not add the Christmas story and remind them of the real meaning of Christmas?  Your kids will love hearing the story from you, and it will certainly become one of your family's favorite traditions.
Though we might be consumed with fears of forgetting to buy a gift for someone on our list or failing to get the one gift that our kids really wanted, let's pause and remember the true meaning of Christmas.  I hope you and your family have a chance to celebrate the birth of our Savior in a special way.  Be blessed!
I'd love to connect with you on Facebook and Pinterest.  Looking for a last-minute Christmas gift?  Pre-order Dave Willis' NEW book,"The Seven Laws of Love", by clicking here.  You will get LOTS of freebies when you pre-order today.
Also, be sure to download our NEW Marriage App, by clicking here.