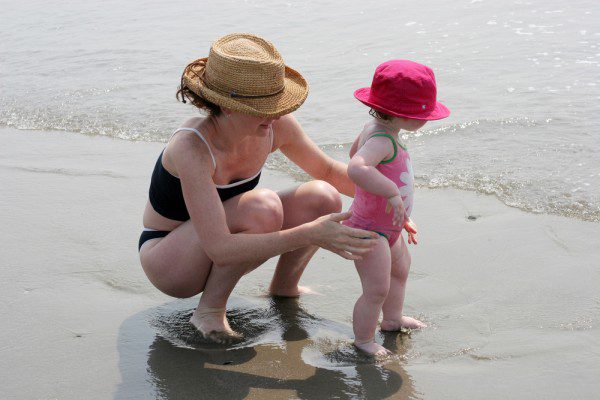 I love this time of year…the sun, the breeze, the flowers blooming…everything about it.  But, I'm not particularly excited about putting on a swimsuit when we go to Orlando this spring break, but…
I'm going to do it any way.  You see, I may feel inadequate with my body right now because my stomach isn't as toned as I'd like it to be, I have some cellulite in places, and my arms aren't chiseled.
But, you know what?  Who cares?
Really, who cares?
Yes, I know I care, and I  worry about my imperfect body too much.
But, my husband doesn't.  He tells me that I'm beautiful and he loves my body.
My kids don't care, either.  They just want me to play with them.
So, why do I let my body issues stop me from enjoying the beach and the pool with my family? 
It's because I let my pride win.  And, I avoid putting on a swimsuit–limiting my involvement with my loved ones at pools, waterparks, and beaches.
I want to be in better shape, and I'm getting closer to my goal every day.  But, I can't let my insecurities and body disappointment keep me from engaging with my family.  I've done this too many times.
I've been the mom at the store trying her best to find something that suits her..no pun intended…only to be hit by those awful fluorescent lights that show every flaw in her figure.  I've been the wife who cringes when her husband walks in the room as she's changing.
I've been there.
I've been the wife who sits at the side of the pool the whole day while her husband plays in the water with the kids, because she doesn't want to take off her cover-up.  I've been the mom whose kids splash her, trying to encourage her to get in the water, and she snaps at them, saying that she doesn't want to get wet.
Read, "5 Encouraging Truths for the Frustrated Mom," for more on this.
Instead of playing in the water with the ones I love most, I would often say something like,
"My body doesn't look how I want it to look right now, so I'm just going to sit here…keep this cover-up on…not go in the water."  
Well, not any more.  I've missed out on too much sitting on the sidelines like being in a swimsuit is some kind of plague.
What kind of message am I sending to my four boys about body image and women?  It has been unhealthy at best.
I've felt convicted by my thought process and behavior.  I know things need to change.
I've come to realize that wearing a swimsuit isn't the problem.  The problem lies in me–my expectations and standards.  
So, I've decided to do something about it.  Instead of being frustrated with my imperfection, I decided to get a swimsuit that,
1. Looked good on me with my current figure–not something I would eventually look good in, and
2. Felt comfortable enough for me to play with my kids while wearing it.  
That's all.
Once I decided these two things were my main objectives, I quickly found something that worked.  In fact, I found two!  I love these swimsuits, and I'm so looking forward to wearing them and embracing those sweet moments with my kids at the pool and splash park.
I can't wait!
Reader, are you like me?  Do you struggle with this?  Do you dread putting on a swimsuit, or when you do actually put one on, you hide your body with a towel or cover-up the whole time?  
If you can relate, I challenge you to stop worrying about whether or not your imperfect body will show, and dive into these precious, fleeting moments with your family.
When we look back at our lives, we won't value whether or not we looked really good in a swimsuit.  But, we WILL remember the time we spent engaging with our family and playing with our kids.  
We'll remember the smiles on their faces when they jumped their first waves.  We'll remember the glimmer in their eyes as they splashed in the puddles.  We'll remember how tired all of us were at the end of a long day of playing at the pool.
But, we will only remember these things if we're there–engaging in some of the best moments of our lives.
Thank you so much for reading, sharing, and responding.  I'd love to connect with you on Facebook, Instagram, and Pinterest.
Also, be sure to get your copy of my husband's NEW, BEST-SELLING book, about love and relationships, called, "The Seven Laws of Love," by clicking here. Be blessed!