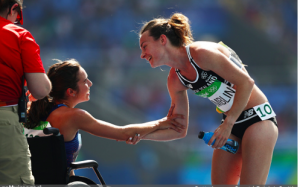 If you've been watching the Olympics in Rio, then you know this year has been packed full of some epic, heart-warming moments.  And, I'm not just talking about gold medals or dramatic upsets.  I've loved seeing humanity at its best–helping one another, finishing the race, and doing the right thing.  Those are the BEST moments.  Here's 4 Olympic moments that show hope for the human race:
 New Zealand's Nikki Hamblin helps American runner, Abbey D'Agostino, after she falls during the 5,000 meter preliminary race.  
This is beautiful.  These Olympians have been training FOR YEARS just for these few moments in Rio.  So, when one sees another fall, they might be tempted to leave it to the officials standing by.  But, not Nikki Hamblin.  This amazing runner saw a fellow athlete in need, and she pleaded for help and for someone to get D'Agostino a wheel chair.  This is sportsmanship at its finest.
For more on this story, CLICK HERE.
Please click on the CONTINUE BUTTON below to see the next Olympic Moment.